News
Masterclass with Alejandro González Iñárritu
Mexican director, producer and screenwriter Alejandro G. Iñárritu held his Masterclass in packed National Theatre today.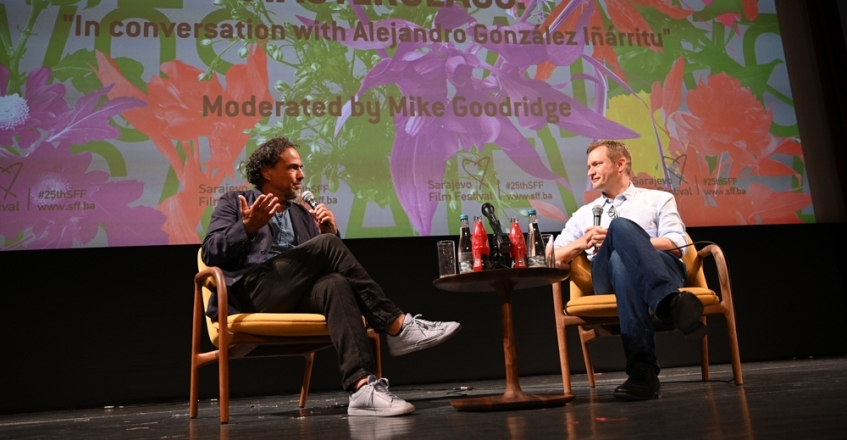 Alejandro G. Iñárritu is one of the most acclaimed and well-regarded filmmakers working today, known for telling poignant and international stories about the human condition.

The winner of two consecutive Best Director Oscar awards for his films THE REVENANT and BIRDMAN received the Honorary Heart of Sarajevo at 25th Sarajevo Film Festival in recognition of an exceptional contribution to the art of film.

Alejandro G. Iñárritu made his feature directorial debut at the Cannes Semaine de la Critique in 2000 and was nominated for a Foreign Film Academy Award with AMORES PERROS. His following credits include 21 Grams; BABEL, which garnered seven Oscar nominations and won the Best Director Award at the 2006 Festival de Cannes; and BIUTIFUL, presented in Competition in 2010 at Cannes.

He became the first Mexican filmmaker to be nominated for either director or producer in the history of the Academy Awards and the first Mexican filmmaker to receive a Best Picture award at Cannes. Iñárritu took home the prize for Best Director, Best Picture and Best Original Screenplay at the 87th Academy Awards for BIRDMAN. The following year, Iñárritu won his second consecutive Academy Award for Best Director for THE REVENANT. Additionally, Iñárritu created the VR installation CARNE Y ARENA (Virtually Present, Physically Invisible), which previewed at the 2017 Festival de Cannes as the first VR project ever included in the Official Selection, and garnered Iñárritu his fifth Academy Award, a special Oscar presented to him by the Board of Governors. Most recently, the Academy Award-winning director, writer, and producer became the first Latin-American filmmaker to head the Jury of the Festival de Cannes in 2019.