News
KISS THE FUTURE to open the 29th Sarajevo Film Festival
The 29th edition of the Sarajevo Film Festival will open with the film KISS THE FUTURE directed by Nenad Čičin-Šain (THE TIME BEING) and written by Čičin-Šain and Bill Carter (MISS SARAJEVO).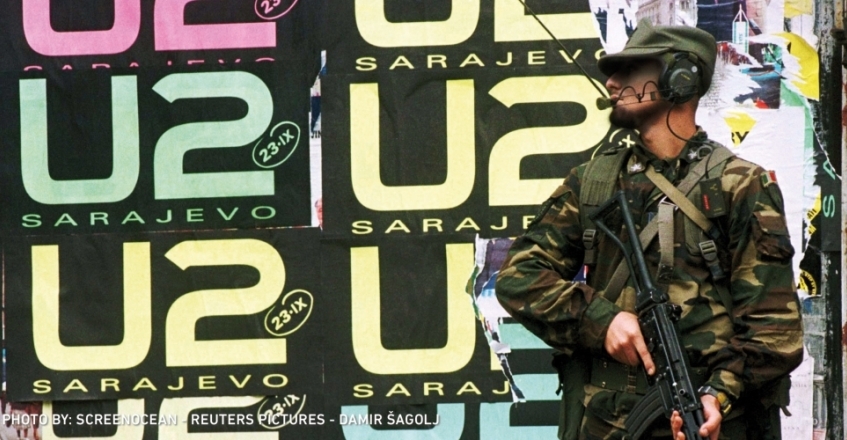 KISS THE FUTURE was produced by Matt Damon and Ben Affleck for Pearl Street Films and Sarah Anthony for Good Wolves Productions. The film is executive produced by Drew Vinton, Madison Ainsley, Alan Moloney, Jennifer Pitcher, Nenad Čičin-Šain, and Bill S. Carter. FIFTH SEASON financed the film and advised the filmmaking team. North American sales were handled by FIFTH SEASON and WME, while FIFTH SEASON television distribution is handling rest of world.
KISS THE FUTURE is a FIFTH SEASON, Pearl Street Films, and an In Cahoots Production.
This inescapably current story of defiance amid the Siege of Sarajevo in the 1990s follows an underground community that uses music and art to effect change and garner global attention, and the tale of a post-war concert by U2 that celebrates the city's hard-fought triumph over ethnic nationalism.
KISS THE FUTURE depicts the experiences of this extraordinary community who continued to work, create, and live in the city throughout the siege. As the blockade stretches on for years, living becomes an act of defiance, and rock and punk music inspires and detracts from the daily nightmare of shells and snipers.
Bill Carter was an American aid worker living in Sarajevo and, inspired by this local resistance, he reached out to one of the world's biggest bands, U2, to see if they could help raise global awareness of the devastating conflict. The band agreed and across the summer of 1993, their ZOO TV featured live satellite interviews with local Sarajevans. When these interviews came to an end, the band pledged to perform in the city once the conflict was over.
KISS THE FUTURE follows the story of this promise and the post-war concert in which U2 performed in front of more than 45,000 fans in the liberated city. This concert is still a collective memory for the people of Sarajevo, as proof that they not only survived the siege, but also that in the midst of the horrors produced by the darkest impulses, music and art can be acts of rebellion and resistance.
"On 23rd September 1997, U2 performed to 45,000 fans at Koševo Stadium, with the support acts including Bosnian groups Gazi Husrev-beg choir, Protest, and Sikter. Held around two years after the siege ended, it was a moment to show that this city had not been beaten. Once again, people were standing and living side by side. One people singing with one voice", said director Nenad Čičin-Šain.
"It's about how it's an act of protest, an act of resistance, to make art. And that's what it is to be alive. The idea that these people were risking their lives to go play music together, and that people were risking their lives to come hear them play and maintain that sense of community. It's really, really powerful stuff", said actor Matt Damon, one of the film's producers.
The film features Bono, The Edge, Adam Clayton, Bill Clinton, Christiane Amanpour, Mirsad Purivatra, Vesna Andree Zaimović, Senad Zaimović, Enes Zlatar, Alma Catal Hurem, Boris Šiber and Srđan Gino Jevđević.
Nenad Čičin-Šain made his directorial debut in 2012 with THE TIME BEING, which had its premiere at the Toronto International Film Festival. He is currently writing and directing THE ALGORITHM, a narrative feature set during the January 6th insurrection of the US Capital. The film tackles Twitter's permanent ban of President Donlad Trump and is set up at Wayfarer Studios. He has two more films in pre-production with Wayfarer.
KISS THE FUTURE will be screened as part of the Open Air programme. This documentary premiered as a Special Gala presentation at the Berlin International Film Festival in 2023.
The 29th Sarajevo Film Festival will take place from August 11th to 18th, 2023.

About FIFTH SEASON
FIFTH SEASON (formerly Endeavor Content) is a global leader in the creation, production, and distribution of feature films and premium television series. Known for producing and distributing award-winning content that engages audiences and moves culture, the studio's film titles include 80 for Brady, John Carney's Flora and Son, William Oldroyd's Eileen, the multi-Oscar-nominated The Lost Daughter from Maggie Gyllenhaal, Michael Bay's Ambulance, Destin Daniel Cretton's Just Mercy, the Book Club franchise, and 2022 Sundance Film Festival Audience Award winner Cha Cha Real Smooth. The studio produces premium TV series, including the 14 Emmy-nominated Severance, See and Truth Be Told for Apple TV+, Wolf Like Me for Peacock, Life & Beth, Nine Perfect Strangers, and McCartney 3, 2, 1 for Hulu, Tokyo Vice for HBO Max, and Scenes From A Marriage for HBO. FIFTH SEASON also handles global distribution for dozens of hit series in addition to its own studio productions, including Killing Eve, The Morning Show, Normal People, and The Night Manager.
Learn more at FIFTHSEASON.com, follow us @FIFTHSEASON