News
Jury of the Competition Programme - Feature Film of the 26th Sarajevo Film Festival
Director and writer Michel Hazanavicius (President of the Jury), Artistic Director of the Berlin International Film Festival Carlo Chatrian, actress Jadranka Đokić, Director Srdan Golubović and Head of Industry and Training projects of the Morelia Film Festival Andrea Stavenhagen will serve on the Jury of the Competition Programme - Feature Film of the 26th Sarajevo Film Festival.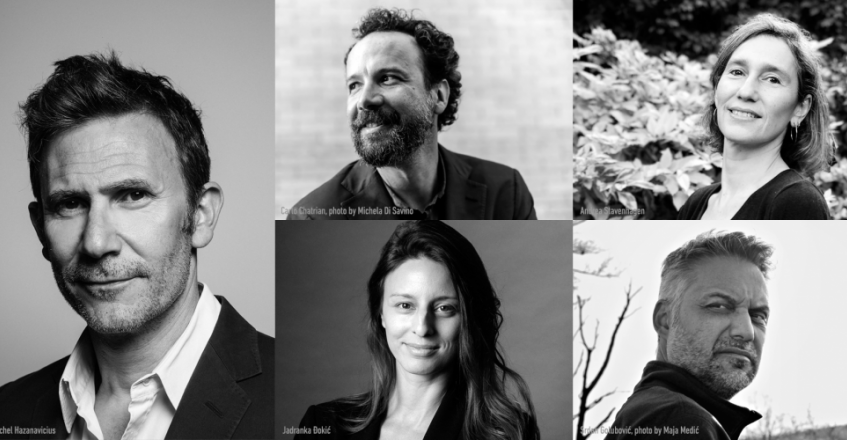 President of the Jury
MICHEL HAZANAVICIUS
Director, Writer, France
Michel Hazanavicius was born 1967 in Paris, France. He attended art school and moved on to work as a director for commercials and television projects. After his first short film ''Echec Au Capital'' and several collaborations on scripts, in 1999 he shot his first feature, ''Mes Amis''. In 2006, he directed his second feature ''OSS 117: Cairo, Nest of Spies'' and in 2009 ''OSS 17: Lost In Rio''. In 2011 he made ''The Artist'', a black-and-white silent film, starring Bérénice Bejo and Jean Dujardin, which won 5 Oscars in 2012, including Best Film, Best Director and Best Actor for Dujardin, while Bejo was an Oscar nominee for Best Supporting Actress. ''The Artist'' was also awarded with 3 Golden Globe Awards, 7 BAFTA Awards, the Best Actor Award for Dujardin at Cannes in 2011, where the film premiered, and many other awards.
After ''The Artist'' in 2011, in 2012 Hazanavicius directed a segment of the sketch film, ''The Players'', in 2014 ''The Search'' - in competition at the Cannes Film Festival and in 2017 ''Redoubtable'', which was also in competition at the Cannes Film Festival. His latest film is ''The Lost Prince'' (2020), his 7th feature film, starring Bérénice Bejo and Omar Sy.
CARLO CHATRIAN
Artistic Director of the Berlin International Film Festival, Germany
Carlo Chatrian is the Artistic Director of the Berlin International Film Festival.
Born in 1971, Chatrian studied literature and philosophy and also holds a degree in film studies, with a thesis on the films of Jacques Rivette. While at university, he started attending film festivals as a natural counterpoint to his studies, and soon after began programming for the Alba Film Festival, followed by the Festival dei Popoli and Visions du Réel.
At the end of the 1990s he focused on documentary as a genre, language and a way to compose and shape reality and held workshops with filmmakers such as Johan van der Keuken, Frederick Wiseman and Errol Morris. In 2003 he began working for the Locarno Film Festival where he curated retrospectives on Japanese animation, Ernst Lubitsch, Vincente Minnelli and Otto Preminger.
Between 2013 and 2018, Chatrian was Artistic Director of Locarno where he enjoyed programming popular films for the 8,000 viewers in the Piazza Grande as well as auteur films for an even more cinephile audience. He had the pleasure of presenting awards to masters of cinema such as Michael Cimino, Werner Herzog and Agnès Varda. He honored the French Nouvelle Vague with tributes to Anna Karina, Bulle Ogier and Jean-Pierre Léaud, and German cinema with "Beloved and Rejected", a retrospective of post-war West German films, as well as with special awards to Armin Mueller-Stahl and Mario Adorf. In addition, during his six editions at Locarno, filmmakers from East Asia (Lav Diaz, Hong Sangsoo and Wang Bing) and the American actress Brie Larson were recognized and received prizes.

JADRANKA ĐOKIĆ
Actress, Croatia
Born in the city of the most beautiful open-air cinema, Pula, Croatia. She earned a Master's degree at the Academy of Dramatic Arts in Zagreb. As a second-year student, she had her first prominent role in "Fine Dead Girls" by Dalibor Matanić. Since, she has been constantly working balancing her theatre, television and film expression working with many renowned national and international directors. She currently holds the position of the leading drama actress at the Croatian National Theatre and shares her knowledge and experience as an assistant professor with students of the Academy of Dramatic Arts in Zagreb.
Her work has been recognized by a series of awards such as this year's highest national award "Vladimir Nazor" for her performances in "Three Sisters" and "Idiot", and Golden Arena for the leading female role in "Behind the Glass" by Zrinko Ogresta.
She enjoys returning to Sarajevo with her plays and films. In 2009, she made her first takes in Sarajevo for The Storm, a film by Hans-Christian Schmidt featuring Kerry Fox and Anamaria Marinca, and in 2020 she returns to Sarajevo to shoot "Focus, Grandma", produced by the Sarajevo Film Festival and directed by Pjer Žalica.

SRDAN GOLUBOVIĆ
Film director, Serbia
Srdan Golubović (Belgrade, 1972) is a film director. His first feature film Absolute Hundred (2001) screened at festivals such as Toronto, San Sebastian, Pusan and Rotterdam, winning a great number of awards. His second film "The Trap" (2007) had its international premiere at the Berlinale Forum and was selected in Toronto and Karlovy Vary. It went on to win 22 international awards and made it to the final shortlist for the Academy Award for Best Foreign Language Film. His third film "Circles" (2013) premiered at the Sundance Film Festival, winning the World Cinema Dramatic Special Jury Award, and screened at the Berlinale Forum, winning the award of the Ecumenical Jury. His newest film Father (2020) premiered at the Berlinale Panorama, winning both the Audience award and the Ecumenical Jury award. He teaches Film directing at the Faculty of Dramatic Arts in Belgrade.

ANDREA STAVENHAGEN
Head of industry and training projects of the of the Morelia Film Festival, Mexico
With a History degree, she began her professional career at the Short Film department of the Mexican Film Institute and then at the Research and Dissemination area of the Centro de Capacitación Cinematográfica, one of the most important film schools in Mexico.
Always seeking to support the development of young filmmakers from an integral perspective, Andrea has focused her work towards training and professional updating activities, as well as the management of diverse promotion and exchange programs in the context of international events and film festivals.
For ten years she was head of the Ibero-American Film Co-Production Meeting at the Guadalajara Festival and co-directed the Morelia Lab Workshop, a fundamental initiative for Latin American producers in the framework of the Morelia Film Festival, where she is currently head of industry and training projects. Between 2015 and 2019 she was San Sebastian Festival's Latin American Delegate and she is currently a member of the expert committee at the same festival's Europe-Latin America Co-Production Forum.
Her experience and knowledge of the region's young cinema has allowed her to actively collaborate in the programming of the San Cristóbal de las Casas festival, as well as participating as teacher, adviser, or jury member at national and international film events.