News
In Focus 2020.
In Focus program brings the best achievements of regional cinematography from the past year. It is a selection of strong achievements of both already established artists and debutants that gained success at prestigious film festivals around the world or in the domestic market.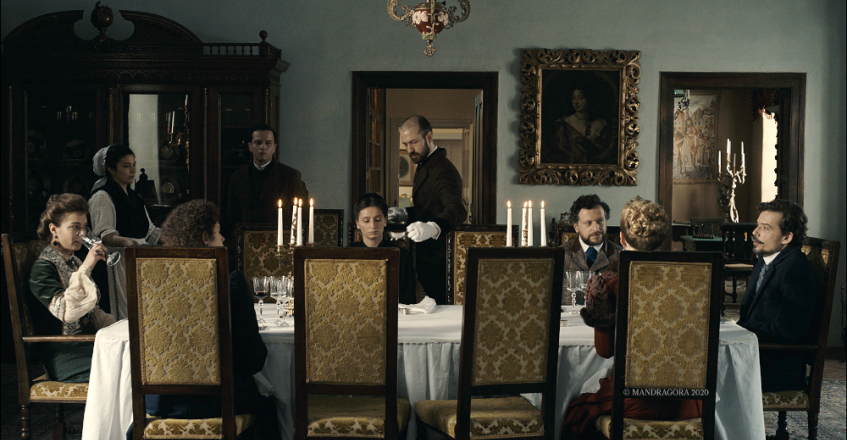 "In Focus is the supporting selection of the Competition Programme and aims to present the most important and most successful regional films made over the last 12 months. The last six months were exceptionally challenging for world cinematography, with hardly any premieres of regional films after the Berlin Film Festival. For this very reason we decided to expand the selection and allow as many authors and producers as possible to show their films at the Sarajevo Film Festival. Our decision means support to authors and regional cinematographies under the circumstances, and this is our way of supporting films that are just embarking on their festival journey. Because of this, we have a record ten titles in this year's selection. As usual, the programme is a mix of films by established authors and space for promotion of debuts, of which we have three this year", said Elma Tataragić, the programmer of In Focus.
While the Competition Program brings new films and new names, In Focus program provides an extremely important annual overview of regional achievements. Films from this selection are not competing for awards.
EDEN
Hungary, Romania, Belgium, 2020, 153 min.
Director: Ágnes Kocsis
Éva is allergic to all kinds of chemical substances, air pollution, radio waves and electronic fields. She needs to live in total isolation and can have no contact with her environment. The slightest mistake may cause her death. Her only relations are with her brother and the doctors who continuously experiment on her. One day a psychiatrist comes to investigate if her illness is real or exists only in Éva's mind.
FULL MOON / PUN MJESEC
Bosnia and Herzegovina, 2019, 85 min.
Director: Nermin Hamzagić
A full moon night. Police inspector Hamza takes his wife to the maternity ward. Her water has broken and her doctor orders an urgent delivery. Hamza is worried but he has to leave her in hospital – he could not have taken the night off at such a short notice. At the police station it seems the folk tales about the full moon's power are coming true. In the hallway Hamza meets a boy who is both herald of doom and guardian angel, and who will put him on trial. One by one, the apparitions arrive at the police station.
IN THE STRANGE PURSUIT OF LAURA DURAND / I ANAZITISI TIS LAURA DURAND
Greece, 2019, 98 min.
Director: Dimitris Bavellas
Antonis and Christos are friends who live together in a small apartment in Athens. In distress and secluded from society, they survive mostly with Christos's unemployment benefits. The friends are united by their common, platonic love interest for Laura Durand, a pornstar of the 1990s who disappeared mysteriously several years ago. When things go from bad to worse, the two friends decide to go up against their fate and start trying to track Laura down.
MALMKROG
Romania, Serbia, Switzerland, Sweden, Bosnia and Herzegovina, Northern Macedonia, 2020, 200 min.
Director: Cristi Puiu
Nikolai, a large landowner and a man of the world, puts his country estate at the disposal of some friends, by organising a sojourn at the spacious manor house. For the guests, time passes at the manor with rich meals, society games and by engaging in a long discussion of death and the Antichrist, progress and morality. As the discussion gradually takes shape and the various topics are broached, each of them lays out their vision of the world, history and religion.
MY MORNING LAUGHTER / MOJ JUTARNJI SMEH
Serbia, 2019, 94 min.
Director: Marko Đorđević
At almost thirty, Dejan is still a virgin. He tries to suppress the turmoil he feels, which is caused by living under the same roof with his drunken father and overprotective mother, to see if he can actually go beyond mere friendship with Kaća, a nice woman he works with.
THE TROUBLE WITH BEING BORN
Austria, Germany, 2020, 94 min.
Director: Sandra Wollner
Elli is an android who lives with a man she calls her father. Together, they drift through the summer. During the day they swim in the pool and at night he takes her to bed. She shares his memories and anything else he programs her to recall –memories that mean everything to him but nothing to her. Yet, one night she sets off into the woods following a fading echo. The story of a machine and the ghosts we all carry within us.
THE VOICE / GLAS
Croatia, Northern Macedonia, Serbia, 2019, 80 min, Croatian
Director: Ognjen Sviličić
Goran, a teenager, ends up in a Catholic boarding school because his mother has gone to work on a cruise ship. He has been forced to go to the school and refuses to pray. At first, this does not bother his peers or teachers too much, but as time goes by, despite his opposition, they start putting him under increased pressure to embrace religion.
UPPERCASE PRINT / TIPOGRAFIC MAJUSCUL
Romania, 2020, 128 min.
Director: Radu Jude
Romania, 1981. Nicolae Ceauşescu is in office, leading a communist Romania. He writes the official story with the help of the National Television service. Sixteen-year-old Mugur Călinescu writes another story in chalk on walls, with messages of protest against the regime. His actions are compiled in a voluminous file kept by the Securitate (secret police), which observed, apprehended, interrogated and destroyed him.
WILLOW / VRBA
Northern Macedonia, Hungary, Belgium, Albania, 2019, 101 min.
Director: Milčo Mančevski
Three Macedonian women have to contend with control over their bodies, tradition, loyalty, pregnancy and adoption. They have not set out to change the world or society, but their struggle to become mothers makes them unlikely heroines. The three bittersweet stories, one medieval, two contemporary, mirror and contrast one another, exploring themes of love, trust and motherhood.
ZANA
Kosovo, Albania, 2019, 97 min.
Director: Antoneta Kastrati
Lume, an Albanian woman, lives with her husband Ilir, and her mother-in-law, Remzije, in a small Kosovar village. Haunted by night terrors, childless and unable to conceive, Lume is relentlessly pressured by Remzije to fulfil her wifely duties. Bowing under the pressure of being replaced, Lume concedes and abandons modern medicine, seeking instead the help of witch doctors and mystic healers to treat her infertility.