News
Introducing the Competition Programme – Documentary Film: 16 films in competition, 8 World Premieres
In the Competition Programme – Documentary Film of the 27th Sarajevo Film Festival, there are 16 films according to the choice of the programmer Rada Šešić. In Sarajevo, 8 films will have global, 1 European, 6 regional and 1 Bosnian-Herzegovinian premieres.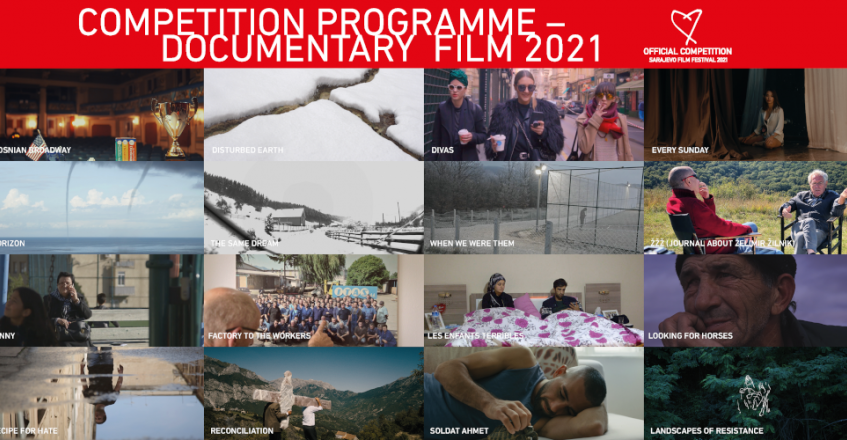 "It's always a big question - what makes film a good one - what sets it apart from others. Our selection is very exclusive because we only have 11 screening slots to show films and, statistically speaking, only 10 percent out of 156 viewed films can enter the selection. This year's festival's film harvest is very good, we have a lot of serious films, some of which are really great works, which are the result of long-term research and creative film observations. We have a lot of cinematic originality and freshness within the selection, new ideas, as well as new views of the world around us. Several films bring a metaphysical dimension of the world that a certain author observes in time and space… ", says Šešić about this year's selection.
We present 16 films in the Competition Program - Documentary film of the 27th Sarajevo Film Festival, which are in competition for awards:
- Heart of Sarajevo for Best Documentary Film (€ 3,000 prize money awarded by the Government of Switzerland);
- Human Rights Prize (€ 3,000 prize money awarded by the Kingdom of the Netherlands);
- Special Jury Award (prize money in the amount of € 2,500).
WORLD PREMIERES
BOSNIAN BROADWAY / BOSANSKI BRODVEJ
Croatia, 2021, 30 min.
Director: Jasmina Beširević
Sixteen young actors have been selected to participate in the Broadway musical that established American artists are putting on in Bosnia and Herzegovina. Many of them dream of a career outside this region and all of them begin rehearsals with great enthusiasm and expectations. As the premiere approaches, however, their mood begins to change as they become aware that they will soon return to their "regular" lives.
DISTURBED EARTH
Bosnia and Herzegovina, Spain, North Macedonia, 2021, 71 min.
Director: Kumjana Novakova, Guillermo Carreras-Candi
A space in silence, where past has captured present. Taking over, layer by layer, collective pain enters the landscape, the space, the city. Eventually, it enters us. Srebrenica becomes a reality of today, and our own reality.
DIVAS / DÍVÁK
Hungary, 2021, 80 min.
Director: Máté Kőrösi
Szani, Tina and Emese – or, as they call themselves, the Divas – are three twenty-year-old women who can talk for hours about make-up, clothes or profile pictures. Máté, a young director, enters the scene, following them with his camera until their graduation, to find out what is hidden behind their perfect make-up. Meanwhile, they learn from each other, all taking steps towards adulthood.
EVERY SUNDAY
Cyprus, 2020, 24 min.
Director: Keti Papadema
A group of Filipina domestic workers in Cyprus are getting ready for a beauty pageant organised by their local community. The organisers and participants use it as an opportunity to gather once a week – on their only day off – as well as to redefine their position as migrant working women in Cypriot society and reclaim their individuality. Meanwhile, the unprecedented case of a serial killer who targets foreign female workers and their young daughters emerges. As four of the victims are Filipina, the community comes together to react to the crime and pay their respects to the victims.
HORIZON / HORIZONT
Croatia, 2021, 25 min.
Director: Tanja Deman
An intimate story about the sea in the midst of an ecological crisis. In the collective imagination, the open sea and its isolated islands have always been a place of longing, contemplation, escape, even salvation. But can these places still provide escape in a time of global warming and pollution? Shot on the remotest and most isolated island in the Adriatic, this film essay observes the primordial seascape and the layered environmental changes that surround it.
THE SAME DREAM / ACELAȘI VIS
Romania, 2021, 29 min.
Director: Vlad Petri
A Romanian soldier during his first mission in Afghanistan comes across a wounded Afghan girl and their lives become intertwined from that moment forward. This film, based on a true story, bordering between documentary and fiction, tells the story of a soldier struck by the brutality of war and that of a young girl who found herself in the wrong place, at the wrong time. The director combines archival footage from the most recent war in Afghanistan with videos from his personal archive, in a film about the cruelty of war from the perspective of both the invaders and that of the civilians trapped within.
WHEN WE WERE THEM
Bosnia and Herzegovina, 2021, 15 min.
Director: Danis Tanović, Damir Šagolj
Surrounded by minefields and destruction from the Bosnian war and not welcome by everyone, thousands of migrants are still stranded in the northern part of the war-torn country. Their flimsy tents set up in the woods or abandoned socialist era buildings offer no protection from the harsh Bosnian winter. The food, clothes, firewood and communication are problems but nothing compared to the serious and constant violation of basic human rights these migrants are subjected to on a daily basis.
ŽŽŽ (JOURNAL ABOUT ŽELIMIR ŽILNIK) / ŽŽŽ (ŽURNAL O ŽELIMIRU ŽILNIKU)
Serbia, 2021, 90 min.
Director: Janko Baljak
A road movie documentary through half-a-century of filmmaking by Želimir Žilnik, ŽŽŽ (JOURNAL ABOUT ŽELIMIR ŽILNIK) is also a journey through the history of Yugoslavia, a country that no longer exists. With the specific style of docudrama that he built over the course of his work, Žilnik managed to remain engaged, brave and above all free by making low-budget films for decades. We follow the efforts of his team to finish the film FREEDOM OR COMICS, which was seized by censors fifty years ago and was recently discovered. This is the story of the uninterrupted struggle of disenfranchised social and minority groups, who are always the main heroes of Žilnik's films.
EUROPEAN PREMIERE
SUNNY / MZIURI
Georgia, 2021, 67 min.
Director: Keti Machavariani
Sunny is a former teacher who now makes her living as an interviewer for sociological studies. This job is her only way of overcoming total solitude and having a social life. She leads us into the narrow streets of Tbilisi, ugly sleeping districts, showing us a variety of flats, houses and other living structures, and lets us listen to Georgian citizens' thoughts and hopes on urgeny political and civic issues.
REGIONAL PREMIERES
FACTORY TO THE WORKERS / TVORNICE RADNICIMA
Croatia, 2021, 105 min.
Director: Srđan Kovačević
Croatia, 2005. A machine tool plant is taken over by its workers. The incident becomes the only successful example of a factory occupation in post-socialist Europe. Ten years after this revolutionary turning point, the rebellious employee behind the occupation now strives to prevent a production shutdown. Sustainability depends on the sacrifices of the workers protecting their livelihood from the threats of a ruthless economy. For five years, director Srđan Kovačević follows the inside story of the people who struggle to keep the once prestigious factory running.
LES ENFANTS TERRIBLES / YARAMAZ ÇOCUKLAR
Turkey, France, Germany, 2021, 93 min.
Director: Ahmet Necdet Çupur
In a village in the south east of Turkey, Mahmut wants to divorce his new wife. At the same time, his sister Zeynep enrols in an open high school and takes a job in a factory. Against her father's wishes, Zeynep wants to leave the village and eventually attend university. The siblings' demands become the centre of conflict in their conservative family and community, who are not used to what Mahmut and Zeynep strive for. Intimately captured by their elder brother Ahmet Necdet Çupur, who left the village twenty years ago to pursue his studies, LES ENFANTS TERRIBLES is a story of clashes among generations and between the past and the present.
LOOKING FOR HORSES
Bosnia and Herzegovina, Netherlands, France, 2021, 88 min.
Director: Stefan Pavlović
LOOKING FOR HORSES is about a friendship between the filmmaker and a fisherman who lost his hearing during the Bosnian War and retreated to a lake to live in solitude. The filmmaker, the son of Bosnian parents, struggles to communicate as he lost his mother tongue due to a heavy stutter. Despite their speech and hearing limitations, a bond develops between the young man and the veteran as he shares his world of the lake: full of large catfish, wild horses, vast silences and dangerous thunderstorms.
RECIPE FOR HATE / POTREBA ZA MRŽNJOM
Serbia, 2020, 81 min.
Director: Filip Čolović
RECIPE FOR HATE is director Filip Čolović's intimate story about the loss of his younger brother, who was killed in a brutal fight in front of one of Belgrade's bars along the river. Through this and several similar incidents, in which people lost their lives for no reason, Čolović searches for the roots of violence and hate in our society. A documentary about the process of creating and spreading the hate and how we, as a society, have complied easily with the violence that surrounds us.
RECONCILIATION / ODPUŠČANJE
Slovenia, Serbia, Montenegro, Kosovo, 2021, 82 min.
Director: Marija Zidar
An eighteen-year-old woman is killed in a bitter family feud in the Albanian highlands. Her bereaved father is torn by pressure – on the one hand from a local bishop and on the other from an NGO chairman from the capital – not only to forgive the imprisoned killer and his family, as a Christian, but to reconcile with them, as Kanun, the age-old tribal code, once required.
SOLDAT AHMET
Austria, 2021, 76 min.
Director: Jannis Lenz
Ahmet is the dutiful son of Turkish immigrants, a tough boxing champion and a diligent soldier, who has dedicated himself to "serving the people of Austria." Throughout his life, he has learned to adapt and conform to other people's expectations. The desire to feel like himself again pushes Ahmet to pursue an old dream and enrol in acting lessons, where he is encouraged to connect with his own vulnerability. But this is easier said than done. Ahmet hasn't cried since he was a little boy. And the more he tries to break out of traditional gender roles, the stronger his internal battles become.
B&H PREMIERE
LANDSCAPES OF RESISTANCE / PEJZAŽI OTPORA
Serbia, France, Germany, 2021, 95 min.
Director: Marta Popivoda
LANDSCAPES OF RESISTANCE traces a journey through the memories of ninety-seven-year-old anti-fascist fighter Sonja, one of the first female partisans in Yugoslavia, who was also among the leaders of the resistance at Auschwitz. As Sonja speaks, we travel through the landscapes of her revolutionary youth as they exist in the present – the Serbian forests and mountains and the muddy terrain of Auschwitz – as well as her tiny Belgrade home, where she lives with her husband and cat.
The 27th Sarajevo Film Festival will take place 13-20 August 2021.