News
Shooting of Sarajevo City of Film projects
Shooting of Sarajevo City of Film projects has begun on Tuesday in Sarajevo. Four projects by young filmmakers from the region will be shot in Sarajevo in the period from May 15 to 30. The films will be produced by Obala Art Center.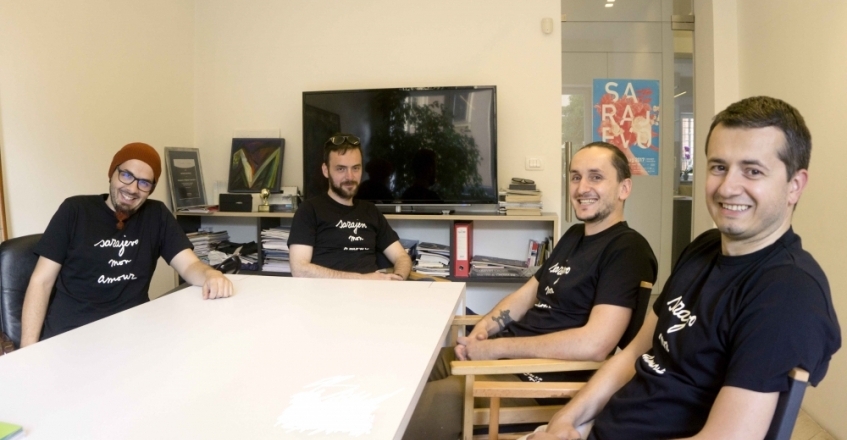 Foto: reditelji Thanasis Nofotistos, Zulfikar Filandra, Andrej Volkashin i Boriša Ćurić


BIG LEAP is directed by Zulfikar Filandra from Bosnia and Herzegovina, with Magdalena Pticek from Croatia serving as director of photography and Marija Kovacina from Serbia as editor.

FICUS will be directed by Andrej Volkashin from Macedonia, with Dragan Šiša as cinematographer and Marija Kovačina from Serbia as editor.

Thanasis Nofotistos from Greece will direct ROUTE 3, based on the screenplay by his compatriot Marina Symeou. The film will be shot by Romanian cinematographer Carmen Tofeni.

Borisa Ćurić, a student at the Sarajevo Academy of Performing Arts, will direct PSETO which is to be shot by Almir Đikoli from Bosnia and Herzegovina.

Within Producers Workshop, Greek producer Dimitris Tsakaleas will work on all four films. The films will premiere in August in the program of the 24th annual Sarajevo Film Festival.

The characters in the four films will be portrayed by acting students and professional actors and actresses, including Igor Skvarica, Alija Aljovic, Benjamin Bajramovic, Ernad Prnjavorac, Edin Koja Avdagic, Tatjana Sojic, Sanin Milavic, Muhamed Hadzovic, Aleksandar Seksan and others.

Main partner of Sarajevo City of Film project is Atlantic Group. The project has been supported by the Ministry of Culture and Sports of the Sarajevo Canton.