News
Top world filmmakers and professionals among guests of Talents Sarajevo
Talents Sarajevo program of the Sarajevo Film Festival will once again this year welcome numerous aspiring regional filmmakers and film critics and offer them a rich program of masterclasses, panel discussions, workshops and networking events along with a chance to meet and learn from some of the best living filmmakers and professionals.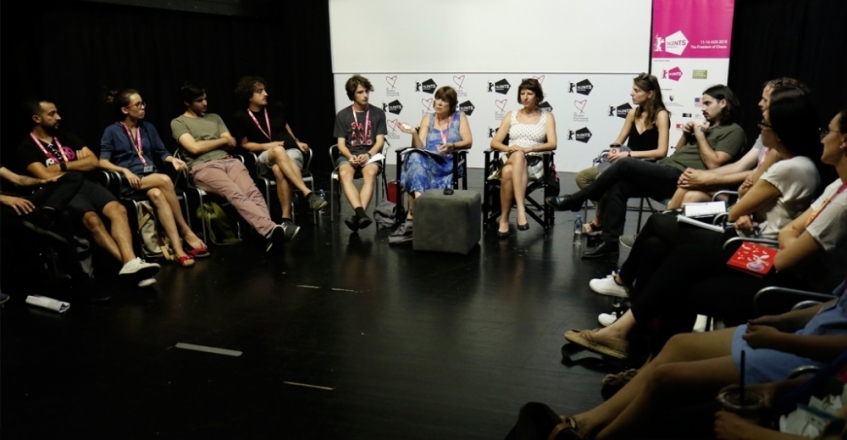 "Innocence Un/Protected", this year's Talents Sarajevo theme, is a reference to Dušan Makavejev's INOCENCE UNPROTECTED, and a tribute by the Festival to the recently deceased titan of Yugoslav and international cinema and a true friend of Sarajevo Film Festival.
The 13th edition of Talents Sarajevo will be opened by Mexican production designer Eugenio Caballero who will hold a lecture about his work. The winner of an Oscar® for his work on Guillermo Del Toro's PAN'S LABYRINTH, Caballero has worked with many prominent directors, including Jim Jarmusch, Baz Luhrmann, Sebastián Cordero and Alfonso Cuarón. Within the sub-program "Directors Summit", led by Gyula Gazdag, young directors will get an opportunity to meet Cristi Puiu, Béla Tarr and Aida Begić. Cristi Puiu, whose films include THE DEATH OF MR. LAZARESCU and SIERANEVADA, is one of the most prominent representatives of the Romanian New Wave. Béla Tarr is a celebrated Hungarian filmmaker whose 7,5-hour-long masterpiece SÁTÁNTANGÓ recently received a 4K restoration that will be screened in the program of this year's Sarajevo Film Festival. Aida Begić is a successful Bosnian filmmaker and director of three feature films: SNOW, CHILDREN OF SARAJEVO and NEVER LEAVE ME.
These are just some of many guests of the 13th edition of Talents Sarajevo. This year, aspiring cinematographers will be mentored by Sofian El Fani from Tunisia, whose credits include BLUE IS THE WARMEST COLOUR, TIMBUKTU and Elia Suleiman's latest film, IT MUST BE HEAVEN, which will be screened in the Festival's Open Air program. Young actors and actresses will be mentored by Snežana Bogdanović, who played the leading roles in Ines Tanović's THE SON and Miroslav Terzić's STITCHES – both of which will be screened during this year's Sarajevo Film Festival. Among guests of the Acting studio will also be director Pawel Pawlikowski, whose films will be screened in this year's "Tribute to" programme, and actor Uliks Fehmiu, winner of the Heart of Sarajevo Award for Best Actor in 2012, for REDEMPTION STREET, whose acting credits also include a role in the THE SON. Young editors will be mentored by Bosnian editor Redžinald Šimek whose numerous credits include THE SON.
The 2019 Talents Sarajevo, accompanying the 25th edition of the annual Sarajevo Film Festival, will welcome 64 up-and-coming directors, producers, screenwriters, actors, cinematographers, editors and film critics from Southeast Europe and the Southern Caucasus. They will be offered access to a rich program of masterclasses, lectures, discussions, hands-on workshops and film screenings. Dedicated modules for different film crafts, participation of renowned international industry experts, as well as the project development lab (Pack&Pitch and Script Station) provide emerging regional talents with bespoke mentoring and support.
Talents Sarajevo was launched 13 years ago in cooperation with the Berlin International Film Festival and Berlinale Talents initiative. Over the years, it transformed into the main regional hub for aspiring film professionals. In addition to bringing young filmmakers together for professional training sessions, the platform also introduces participants to the work of established film professionals, informs them about current trends and issues in the industry, and introduces them to the regional and international filmmaking community.