News
Introducing the Summer Screen Programme of the 28th Sarajevo Film Festival
The Summer Screen programme of the 28th Sarajevo Film Festival boasts excellent films based on music, contemporary art and pop culture. This year's edition of the programme offers a choice of six movies about some of the greatest and most important icons of regional and international pop culture and the contemporary art scene.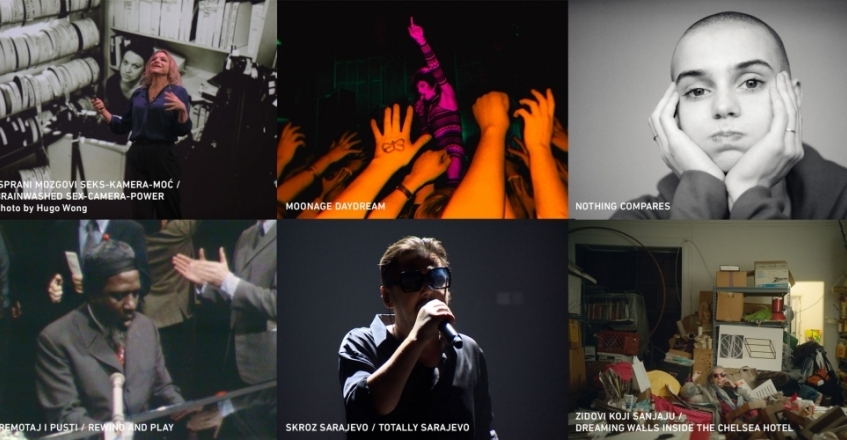 This years' programme includes: BRAINWASHED: SEX-CAMERA-POWER, DREAMING WALLS: INSIDE THE CHELSEA HOTEL, MOONAGE DAYDREAM, NOTHING COMPARES, REWIND & PLAY and TOTALLY SARAJEVO.
Tickets
Online tickets for the films in the program of the 28th Sarajevo Film Festival can be purchased via tickets.sff.ba and the Sarajevo Film Festival website, www.sff.ba. By paying for tickets with UniCredit Mastercard® cards via the online platform, you get a 30% discount. Individual tickets are available starting from August 8, 2022 at 10:00 a.m., at the Main Box Office (Bosanski kulturni centar, Branilaca Sarajeva 24).
SUMMER SCREEN PROGRAMME 2022:

BRAINWASHED: SEX-CAMERA-POWER
United States, 2022, 107 min.
Director: Nina Menkes

Feminist film theorists have been exploring the issue of the male gaze and its various nuances and implications for decades. The term "male gaze" was first used in 1975 by Laura Mulvey – a key interviewee in BRAINWASHED. Nina Menkes builds on the vital work of Mulvey and other essential feminist writers, including Judith Butler, bell hooks, and Angela Carter, bringing her own perspective as a working director and cinematographer to the project. Using almost two hundred film clips from A-list and other notable movies, from 1896 through the present, Menkes exposes specifically how shot design (point of view, framing, camera movement, lighting, and even sound design) has functioned to perpetuate the sexist binary throughout cinematic history – and its serious implications for our real lives.

DREAMING WALLS: INSIDE THE CHELSEA HOTEL
Belgium, France, United States, Netherlands, Sweden, 2022, 80 min.
Director: Amélie van Elmbt, Maya Duverdier

Caught between fear and frenzy, after eight years of and living amid scaffolding and constant construction, some fifty-one residents of the Chelsea Hotel prepare for imminent upheaval, while others protest or hole up in their rooms. Against this chaotic backdrop, DREAMING WALLS explores the utopian origins that contributed to the Chelsea's mythical stature and questions the challenges it confronts in the future, as its residents, sold to capitalism, and its walls themselves face a turning point in their common history.

MOONAGE DAYDREAM
United States, 2022, 140 min.
Director: Brett Morgen

David Bowie was one of the most prolific and influential artists of his time. Working most notably in music and film, he also explored various other art forms: dance, painting, sculpture, video collage, screenwriting, acting, and live theatre. Bowie's creative output and personal archives span over five million assets. MOONAGE DAYDREAM is the first film sanctioned by the Bowie estate. In 2017, the estate allowed filmmaker Brett Morgen unfiltered access to Bowie's archives, including all master recordings, to create an artful and life-affirming journey through the late artist's creative life. Over five years, Morgen constructed a genre-defying cinematic experience that grapples with spirituality, transience, isolation, creativity, and time to reveal the celebrated icon in his own voice.

NOTHING COMPARES
United Kingdom, Ireland, 2022, 100 min.
Director: Kathryn Ferguson

A feature documentary that tells the story of Sinéad O'Connor's phenomenal rise to worldwide fame, and how her iconoclastic personality resulted in her exile from the pop mainstream. Focusing on prophetic words and deeds across a five-year period from 1987 to 1992, the film reflects on the legacy of this fearless trailblazer through a contemporary feminist lens.

REWIND & PLAY
France, Germany, 2022, 65 min.
Director: Alain Gomis

December 1969. Thelonious Monk arrives in Paris. Before his evening concert, he records a programme for French television. The rushes that have been preserved show us a rare close-up of Monk, prey to the violent factory of stereotypes from which he is trying to escape. The film becomes the crossing of this great artist, who would like to exist only for his music, and a portrait of a media machine as hollow and ridiculous as it is revolting.

TOTALLY SARAJEVO
Bosnia and Herzegovina, 2022, 80 min.
Director: Nenad Đurić

This music documentary about Sarajevo rock band Skroz looks at the lives of the band's members, their beginnings, war experiences, post-war tours, successes, and failures. It examines friendships from youth, war, and Sarajevo as a city that is crucial to the formation of both the band and the songs of frontman and lyricist Adnan Šaran. TOTALLY SARAJEVO talks boldly about problems and experiences with narcotics through open conversation – on the one hand, about drugs as part of a subculture and, on the other, about addiction as a significant psychological, social, and family problem.


The 28th Sarajevo Film Festival will be held from the 12th to the 19th of August, 2022.