News
Isabelle Huppert Receives Honorary Heart of Sarajevo Award in National Theatre
Tonight in National Theatre the Honorary Heart of Sarajevo Award was given out to legendary French actress Isabelle Huppert.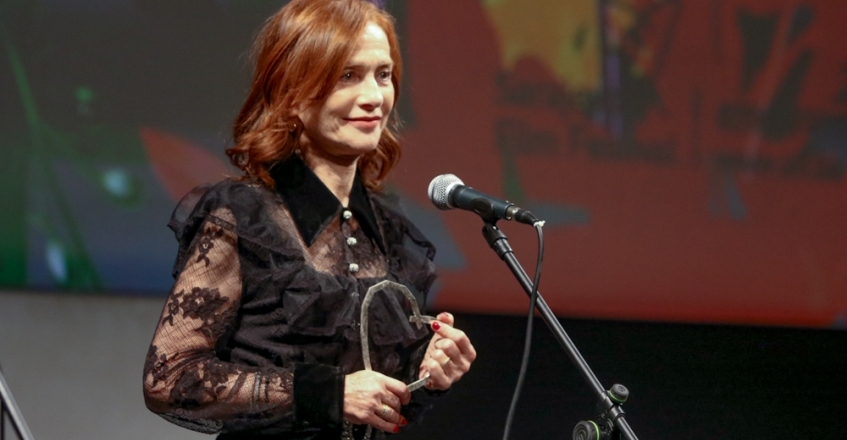 The Award is in recognition of her exceptional contribution to the art of film.

Isabelle Huppert is a legendary screen and stage actress. Over the course of her five-decade career she collaborated with celebrated directors such as Michael Haneke, Claude Chabrol, Jean-Luc Godard, Otto Preminger, Bertrand Tavernier, Bertrand Blier, Claire Denis and Paul Verhoeven. She won critical and popular acclaim for memorable roles in films THE PIANO TEACHER, WHITE MATERIAL, ELLE, GRETA and many others.

Awards that Isabelle Huppert won include: BAFTA for Most Promising Newcomer for her work in THE LACEMAKER, two Venice Film Festival Best Actress Awards for STORY OF WOMEN and THE CEREMONY, Venice Film Festival's Special Jury Lion d'Or for GABRIELLE and for her entire body of work; two Cannes Film Festival Best Actress Awards for VIOLETTE and THE PIANO TEACHER; in France she received the César Best Actress Award for THE CEREMONY and ELLE – for which she also received a Gotham, Golden Globe and Spirit Award and was nominated for an Academy Award for Best Actress. She received a Molière Award for her career and the prestigious "XVI Prix Europe pour le Théâtre" in Rome.

Isabelle Huppert is an Officer of the National Order of Merit of the Legion of Honor, and an Officer of the National Order of Merit and Commander in the Order of Arts and Letters. She was the President of the Jury for the 62nd Cannes Film Festival.