News
Nominees and Jury of the Sarajevo Film Festival's Special Award for Promoting Gender Equality
The Sarajevo Film Festival Special Award for Promoting Gender Equality was established by Sarajevo Film Festival last year as a continuation of the activities in which the Sarajevo Film Festival contributes to the establishment of women's equality in the film industry.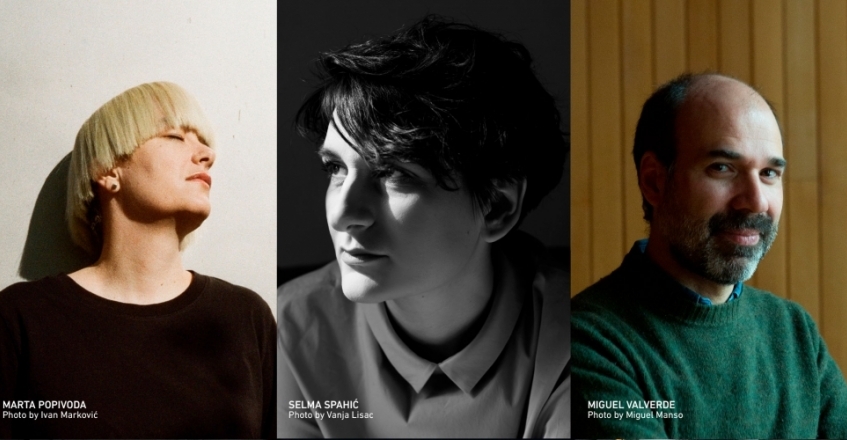 Special Award for Promoting Gender Equality, sponsored by MasterCard®, is dedicated to the promotion of gender equality for debut films by female authors. Films and directors eligible for the Special Award for Promoting Gender Equality are not limited to Competition strands and include other programmes and territories as well, provided that the film is the director's first feature film. Films coming from the following strands are eligible: Competition Programme – Feature Film, Competition Programme – Documentary Film, Kinoscope, Kinoscope Surreal and Dealing with the Past.

In the program of the 28th Sarajevo Film Festival, 11 films are competing for the Special Award for Promoting Gender Equality.

Nominees for this year Special Award for Promoting Gender Equality are: SIX WEEKS / HAT HÉT, Noémi Veronika Szakonyi (Competition Programme – Feature Film), THE ECLIPSE / FORMØRKELSEN, Nataša Urban (Dealing with the Past), BIGGER THAN TRAUMA / VEĆE OD TRAUME, Vedrana Pribačić, THE DIARY OF A BRIDE OF CHRIST / TSCHODENNYK NARECHENOI CHRISTA, Marta Smerechynska (Competition Programme – Documentary Film), HATCHING / PAHANHAUTOJA, Hanna Bergholm, HUESERA, Michelle Garza Cervera (Kinoscope Surreal), AFTERSUN, Charlotte Wells, ROBE OF GEMS, Natalia Lopez, I HAVE ELECTRIC DREAMS / TENGOS SUENOS ELECTRICOS, Valentina Maurel, THE WORST ONES / LES PIRES, Romane Gueret, Lise Akoka, WAR PONY, Gina Gammell, Riley Keough (Kinoscope).

Jury members who will serve on the Sarajevo Film Festival Jury – Special Award for Promoting Gender Equality at the 28th Sarajevo Film Festival: director, video artist and researcher Marta Popivoda, director Selma Spahić and producer and writer Miguel Valverde.

Sarajevo Film Festival and MasterCard® are organizing the panel "Female Solidarity In Film Industry: How To Get There?" as part of the CineLink Talks, conference part of the Sarajevo Film Festival's industry programme. The panel will take place in Hotel Europe, on August 18, from 16:00 to 17:00 CET. Through the lenses of director, producer, and casting director, we gathered powerful female voices from different backgrounds, generations and experiences to navigate how female solidarity in the film industry can be achieved. The panel will welcome directors Teona Mitevska (MK) and Marta Popivoda (RS), producer Anamaria Antoci (RO) and casting director Timka Graho (BA). The talk will be moderated by Amra Bakšić Čamo, producer and Head of CineLink.

SPECIAL AWARD FOR PROMOTING GENDER EQUALITY – NOMINEES

AFTERSUN
(Kinoscope)
United Kingdom, United States, 2022, 98 min.
Director: Charlotte Wells
Cast: Paul Mescal, Frankie Corio, Celia Rowlson-Hall

Sophie reflects on the shared joy and private melancholy of a holiday she took with her father twenty years earlier. Memories real and imagined fill the gaps between mini-DV footage as she tries to reconcile the father she knew with the man she didn't.

BIGGER THAN TRAUMA / VEĆE OD TRAUME
(Competition Programme – Documentary Film)
Croatia, 2022, 91 min.
Director: Vedrana Pribačić

Twenty-five years after the Croatian War of Independence, its women survivors have yet to heal. Several women go through a three-year therapeutic programme.

DIARY OF A BRIDE OF CHRIST / TSCHODENNYK NARECHENOI CHRISTA
(Competition Programme – Documentary Film)
Ukraine, 2021, 90 min.
Director: Marta Smerechynska

Director Marta Smerechynska approaches her sister Nastia after six years of silence. She films Nastia's life in a new home – a convent of the Brides of Christ located in Western Ukraine.

HATCHING / PAHANHAUTOJA
(Kinoscope Surreal)
Finland, Sweden, 2022, 87 min
Director: Hanna Bergholm
Cast: Siiri Solalinna, Sophia Heikkilä, Jani Volanen, Oiva Ollila, Reino Nordin

Tinja, a twelve-year-old gymnast, after finding a wounded bird in the woods, brings its strange egg home, nestles it in her bed, and nurtures it until it hatches. The creature that emerges becomes her closest friend and a living nightmare.

HUESERA
(Kinoscope Surreal)
Mexico, Peru, 2022, Colour, 93 min, Spanish
Director: Michelle Garza Cervera
Cast: Natalia Solián, Alfonso Dosal, Mayra Batalla, Mercedes Hernández, Aída López, Martha Claudia Moreno

Valeria and her husband, Raul, have finally seen one of their long-time dreams come true: Valeria is pregnant. At first, everything seems perfect. Gradually, though, her mood darkens. With motherhood upon her, Valeria can't shake off heavy self-doubt and a pervasive dread, the latter stemming from visions of spider-like presences..

I HAVE ELECTRIC DREAMS / TENGOS SUENOS ELECTRICOS
(Kinoscope)
Belgium, France, Costa Rica, 2022, 110 min
Director: Valentina Maurel
Cast: Reinaldo Amien Guttierez, Daniela Marin Navarro, Vivan Rodriguez, Adriana Castro Garcia

Eva can't stand the fact that her mother wants to renovate the house and get rid of the cat, which, disoriented since Eva's parents' divorce, pees everywhere. Eva wants to go and live with her father, who, disoriented like the cat, is experiencing a second adolescence.

ROBE OF GEMS
(Kinoscope)
Mexico, Argentina, United States, 2022, 117 min
Director: Natalia López Gallardo
Cast: Nailea Norvind, Antonia Olivares, Aida Roa, Juan Daniel Garcia Treviño, Sherlyn Zavala Diaz, Balam Toledo

In the midst of a silent divorce, Isabel leaves the city with her two children for her family's abandoned country house. She soon discovers that her housekeeper's sister, María, has gone missing. When Isabel offers to help, an unspoken pact to find María is born between the two women.

SIX WEEKS / HAT HÉT
(Competition Programme – Feature Film)
Hungary, 2022, 95 min.
Director: Noémi Veronika Szakonyi
Cast: Katalin Román, Zsuzsanna Járó, Lana Szczaurski, Móni Balsai, András Mészáros, Kitti Keresztesi, Katalin Takács, Anna Györgyi

Zsófi, a rebellious teenager, lives in a tiny flat with her little sister, Mesi, and her unstable mother, Bea. Zsófi discovers late that she is pregnant and decides to give up her baby through open adoption to an infertile couple. Bea cannot accept her daughter's decision, but she does not realize that neither Zsófi, nor the circumstances, are suitable to welcome a newborn.

THE ECLIPSE
(Dealing with the Past)
Norway, 2022, Colour, 110 min.
Director: Nataša Urban

On 11 August, 1999, most of Europe was engrossed by a total solar eclipse, which briefly enveloped Earth in darkness. While the world at large celebrated, most of Serbia's population, fearful of the lunar shadow, barricaded themselves in their homes and nuclear bunkers. Using this event as a metaphor for a nation's unclean conscience about the consequences of its political choices, in this essay documentary director Nataša Urban confronts her country's wartime and criminal past, and the evil that is still on the loose today.

THE WORST ONES / LES PIRES
(Kinoscope)
France, 2022, Colour, 99 min.
Director: Lise Akoka, Romane Gueret
Cast: Mallory Wanecque, Timéo Mahaut, Johan Heldenbergh, Loïc Pech, Mélina Vanderplancke, Esther Archambault, Matthias Jacquin, Angélique Gernez, Dominique Frot, Rémy Camus, François Créton, Carima Amarouche

A film shoot will take place at the cité Picasso in the north of France. During the casting, four teenagers, Lily, Ryan, Maylis, and Jessy are chosen to appear in the film. Everyone in the neighbourhood is surprised: why only take the "worst ones"?

WAR PONY
(Kinoscope)
United States, 2022, 114 min
Director: Gina Gammell, Riley Keough
Cast: Jojo Bapteise Whiting, Ladainian Crazy Thunder, Jesse Schmockel, Wilma Colhoff, Iona Red Bear

Film follows the interlocking stories of two young Oglala Lakota men growing up on the Pine Ridge Reservation. At twenty-three, Bill just wants to make something of himself. Whether it's delivering goods or breeding poodles, he is determined to hustle his way to the American Dream. Meanwhile, twelve-year-old Matho can't wait to become a man and is desperate for approval from his young father.

JURY

Marta Popivoda
Director, video artist, researcher, Serbia

Marta Popivoda is a filmmaker, video artist, and researcher living and working between Belgrade and Berlin. The main concerns in her work are the tensions between memory, history, and ideology, as well as the relations between collective and individual bodies. Popivoda approaches them from a feminist and queer perspective. Her first feature documentary, YUGOSLAVIA, HOW IDEOLOGY MOVED OUR COLLECTIVE BODY, premiered at the 63rd Berlinale and was later screened at many international film festivals. The film is part of the collection of MoMA New York and is featured in What Is Contemporary Art?, MoMA's online course about contemporary art from 1980 to the present. Popivoda's work has also been featured in major art galleries, such as Tate Modern London, MoMA New York, MAXXI Rome, M HKA Antwerp, etc. She received the prestigious Berlin Art Prize for the visual arts by Akademie der Künste Berlin and Edith-Russ-Haus Award for Emerging Media Artist. Her latest feature documentary, LANDSCAPES OF RESISTANCE, premiered in the Tiger Competition of the 50th International Film Festival Rotterdam in 2021 and by now won more than ten awards. To name just a few: Cinema du Réel - Library Award; Jeonju IFF - Best Picture Award; Thessaloniki Documentary Festival - Golden Alexander award; Sarajevo Film Festival - Heart of Sarajevo for Best Documentary; Beldocs - Best Film Award; Lima Alterna IFF - Best Film Award; Sevilla European Film Festival - Best Director of a First or Second European Feature Film, and others. Currently, her work is presented at the 12th Berlin Biennale and Manifesta 14 Biennal.

Selma Spahić
Director, Bosnia and Herzegovina

Selma Spahić was born in 1986. She graduated from the Academy of Performing Arts in Sarajevo. She is the director of over 30 theatre directions and performances, for which she is often the co-author of the text, including: "Hypermnesia" (Heartefact / BITEF, Serbia), "Scratching or How My Grandmother Killed Herself" (BNP ZE / Heartefact, BiH / Serbia), "Cleaning Ladies" (CNP Podgorica, Montenegro), "The Secret of Raspberry Jam" (SARTR / MESS, BiH), "Assembly" (Sarajevo National Theatre/Camera Theatre '55 / SARTR, BiH), "Chicken" (MESS /ZeKaeM/BITEF, BiH/Croatia / Serbia), "Liliom" (SNG Drama Ljubljana, Slovenia), "tisočdevetstoenainosemdeset" (SNG Drama Maribor, Slovenia), "Master and Margarita" (HNK Ivana pl. Zajca Rijeka, Croatia), "My Factory" (BNP Zenica, BiH), "4 AM" (Kostolanyi Dezso Theatre, Serbia), "The Clickworkers" (Schauspiel Stuttgart /ZeKaeM/ Nowy Teatr, Germany / Croatia / Poland), "Seven Fears" (BNP Zenica, BiH), "Purple" (Camera Theatre 55, BiH). In plays she focuses on intimate history and the politics of intimacy, research into physicality and feminist deconstruction of patriarchal narratives. Most of the performances are multimedia, inspired by contemporary art, feature and animated film, as well as photography. Her plays have been awarded many times in BiH and the region, and they have participated in renowned international festivals such as BITEF and Desire Central Station in Serbia, Neue Theater Stücke aus Europa in Germany, Kontakt in Poland or Culturescapes in Switzerland. From 2012 to 2017, she was the art director of the MESS International Theatre Festival, for which she was part of the selection committee from 2009 to 2018. She currently works at the Academy of Performing Arts in Sarajevo. She was a member of the jury of the Competition Programme - Short Film of the Sarajevo Film Festival in 2014.

Miguel Valverde
Producer, Writer, Portugal

Miguel Valverde was born in 1971, in Portimão, Portugal. He has a degree in Law and a specialization in Copyright Law by the University of Lisbon. He attended also courses and workshops of Film, Script, Dramaturgy of Image and Editing. Between 1997 and 2004 he programmed short films for several festivals like FICA - Algarve International Film Festival (Portugal) and Skopje International Film Festival (Macedonia). In 2003 he created, along with Nuno Sena and Rui Pereira, IndieLisboa – International Film Festival, being currently still one of the directors and the responsible for Portuguese Films, Short Film Programs and being part of the Features selection committees. He served as jury of several film festivals, namely in the CPH Doxs (Denmark), Uppsala (Sweden), Hamburg (Germany), Winterthur (Switzerland), Valdivia IFF (Chile), Janela Internacional de Cinema Recife (Brazil), among many other. In 2011 he produced two experimental short films ENGINE and UM HOMEM À VARANDA that were shown in several festivals and art institutions. In 2015 he produced the feature AQUI, EM LISBOA co-directed by several international directors, among them the short segments FREUD UND FRIENDS by Gabriel Abrantes (Berlinale), L'OISEAU DE LA NUIT by Marie Losier (Berlinale) and LOS BARCOS (IFFR). Currently he's invited film teacher at several universities in Portugal.