News
Masterclass with Isabelle Huppert
Use the opportunity to meet the legendary French actress! At 18:00 on Sunday, August 18, at the Meeting Point Cinema in Sarajevo, the 25th Sarajevo Film Festival is organizing a Masterclass with Isabelle Huppert – a winner of the Honorary Heart of Sarajevo Award.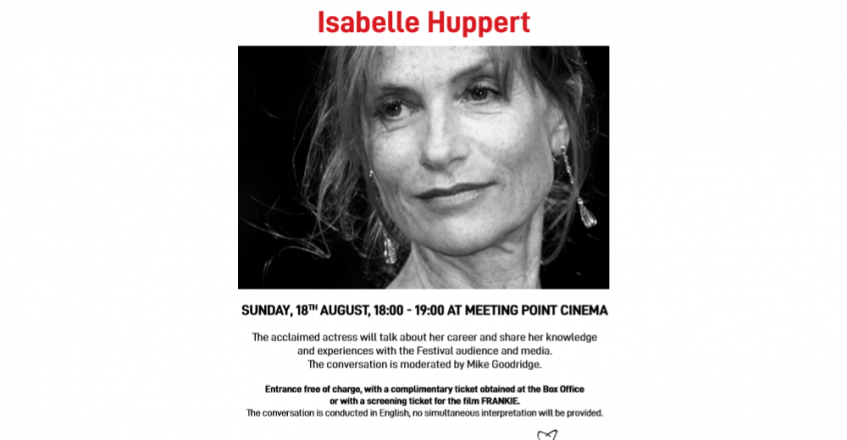 During her five-decade-long career, the renowned French screen and stage actress collaborated with numerous prominent directors, including Michael Haneke, Claude Chabrol, Jean-Luc Godard, Otto Preminger, Bertrand Tavernier, Bertrand Blier, Claire Denis and Paul Verhoeven. She won critical and popular acclaim for memorable roles in films THE PIANO TEACHER, WHITE MATERIAL, ELLE, GRETA and many others.
The multi-awarded actress will talk about her career and share her knowledge and experience with members of the audience and media representatives. The event will be moderated by the artistic director of the International Film Festival & Awards Macao, Mike Goodridge. It will be held in English.
Masterclass can be accessed with free tickets that can be collected in person at the Main Box Office of the Sarajevo Film Festival (Bosanski kulturni centar, Branilaca Sarajeva 24) or with a ticket for the screening of FRANKIE.
Number of tickets is limited!