News
Jury of the Competition Programme - Short Film 2020
Director Stefan Đorđević, director Thanasis Neofotistos and director, screenwriter and producer Ines Tanović will serve on the Jury of the Competition Programme - Short Film of the 26th Sarajevo Film Festival.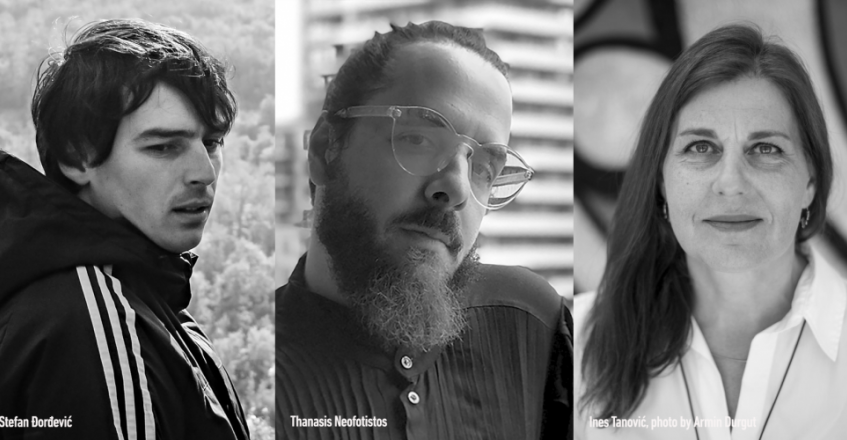 STEFAN ĐORĐEVIĆ
Director, Serbia
Stefan Đorđević was born in Bor, Eastern Serbia in 1987. After moving to Belgrade for studying, his main interest switched from skateboarding to film and photography. His amateur film "Crap" was the inspiration for the film "Tilva Roš" by Nikola Ležaić, in which Stefan plays one of the two main roles. The film won Heart of Sarajevo award for the best film in 2010, and it was nominated for the European Discovery Award by the European Film Academy.
He completed his BA and MA at the Faculty of Dramatic Arts in Belgrade, Camera department. His graduation film was a short fiction film "A handful of stones", which was screened on many international film festivals and had international premiere at the ACID programme of Cannes Film Festival. He wrote and directed a short fiction film "The last image of father", awarded at many film festivals: Locarno FF, Sarajevo FF, Zagreb FF, Auteur FF Belgrade...

THANASIS NEOFOTISTOS
Director, Greece
Thanasis Neofotistos is a Film Director, Writer & Architect from Greece. Berlinale & Sarajevo Talents alumnus and recently Head Programmer of Student Competition of 43rd Drama Int. Short Film Festival. His short film, "Patision Avenue" (2018), premiered at 75th Venice Film Festival, won 3 awards at 41st Clermont-Ferrand 2019 (Jury, Canal+, EFA) and was a 2019 Festival-Hit with more than 100 film festival selections. "Route-3", his latest film, world-premiered at 44th TIFF Toronto 2019 and then again in 42nd Clermont-Ferrand 2020. "Greek school prayer" (2014) was his successful thesis (best Greek short film of 2014, over 50 IFF), and "Sparkling Candles" (9'-2019) is his LGBTQI+ super cute queer short film that premiered at the legendary 43rd Frameline IFF. He is now in the financing stage of his debut feature film, which he envisions as his personal coming-of-age Greek tragedy; "The Boy with the Light-Blue Eyes" (aka "Peter and the Wolf"), the film got the main GFC & Media funding and has been developed, amongst others, at First-Films-First, MFI, Sarajevo. His next feature film project, "Wild Boars", is developing through Torino Film Lab 2019 & MFI.

INES TANOVIĆ
Film Director, Screenwriter, Producer, BiH
Born in Sarajevo in 1965, she graduated at the Dramaturgy Department of the Sarajevo Academy of Performing Arts. She has been a member of the Association of Filmmakers of BiH since 1988. In 1991, together with her father, Sejfudin Tanović, she founded a production called DOKUMENT in Sarajevo, which is now managed by her and Alem Babić, a producer. From 2014 to 2019, she was a president of the Association of Filmmakers of the FBiH as well as of the Association of Filmmakers of BiH. She is currently holding a position of acting general manager of the Sarajevo Film Centre. From 1986 to 2002, she wrote scripts and directed 6 short fiction movies. She worked as an editor at national and federal public broadcasting stations. In 2004, she was awarded by the Hubert Bals Fund for the script for "Entanglement". She attended the Berlinale Talent Campus 2006 and her project "Decision" was selected among 160 entries from all over the world, for Berlin Today Award 2011.

In 2010, she directed the Bosnian part of the long feature omnibus "Some Other Stories" (coproduced by BiH, Serbia, North Macedonia, Slovenia, Croatia, and Ireland, supported by EURIMAGES). The film has been invited to more than 40 international festivals and earned six international awards. She is the author of a short film titled "Starting Over", screened in the short film competition section of the 16th Sarajevo Film Festival in 2010. The film has been shown at many international festivals. Her film "Our Everyday Life" has been shown at more than 45 international film festivals and has earned 15 awards. The film was selected as an Bosnian and Herzegovinian entry for the 2015 Academy Awards.

She is the author of documentaries titled "Exhibition" (shown at the SHORT CORNER of the 2009 Cannes festival), "Living Monument" (2012), "Coal Mine" (2012), "Ghetto 59" (2013), and "A Day on the Drina" (2011), which was rewarded with the Big Stamp Award for Best Film of the 2012 ZagrebDox International Documentary Film Festival, and it was screened as a competing documentary at the 2012 Sarajevo Film Festival. Her second film "Son" premiered in the Competition Program – Feature Film at the 25th Sarajevo Film Festival (2019). The script for this film was awarded as the best project of the 2015 CineLink, and the most promising European project, as voted by LA producers, at the 2016 SEEfest LA. It has been screened at numerous international festivals.