News
CineLink Industry Days announces line-up for CineLink Talks
CineLink Talks, the conference part of CineLink Industry Days offers a rich programme of panels, debates, showcases and plenary sessions, open for all festival and industry guests.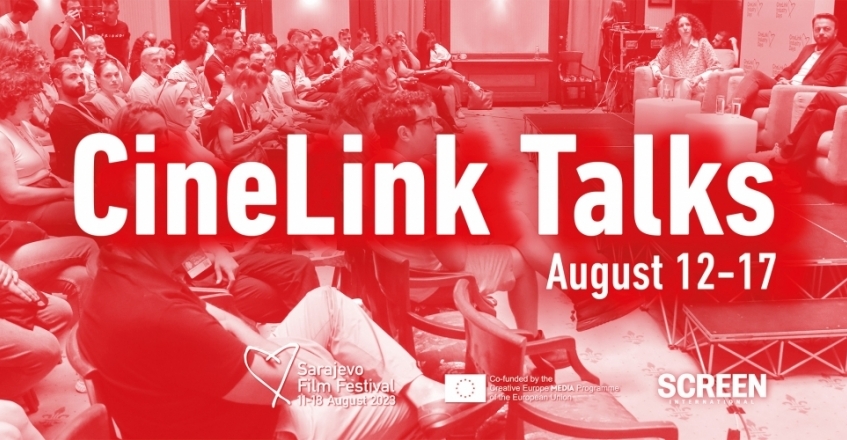 This year's edition of CineLink Talks will host sixteen panels, five plenary sessions, two showcases and sixty speakers. From the 12th to 17th of August, on three locations, the audience will have a chance to listen to the leading industry experts, decision-makers and creators on various topics, from gender equality to film and drama series financing.
For the second time, under the CineLink Drama umbrella, Telecom Serbia and BH Telecom will showcase their slates of upcoming drama series. Moreover, the CineLink Drama will bring eight upcoming drama series in the development phase from Southeast Europe. Eurimages, the cultural support fund of the Council of Europe, will present its new three-year pilot programme supporting high-quality series made as international co-productions, while Turkish public broadcaster TRT will present its newly launched international digital streaming platform - tabii.
Accomplished female producers will reveal practical strategies employed to empower female voices, tackle gender disparities, and drive positive change. Representatives of Montenegrin, Croatian and Austrian film funds will share their experience evaluating regional and national tax schemes.
In collaboration with the Talents Sarajevo team, CineLink presents four "In Conversation" sessions, a series of public talks exploring the art and craft of filmmaking under the theme "Stuck in the Middle: Filmmaking between NO and YES," the central theme of this year's Talents Sarajevo. Renowned filmmakers and industry experts will share their experiences, offering valuable insights into navigating the challenges and opportunities of the ever-evolving film industry.

CineLink Talks will take place in Hotel Europe Atrium and Festival Center, while the Talents Sarajevo "In Conversation" sessions will be held in Chamber Theater 55.
Find out more on CineLink Industry Days
website
.
The CineLink Talks line-up is available below:
Saturday, August 12
16:00 – 17:00 • Hotel Europe Atrium
IN CONVERSATION WITH IVANA CHUBBUCK
Ivana Chubbuck is the visionary behind the Chubbuck Technique, revolutionizing acting with psychology-based methods. Her studio offers 16 classes, nurturing actors to make empowered choices. With 35+ years of experience, she has worked with A-list actors like Charlize Theron, Brad Pitt, and Halle Berry, empowering them to deliver authentic performances. Her students have excelled at major awards ceremonies, and her work with Judith Light led to historic Tony wins. Ivana Chubbuck's legacy inspires actors worldwide to tap into their unique voices and create captivating, transformative characters.
MODERATED BY Timka Grin - Casting director, T.G.Casting / BA
17:00 - 18:30 • Chamber Theater 55
TALENTS SARAJEVO: IN CONVERSATION WITH JAY VAN HOY
Renowned producer Van Hoy delves into the profound impact of the NOs and YESes encountered in the world of filmmaking, recognising them as potent motivators that signify both limitations and possibilities. Drawing from his own experiences, he will illustrate how these responses can shape and influence the creative journey. Moreover, he will lift the veil on his perspective of flow as the delicate tightrope bridging the realms of convergent activities, like research and brainstorming, and divergent activities, encompassing playful and innovative creative processes. Join us to find out how harnessing the power of these responses can steer filmmakers towards greater success and creativity.
MODERATED BY Dana Linssen - Film critic, Talent Press / NL
Sunday, August 13
14:30 – 16:00 • Hotel Europe Atrium
DOCU TALENTS FROM THE EAST PRESENTATION
Organised by the Ji.hlava International Documentary Film Festival, Docu Talents from the East presents upcoming documentary films from Central and Eastern Europe. In production or post-production, eight new feature-length creative documentary projects pursue appropriate market-access points during CineLink to further their conversion and placement efforts. The selected projects are slated for release between September 2023 and November 2024 and are introduced by the director and the producer in eight-minute overview presentations, which include three-minute trailers.
MODERATED BY Maša Marković - Head of Industry, Sarajevo Film Festival / BA and Marek Hovorka - Director, Ji.hlava International Documentary Film Festival / CZ
16:30 – 18:00 • Hotel Europe Atrium
SHAPING CHANGE: UNLEASHING THE TRANSFORMATIVE POWER OF IMPACT PRODUCING AND OUTREACH IN DOCUMENTARY FILMMAKING
In the contemporary film landscape, filmmakers are embracing impact thinking and incorporating purposeful actions within their productions to effectively engage and mobilize audiences for positive change. Our panel features experts at the intersection of film and social impact, delving into the strategies and insights that drive meaningful impact in this compelling discussion.
RORY THOST | Director of Documentary, Participant / US
AMY SHEPHERD | CEO, Think-Film Impact Production / UK
CHRISTIE MARCHESE | Founder & CEO, Kinema / US
MODERATED BY Mirjam Wiekenkamp - International publicist, Noise Film & TV / NL
Monday, August 14
16:30 – 17:30 • Hotel Europe Atrium


DECODING THE DOCUMENTARY INDUSTRY: WHAT DECISION MAKERS ARE LOOKING FOR?
This panel aims to demystify the documentary industry by shedding light on the perspectives of decision makers when selecting documentary films. Industry insiders will share valuable insights into the trends and considerations influencing their choices. This session will provide valuable guidance to filmmakers and content creators seeking to navigate the documentary landscape and increase their chances of securing funding and distribution opportunities.
LUCIE KON | Commissioning Editor, BBC Storyville, BBC / UK
LAUREN CLARKE | TIFF Docs Programming Associate, Toronto International Film Festival / UK
MANDY CHANG | Global Head of Documentaries for Fremantle, Fremantle / UK
TOMMASO PRIANTE | Sales and Acquisitions Executive, Deckert Distribution GmbH / IT
HEATHER HAYNES | Associate Director of Festival Programming, Hot Docs Canadian International Film Festival / CA


MODERATED BY Marina Burić - Senior Producer Markets, IDFA / NL
17:00 - 18:30 • Chamber Theater 55
TALENTS SARAJEVO: IN CONVERSATION WITH MIRJAM WIEKENKAMP
Join publicist Mirjam Wiekenkamp for an insightful discussion on PR campaigns in the European film industry and the intricate relationships between publicists and filmmakers. Drawing from her extensive experience as the founder of Noise Film and TV, a company specialising in launching both documentaries and fiction films at European festivals, Wiekenkamp will delve into the intricacies of PR campaigns. She will explore the factors that influence a film's positioning within the festival circuit and in relation to other titles. Explore the nuances between PR campaigns for fiction films and documentary films. Gain valuable insights into their operation across both traditional and digital media platforms, and discover how they contribute to generating buzz and expanding outreach. Discover how to build a network of journalists to effectively cover the film and explore the significance of outreach activities and strategies for their development.
MODERATED BY Nebojša Jovanović - Programme Manager, Talents Sarajevo / BA
17:45 – 18:30 • Hotel Europe Atrium
TRUE STORIES MARKET
The True Stories Market aims to foster dialogue among former Yugoslavian countries, dealing with the enduring consequences of past conflicts. It features four carefully chosen cases from prominent organisations dedicated to documenting the Yugoslav Wars. Filmmakers gain access to these cases, enabling them to create compelling stories for broader audiences, leveraging the compelling power of cinema. Following the festival, an open call invites filmmakers to apply for projects inspired by the showcased cases, facilitating their transition from market to screen. By providing an open source for filmmakers, the Market seeks to address urgent issues with the emotive force of the film, fostering understanding and healing among the affected nations. We are delighted to announce that this year's event will also feature the presentation of the development of last year's 10,000 euro award-winning narrative, THE HERO FROM ARENA, written by the talented Vesi Vuković. We are honored to have the continued support and generous sponsorship of this award by Friedrich-Ebert-Stiftung (FES) Dialogue Southeast Europe. This award will be presented to the deserving recipient also this year, continuing our tradition of recognizing important stories that will soon be brought to the audiences.
MODERATED BY Robert Zuber - Film Director / HR
Tuesday, August 15
9:30 – 11:00 • Hotel Europe Atrium
LIGHTS, CAMERA, SUSTAINABILITY: TRANSFORMING FILM PRODUCTION FOR A GREENER FUTURE
The panel aims to discuss real-world industry challenges and opportunities in film production and guide industry professionals in adopting green practices and reducing CO2 emissions while lowering production costs. Through the conversation, we will explore current best practices in energy conservation, transportation, accommodation, catering, production design, waste management, recycling, and how to obtain green certificates. Discover how we can collectively transform film production into a sustainable endeavour, fostering a positive impact on the environment and our industry as a whole.

LOUISE MARIE SMITH | CEO and Founder, Neptune Sustainability / UK
LENA WEISS | Producer and CEO, Glitter and Doom GmbH & Co KG / AT
MIHA KIRN | Head of Procurement and Green production filming, Pro Plus d.o.o. / SI
MODERATED BY Garret Patrick Kelly - Sustainability Advisor, Sarajevo Film Festival / BA
10:30 – 11:30 • Festival Center
CINELINK DRAMA: TELEKOM SRBIJA SHOWCASE
Telecommunication operators in Southeast Europe are embarking on a new era, characterized by increased investments in drama series production. Telekom Srbija will present its forthcoming slate of drama series, as a part of a long-term strategic expansion into the realm of original content creation. The upcoming drama series showcase promises captivating narratives, reflecting the company's commitment to delivering engaging content for its audience in the region.
MODERATED BY Darja Šuković - CineLink Industry Days Training and Skills Coordinator, Sarajevo Film Festival / ME
11:30 – 12:00 • Festival Center
CINELINK DRAMA: COUNCIL OF EUROPE PILOT PROGRAMME FOR SERIES CO-PRODUCTION PRESENTATION
The Council of Europe introduces a new three-year pilot programme. This programme will supp ort high-quality series made as international co-productions and aims to empower independent producers and foster new relationships.
PRESENTED BY Alex Traila - Programme Manager, Council of Europe / FR
12:00 – 13:00 • Festival Center
CINELINK DRAMA PITCH
After taking part in an online prep workshop in July, the participants of CineLink Drama will showcase their projects at the highly anticipated pitching session on August 15.
MODERATED BY Amra Bakšić Čamo - Head of CineLink, Sarajevo Film Festival / BA
15:00 – 16:00 • Hotel Europe Atrium
PERSPECTIVES ON INDEPENDENT CINEMA AND GLOBAL CONTENT
How different is the world of global cinema these days, and what does it have to offer? How can independent productions effectively position themselves in the streaming realm using new trends and strategies? What are the main challenges for arthouse films seeking international distribution? And can films from small territories truly resonate and achieve international recognition?
MARIE ZENITER | VP of Sales, Utopia / US
JESSICA KIANG | Film Critic, Variety / DE
JIM KOLMAR | Independent Film Programmer, South by Southwest Film & TV Festival and Trinidad & Tobago Film Festival
SÉBASTIEN CHESNEAU | Acquisitions & Sales, CERCAMON / AE
MODERATED BY Elad Samorzik - Artistic Director of the Jerusalem Film Festival / IL
17:00 - 18:30 • Chamber Theater 55
TALENTS SARAJEVO: IN CONVERSATION WITH MILA TURAJLIĆ
Drawing inspiration from her latest documentary diptych, SCENES FROM THE LABUDOVIĆ REELS: NON-ALIGNED AND CINÉ-GUERRILLAS (2022), the Talents Sarajevo session featuring Mila Turajlić will delve into the intricacies of the creative process behind the film, with a particular focus on the significant role of archival research in her work. As part of the talk, attendees will have the privilege of an exclusive screening of the author's captivating video piece titled Screen/Solidarity/Silence – Debris from the Labudović Reels.
MODERATED BY Petra Meterc - Film critic / SI
17:30 – 18:30 • Hotel Europe Atrium
PUBLIC POCKETS FOR PRIVATE DRAMAS: THE FINANCING CHALLENGE?
In the ever-evolving landscape of the European audiovisual industry, the demand for locally produced scripted content continues to soar, motivating creators to venture into uncharted narratives and innovative concepts. However, the financing hurdles faced by independent producers of drama series remain a significant roadblock. The panel will center on the intricate financing dynamics surrounding drama series and the pivotal role of public broadcasters and funds as essential financiers of independently produced content.


ALEX TRAILA | Programme Manager, Council of Europe / FR
JARMO LAMPELA | Head of Drama, Creative contents and media, YLE / FI
ANNA FUKUDA | Drama commissioning editor, ARTE / FR
JULIE-JEANNE REGNAULT | Secretary General, EFAD / BE
MODERATED BY Milan Stojanović - Producer, Sense production / RS
Wednesday, August 16
9:30 – 10:30 • Hotel Europe Atrium
COUNTRY PERSPECTIVES: SHAPING AUDIOVISUAL FUTURES THROUGH TAX INCENTIVES
How tightly targeted incentives can efficiently achieve their intended objective? The focus of the discussion will extend beyond conventional praise, examining the varying goals that territories aim for in the short, mid-term, and long-term future. We try to discern what plays a pivotal role in shaping tax scheme's incentives, whether it's promoting local stories/films or attracting foreign productions.
IRIS ZAPPE-HELLER | Deputy director, Austrian Film Fund / AT
MARKO ERAKOVIĆ | International Promotion Advisor, Film Center of Montenegro / ME
CHRIS MARCICH | CEO, Croatian Audiovisual Center / HR
KEYNOTE SPEAKER KENAN MAGODA | Minister of Culture and Sports, Sarajevo Canton / BA
MODERATED BY Charlotte Apelgren - Secretary-General, Cine-Regio / DK
12:00 – 12:30 • Festival Center
CINELINK DRAMA: TRT PRESENTATION
Turkish public broadcaster TRT will present its newly launched international digital streaming platform - tabii.
PRESENTED BY Abdullah Çelik - Head of strategy, TRT / TR
12:30 – 13:30 • Festival Center
CINELINK DRAMA: BH TELECOM SHOWCASE
Discover the upcoming drama series productions from BH Content Lab (BH Telecom) at CineLink Drama Showcase. Explore BH Telecom's strategic vision and commitment to delivering narratives that resonate with regional audience. Showcase will provide insights into BH Telecom's expansion plans, emphasis on nurturing local talent, and their role in shaping the future of original content in the region.
MODERATED BY Darja Šuković - CineLink Industry Days Training and Skills Coordinator, Sarajevo Film Festival / ME
12:00 – 13:30 • Hotel Europe Atrium
HARNESSING DIVERSITY IN TALENT DEVELOPMENT: LESSONS LEARNED PRESENTED BY FOCAL
This panel will delve into the dynamic relationship between generational shifts, working conditions in the film industry, and the vital role of embracing diversity in talent development. Industry experts will share their experiences and insights on fostering an inclusive environment that empowers individuals from diverse backgrounds. Through an examination of lessons learned, the session aims to identify strategies for nurturing talent, supporting emerging voices, and ensuring equitable opportunities for all within the film industry.
NEBOJŠA JOVANOVIĆ | Programme Manager, Talents Sarajevo / BA
FLORIAN WEGHORN | Programme Manager Berlinale Talents, Berlin International Film Festival / DE
MARIT VAN DEN ELSHOUT | Director, FilmForward / NL
KRISTINA BÖRJESON | Head of Production, Film i Väst / SE
MODERATED BY Tamara Tatishvili - Head of Studies of FOCAL's programme MEDICI – The Film Funding Journey / BE
15:00 – 16:00 • Hotel Europe Atrium
WHAT HAPPENS NEXT? THE FUTURE OF DRAMA SERIES UNVEILED
The future of drama series appears intriguing, following years of exponential content production growth and the entry of new players into the market. Now, a phase of consolidation seems imminent. We are enlisting insights from top global drama professionals to shed light on the potential developments in the near and long term. Through their expertise, we aim to uncover the various scenarios that may unfold, offering a glimpse into the exciting times ahead.


MARK TUOHY | VP of Scripted Drama, Max (formerly HBO Max) / US
EMMANUEL ECKERT | Acquisition deputy director, Mediawan Rights / FR
DANNA STERN | Managing Director and Executive Producer, In Transit Productions / DE
ANNA ROHDE | Content Editor, Beta Film Group / DE
MODERATED BY Alex Traila - Programme Manager, Council of Europe / FR
17:00 - 18:30 • Chamber Theater 55
TALENTS SARAJEVO: IN CONVERSATION WITH DINA IORDANOVA
At her Talents Sarajevo session titled Leaving, Arriving, Drifting, Fading, Dina Iordanova will focus on a unique film motif specific to Balkan cinematographies. While many films depict people from Balkan countries travelling to the West, there are also films that explore internal migrations, where the protagonists remain within the same country but move from villages to cities. In fact, numerous films with such themes were produced, particularly in the late 1960s through the 1970s and 1980s, forming what could be considered a distinct Balkan genre. More recently, a reverse version of this genre has emerged in films portraying a return to the village. These films often showcase conflicting emotions or nostalgia while always shedding light on the intricate relationship between modernity and traditionalism. During the session, attendees can explore this genre with examples from film traditions in Turkey, Bosnia, Croatia, Serbia, Bulgaria, Greece, Romania, and other countries in the region.
MODERATED BY Nebojša Jovanović - Programme Manager, Talents Sarajevo / BA
17:30 – 18:30 • Hotel Europe Atrium
ACE INTERVIEW WITH LABINA MITEVSKA
In 2001, Labina, her sister Teona and their brother Vuk established the production company SISTERS AND BROTHER MITEVSKI. The company produced short, feature, documentary and animation films that won numerous awards at festivals worldwide. All their feature films are complex and successful European co-production projects. In 2001 they started with short film VETA (2001), which received the Special Jury award at the Berlin Int. Film Festival. Labina Mitevska is a member of the European Film Academy and country representative of the EAVE program for Macedonia. In 2014 she was part of the Producers of the Move program by EFP. Since 2021, Labina is part of the producer team of Belgium film company Entre Chien et Loup.


MODERATED BY Simon Perry - Senior Consultant, ACE Producers / UK
Thursday, August 17
9:30 – 11:00 • Hotel Europe Atrium
ROLE OF PRODUCER IN NEW FEMINISM ERA PRESENTED BY MASTERCARD
How can we get closer to gender equality in general and in the field of the film industry? Is it an important goal and why? In this panel, we bring together accomplished female producers to share their real-world experiences and insights in navigating the changing landscape of position of women within the film industry. Accomplished female producers reveal practical strategies to empower female voices, tackle gender disparities, and drive positive change.


JELENA ANGELOVSKI | Producer, Meander Film / RS
TAMARA BABUN | Producer, Wolfgang & Dolly / HR
DRAGANA JOVOVIĆ | Producer, Non-Aligned Films / RS
MODERATED BY Asja Krsmanović / Student Film Programmer and Competition Programme Manager, Sarajevo Film Festival / BA
11:30 – 13:00 • Hotel Europe Atrium
IN CONVERSATION WITH DRAGAN BJELOGRLIĆ
With a career spanning four decades, he is celebrated as an actor, director, and producer. From his breakout role in BETTER LIFE (1987-1990), to iconic films like PRETTY VILLAGE, PRETTY FLAME (1996). Dragan Bjelogrlić has left an indelible mark on the industry, setting new standards in the production landscape with his high-quality films and series that continue to dominate the box office. Explore the actor's journey as he shares insights into his craft, challenges, and successes. Don't miss this inspiring opportunity to hear from the Dragan Bjelogrlić himself and gain a deeper appreciation for his impact on Serbian cinema.


MODERATED BY Maša Marković - Head of Industry, Sarajevo Film Festival / BA


14:30 – 15:30 • Hotel Europe Atrium
PACK AND PITCH
Seven Talents Sarajevo participants pitch scripts currently in development to a five-member jury, their peers, and industry professionals scouting for up-and-coming talent. List of projects:
1 KOBAJAGI 2 ROSE'S WELL 3 TRANSFER 4 THURSDAY IS THE NEW FRIDAY 5 STEP INTO THE COMFORT ZONE 6 AFTER THIRTY MINUTES 7 SEARCHING FOR THULE


MODERATED BY Gabriele Brunnenmeyer - Script mentor, project consultant and pitching coach, Berlinale Talents / DE and Nicholas Davies - Writer, Editor, and Project Manager, University of Toronto - Innis College / CA