News
Honorary Heart of Sarajevo Award: John Cleese
John Cleese was awarded the Honorary Heart of Sarajevo ahead of the Open Air screening of A FISH CALLED WANDA.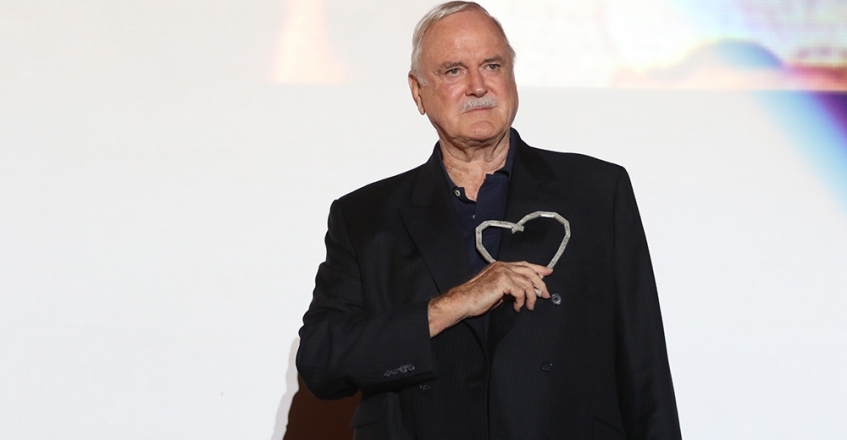 John Cleese is best known for his involvement in MONTY PYTHON'S FLYING CIRCUS, FAWLTY TOWERS, MONTY PYTHON AND THE HOLY GRAIL, MONTY PYTHON'S LIFE OF BRIAN, and A FISH CALLED WANDA.
In addition to his comedic activities, he was a co-founder with Sir Antony Jay of Video Arts, a management and sales training video company. Over a period of 20 years, Video Arts made over 120 training videos, and it was the largest firm of its kind outside the United States.
John Cleese was also a co-author, with the eminent psychiatrist Dr. Robin Skynner of two books 'Families And How To Survive Them', and 'Life And How To Survive It'. These books, which explored psychology, psychiatry, and their application to the wider world, both became best sellers.

Currently he is Provost's Professor at Cornell University.


---

Four conniving jewel thieves… three Yorkshire terriers… two heaving bosoms and one proper British barrister. It all adds up to "a non-stop barrage of …outrageous plot twists and over-the top performances" when a woman called Wanda tries to deceive her Nietzsche-quoting boyfriend, an animal-loving hitman and an embarrassment-prone counsellor out of a fortune in jewels in this hilariously funny farce!
Screening of the film A FISH CALLED WANDA will be organised in the Raiffeisen Open Air Cinema at 20:30.
Director: Charles Crichton
Cast: John Cleese, Kevin Kline, Jamie Lee Curtis, Michael Palin, Maria Aitken, Tom Georgeson, Patricia Hayes
Charles Crichton
1988 – A FISH CALLED WANDA
1965 – HE WHO RIDES A TIGER
1964 – THE THIRD SECRET
1960 – THE BOY WHO STOLE A MILLION
1960 – THE BATTLE OF SEXES
1959 – FLOODS OF FEAR
1958 – LAW AND DISORDER
1957 – THE MAN IN THE SKY
1954 – THE DIVIDED HEART
1954 – THE LOVE LOTTERY
1953 – THE TITFIELD THUNDERBOLT
1952 – HUNTED
1951 – THE LAVENDER HILL MOB
1950 – DANCE HALL
1949 – TRAIN OF EVENTS
1948 – ANOTHER SHORE
1948 – AGAINST THE WIND
1947 – HUE AND CRY
1945 – PAINTED BOATS
1944 – FOR THOSE IN PERIL