News
Jury of the Competition Programme - Documentary Film 2020
Producer Lejla Dedić, Director Goran Dević and Documentary Consultant and Critic Tue Steen Müller will serve on the Jury of the Competition Programme - Documentary Film of the 26th Sarajevo Film Festival.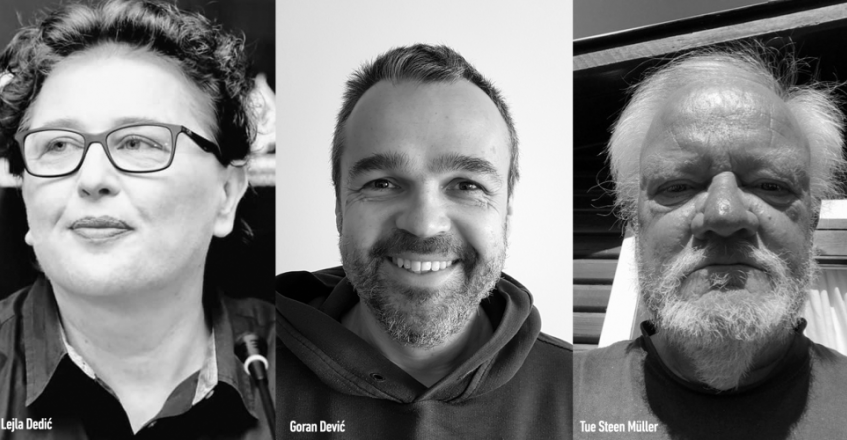 LEJLA DEDIĆ
Producer, Programme Department, Al Jazeera Balkans, BiH
Lejla Dedić was born in 1972 in Konjic, Bosnia and Herzegovina. She graduated from London South Bank University in 1997 doing her thesis on the topic of "Media and Society". After that, she had various work assignments in the media sector in which she has over twenty years of experience. After her engagement with the BBC World Service Trust/Media Action. In 2011, after Al Jazeera Balkans' opening, she started working in the Programme Department for this regional television station as Producer for Acquisitions and Co-production.
For the past nine years, she has worked successfully as a producer in a small but strong team with Sead Kreševljaković and Đani Hasečić. Up to now, she has bought over 300 fantastic film titles and dozens of series for Al Jazeera Balkans. She has co-produced over 20 films, most of which received an award at regional and European festivals. During her career, she has participated in over 50 renowned film festivals as a jury member, panellist and producer.
For the third year in a row, she is the proud selector at the Al Jazeera Balkans Documentary Film Festival (AJB DOC), and, for the past two years, at the Rab Film Festival (RAFF).

GORAN DEVIĆ
Director, Croatia
Goran Dević was born in Sisak in 1971. He studied Archeology and Law. In 2008 he took a degree in Film and TV Directing from the Zagreb Academy of Dramatic Arts, where he works today at the Documentary Film graduate studies. His documentary and fiction films were awarded in Pula, Cottbus, Prizren, Prague, Sarajevo, Oberhausen, Leipzig, Motovun and Zagreb. His feature film directorial debut (which he co-directed and co-written with Zvonimir Jurić) was a critically acclaimed 2009 psychological war drama titled The Blacks. Retrospectives of his documentaries were screened at Arsenal Berlin, Crossing Europe Filmfestival Linz, Beldocs and Zagreb. He is founder of the production company Petnaesta umjetnost.
TUE STEEN MÜLLER
Documentary Consultant and Critic, Denmark
Born 1947. Danish. He worked with short and documentary films for more than 20 years at the Danish Film Board – as press secretary, head of distribution and information and as a commissioning editor.
He's co-founder of Balticum Film and TV Festival, Filmkontakt Nord, Documentary of the EU and EDN (European Documentary Network). He has travelled to European short and documentary festivals often to be seated as a jury member. He has given documentary courses and seminars in more than 30 countries.
In 2004 he was awarded the Danish Roos Prize for his contribution to the Danish and European documentary culture. In 2006 an award for promoting Portuguese documentaries. In 2014 he received the EDN Award "for an outstanding contribution to the development of the European documentary culture". In 2016 he received a handshake from the President of Lithuania, and the Cross of the Knight of the Order for Merits to Lithuania. In 2019 he was awarded a Big Stamp at the 15th edition of ZagrebDox.
From 1996 until 2005 he was director of EDN (European Documentary Network). He has written articles for national and international newspapers and magazines. From 2006 he has been a freelance consultant and teacher in workshops like Ex Oriente, DocsBarcelona, Archidoc, Documentary Campus, Storydoc, Baltic Sea Forum, Black Sea DocStories, Caucadoc, CinéDOC Tbilisi, Docudays Kiev, Dealing With the Past at Sarajevo Film Festival as well as programme consultant for the festivals Magnificent7 in Belgrade, DOCSBarcelona, Message2Man in St. Petersburg and DOKLeipzig. From September 2007 he has taught at the Zelig Documentary Film School, Bolzano, Italy. He writes (almost) daily about documentaries in English on www.filmkommentaren.dk.