News
Films competing for Audentia award for the best female director
Twelve feature films from the programme of the 26th Sarajevo Film Festival are competing for the Audentia award. The members of the jury are: Aida Begić, film director (BiH), Marco Müller, artistic director of the international film festival 'Pingyao Crouching Tiger Hidden Dragon' (Italy/China), and Iris Zappe-Heller, deputy director and head of department of Gender Equality and Diversity of the Austrian Film Institute (Austria).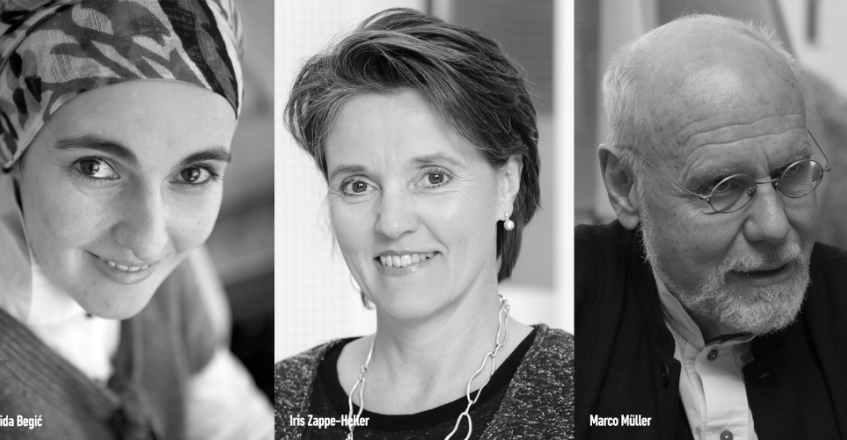 The award, which will be presented at the Sarajevo Film Festival for the fifth time, was founded by the Council of Europe and its Eurimages fund to promote gender equality in the European film industry.
Films competing for the Audentia award at the 26th Sarajevo Film Festival are: "Andromeda Galaxy" (directed by: More Raҫa; Kosovo, Spain, Italy, North Macedonia; 2020), "Otto the Barbarian" (directed by: Ruxandra Ghitescu; Romania, Belgium; 2020), "Mare" (directed by: Andrea Štaka; Switzerland, Croatia, 2020), "Hold me Right" (directed by: Danijela Stajnfeld; Serbia, United States of America, 2020), "The Fourth Character" (directed by: Katerina Patroni; Greece; 2019), "Return to Epipo" (directed by: Judit Oláh; Hungary, 2020), "The Trouble with Being Born" (directed by Sandra Wollner; Austria, Germany; 2020), "Eden" (directed by Áġnes Kocsis; Hungary, Romania, Belgium; 2020), "Zana" (directed by Antoneta Kastrati; Kosovo, Albania; 2019), "Wildland" (directed by Jeanette Nordahl; Denmark; 2020), "Garage People" (directed by Natalija Yefimkina, Germany 2020) and "The Diary of Diana B." (directed by Dana Budisavljević; Croatia, Slovenia, Serbia; 2019).
For the engagement in gender equality in the film industry, Sarajevo Film Festival is honoured to host this year's Audentia award. Audentia will be awarded to the director of one of the listed films as support for her next film. The Audentia award winner will be announced at the Award ceremony of the 26th Sarajevo Film Festival.
BIOGRAPHIES OF THE JURY MEMBERS:
AIDA BEGIĆ
Director, BiH
Aida Begić was born in Sarajevo. She graduated directing at the Sarajevo Academy of Performing Arts. Her graduation film "First Death Experience" was presented at The Cinéfondation Official Selection of the Cannes Film Festival. Her debut feature "Snow" was premiered at Cannes, Semaine de la Critique where it won the Grand Prix and 30 further festival awards from around the world. "Snow" was nominated for a European Academy Film Award, Discovery Section and was Bosnian nominee for American Academy Awards. Her 2nd feature film "Children of Sarajevo" premiered in Un Certain Regard, Official Selection of the Cannes Film Festival where it won Special Distinction of the Jury. She wrote and directed a short film "Album", part of omnibus "Bridges of Sarajevo" that had its world premiere as a part of the Official Selection of the Cannes Film Festival in Special Screening section. She produced a documentary feature "100 Million Dollar House" directed by Rešad Kulenović. Aida Begić is Professor and Head of the Directing Department at the Academy of Performing Arts Sarajevo. She is member of AMPAS, EFA, UFR BiH and SACD. Her 3rd feature film "Never Leave Me" was Bosnian candidate for American Academy Awards and won numerous awards at the festivals worldwide.
IRIS ZAPPE-HELLER
Deputy Director, Head of the Gender and Diversity Department, Austria
Working for the Austrian Film Institute since 1993, Iris Zappe-Heller has always been striving for more equality and diversity in film, both on a national and European level. She is Austria's representative on the board of EURIMAGES, a partial agreement of the Council of Europe funding international co-productions. In that role, she is founding member and chair of the Gender Equality Group "50/50 by 2020". In 2017, she participated as the Austrian expert in drafting the Council of Europe's Recommendation on Gender Equality in the Audiovisual Sector. Deputy director of the Austrian Film Insitute since 2011, Iris Zappe-Heller initiated the institute's Gender & Diversity Department and functions as its head. She published the Austrian part of the EWA-Film Gender Report 2006-2013 "Where are the women directors?", the first Austrian Gender Film Report 2012-2016 and its continuation. Zappe-Heller is also a patron of ProPro – The Producers' Programme for Women as well as the co-initiator of the screenwriting competition on strong female characters "If she can see it, she can be it".
MARCO MÜLLER
Artistic Director, Pingyao Crouching Tiger Hidden Dragon International Film Festival, Italy/China
Film critic and historian. Director and writer of documentaries about cinema. Chair Professor of "Film Architecture" and "Film Curating". Consultant for Asian cinema with the Venice Film Festival (1981-1995). Director of "Ombre elettriche" (Electric Shadows) Festival in Turin (1981). Subsequently director of the festivals of Pesaro (1982-1989), Rotterdam (1989-1991) and Locarno (1992-2000). Director of the Venice Film Festival (2004-2011) and of Rome Film Festival (2012-2014). After one year (2015) of head-programming festivals in Mainland China (Beijing IFF, Fuzhou Silk Road IFF) he has initiated and directed until November 2016 the 1st Macau International Film Festival and Awards. He is currently the Artistic Director of the Pingyao Crouching Tiger Hidden Dragon International Film Festival. Müller has also been the initiator of the Hubert Bals Film Fund and of the Cinemart Project Workshop in the Netherlands, of the Montecinemaverità Film Fund in Switzerland and of the South/East Cinema Fund in Italy. In his parallel career as a film-producer, he has produced and co-produced 11 features that include award-winning movies (Academy Award for Best Foreign Film, top-tier honours in Cannes, Venice and other major festivals) from China, Bosnia, Turkey, Iran, Russia and Central Asia, Brazil (he has also produced short-films and documentaries). In addition to being a regular contributor of essays on film to European magazines and dailies, he has written or edited over twenty books on Russian, Soviet, Chinese, Japanese, Indian and Asian cinema.