News
The Continuation of a Successful Collaboration Between SFF and Raiffeisen Bank
The continuation of a successful collaboration between Raiffeisen Bank and the Sarajevo Film Festival has been celebrated last night with the screening of Italian film "Like Crazy".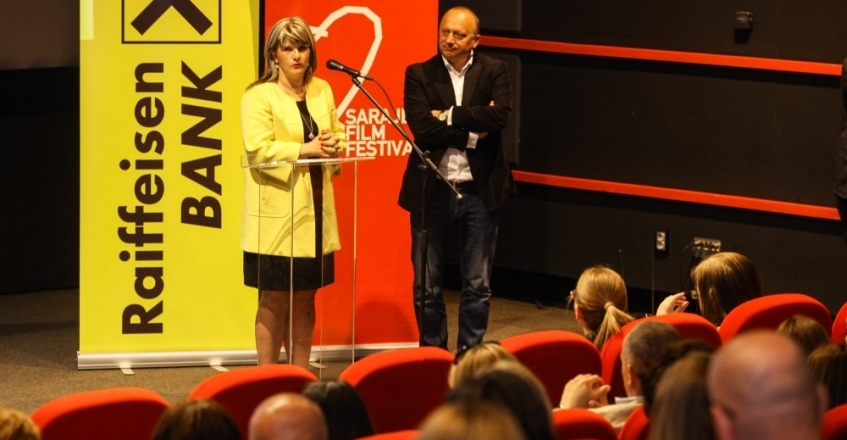 "As a partner of the Sarajevo Film Festival since its launch, this year we are proud to become the sponsor of the Raiffeisen Open Air Cinema. I must stress that we are particularly attached to the Sarajevo Film Festival since our cooperation had turned into a true friendship over the years which we have spent growing and developing alongside one another to become the two best known brands in this region," said Karlheinz Dobnigg, the Chairman of the Board of Raiffeisen Bank. "While pursuing our strategic commitment to sustainability, we have been aiming to share our success with the communities where we operate by supporting important projects in the field of culture."

"Over the years, Raiffeisen Bank has been supporting the Festival through different sponsorship programs and since 2009 we are the main sponsor of the Festival. In this way, our bank has been supportive of this important project which contributes to a positive image of Bosnia and Herzegovina and has won recognition as one of the most important regional cultural projects".

"We are pleased that Raiffeisen Bank has been supporting the Sarajevo Film Festival since its beginning and that its proactive approach had encouraged other companies to join the family of partners of the Festival. We are particularly happy because our cooperation with Raiffeisen Bank has been a constantly growing success. It was thus a logical choice for us this year to name our most attractive venue after our faithful partner," stressed Mirsad Purivatra, the director of the Sarajevo Film Festival. "Without continued and truly constructive support of Raiffeisen Bank, the Festival would not have become the internationally respected and well-known brand that it is today," Purivatra added.