News
56 Participants Selected for Talents Sarajevo 2021
Talents Sarajevo accompanying the 27th edition of the Sarajevo Film Festival will welcome 56 up-and-coming directors, producers, screenwriters, actors, cinematographers, editors and film critics from 14 countries of Southeast Europe and the Southern Caucasus.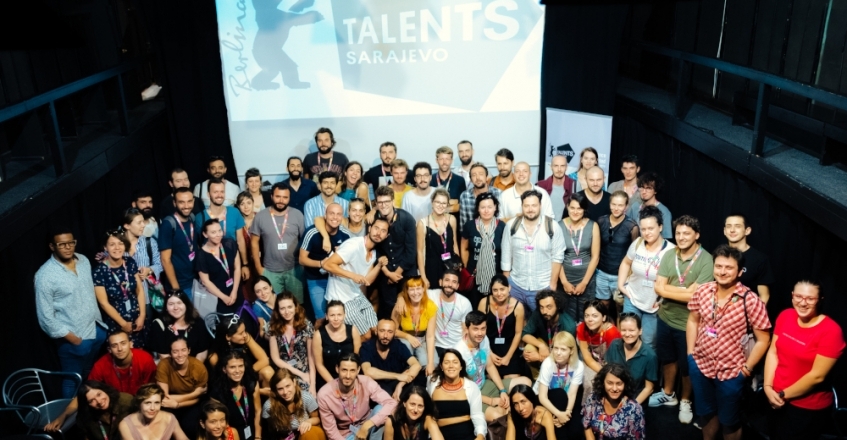 This year, participants hail from 14 of the 19 eligible nations, namely: Albania, Azerbaijan, Bosnia and Herzegovina, Bulgaria, Croatia, Cyprus, Greece, Hungary, Montenegro, North Macedonia, Romania, Serbia, Slovenia and Turkey. Numbers of 2021 participants by country are more evenly distributed than in recent years, with between one and eight Talents from each nation, the only exception being Romania with 12 participants total.
Talents Sarajevo 2021, titled BRAVE, continues to offer its participants access to a variety of master classes, lectures, seminars, discussions, hands-on workshops, and film screenings throughout the Sarajevo Film Festival. Led by renowned international industry experts, dedicated modules for different crafts, as well as the Pack&Pitch and Script Station project development labs, provide a tailored approach to mentoring regional talents.
Launched in 2006 in cooperation with the Berlin International Film Festival and Berlinale Talents initiative, Talents Sarajevo transformed into the main regional hub for aspiring film professionals. It is a member of Talents International network which includes similar initiatives in Tokyo, Beirut, Guadalajara, Durban, Buenos Aires, and Rio de Janeiro.
In addition to bringing young filmmakers together for training sessions and networking opportunities, the platform also introduces participants to the work of established film professionals, informs them about current trends and issues in the industry, and introduces them to the international filmmaking community.
TALENTS SARAJEVO 2021 SELECTION:
DIRECTORS SUMMIT
Emilios Avraam (Cyprus)
Bálint Bíró (Hungary)
Lana Bregar (Slovenia)
Alin-Gheorghe Duruian (Romania)
Teona Galgoțiu (Romania)
Teymur Gambarov (Azerbaijan)
Dimitris Georgiev (Bulgaria)
Gvozden Ilić (Serbia)
Zeynep Köprülü (Turkey)
Olga Kosanović (Serbia)
Isavella Aikaterini Margara (Greece)
Alexandru Mironescu (Romania)
Sami Morhayim (Turkey)
Lea Podhradska (Hungary)
Yusuf Emre Yalçin (Turkey)
ACTING STUDIO
Yassen Atanassov (Bulgaria)
Cătălina Bălălău (Romania)
Milena Božić (Serbia)
Kerim Čutuna (Bosnia And Herzegovina)
Burçak Dilekli (Turkey)
Eva Jesenovec (Slovenia)
Josip Ledina (Croatia)
Sabina Memishi (North Macedonia)
Sunčica Milanović (Serbia)
Iulian Postelnicu (Romania)
Tamara Ristoska (North Macedonia)
Milica Šćepanović (Montenegro)
PRODUCERS SUMMIT
Elena Doroshenko (Bulgaria)
Andra Gheorghiu (Romania)
Enea Gramo (Albania)
Benjamin Noah Maričak (Croatia)
Senida Mujanović (Bosnia And Herzegovina)
CAMERA STUDIO
Aleksa Borković (Serbia)
Kagan Kerimoglu (Turkey)
Athanasios Konstantopoulos (Greece)
Ana Melentijević (Serbia)
Maria Tsvetkova (Bulgaria)
EDITING STUDIO
Andrada Neacsu (Romania)
Cristina-Adriana Popa (Romania)
Klara Šovagović (Croatia)
PACK & PITCH
Eleni Dekidis (Bulgaria)
Sandra Gjorgieva (Romania)
Samir Huseynov (Azerbaijan)
Aristeidis Kotronis (Greece)
Danilo Stanimirović (Serbia)
Iordanis Theodosiadis (Greece)
Ana Vijdea (Romania)
SCRIPT STATION
Gledis Bica (Albania)
Mihail Gavril Dragolea (Romania)
Jelica Jerinić (Serbia)
Biser Jonev (Bulgaria)
Joanna Kaltsidou (Greece)
Florenc Zerrelarri (Albania)
TALENT PRESS
Kristijan Fidanovski (North Macedonia)
Filip Mishov (North Macedonia)
Petra Torsan (Romania)