News
Competition Programme - Short Film Jury and selection of the 28th Sarajevo Film Festival
Deputy director of Eye Film Filmmuseum, Ido Abram, director Morgane Dziurla-Petit and director Christos Massalas are members of the jury of the Competition Programme - Short Film of the 28th Sarajevo Film Festival.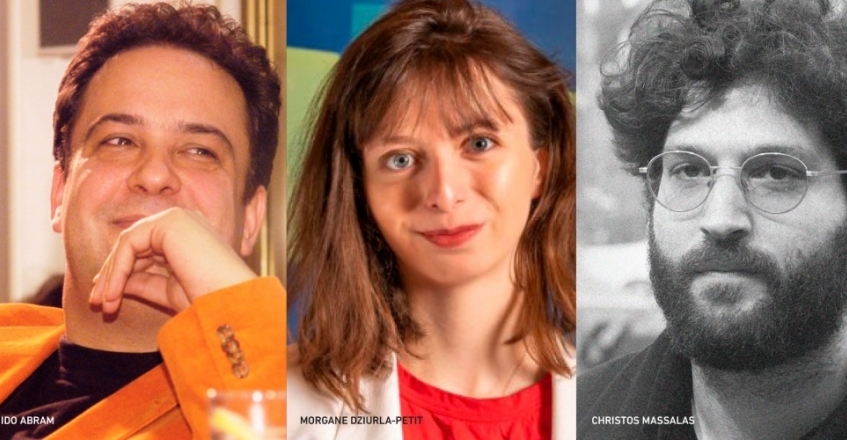 Ido Abram
Deputy Director of the EYE Film Filmmuseum, Netherlands

Born in 1969, Ido studied Film and Television. Ido started his working career in the film industry as Head of Marketing and Communications of the Netherlands Film Festival in Utrecht. Afterwards he worked in the same position and as assistant to the directors for Cinemien Film & Video Distribution. He is Director of SEE NL, a collaboration between Eye and the Netherlands Film Fund, responsible for the international promotion of Dutch films. In addition, Ido is Deputy Director of Eye Filmmuseum, where he heads the following departments: Education, Talent Development, Distribution, Digital Presentation and Platforms and International Marketing & Promotion. Before he joined EYE, Ido was the director of the Binger Filmlab and worked for the International Film Festival Rotterdam as CineMart Director and Head of Public Relations and Industry Affairs. In addition, he is a member of the International Advisory Board of Cinekid, and the New Producers Academy and a board member of Moving Arts Centre Amsterdam, and ACE Producers.

Morgane Dziurla-Petit
Director, France

Born in France, Morgane Dziurla-Petit settled in Sweden in 2017 after studying film in Paris and Cannes. She has since written and directed three critically acclaimed shorts (LE JOUR, EXCESS WILL SAVE US AND GRAB THEM) and one feature film (EXCESS WILL SAVE US) standing at the border between fiction and documentary. Morgane is a Guldbagge (Swedish Academy) award winner. Her films have been screened at hundreds of festivals among which are Palm Springs, Clermont Ferrand, Hot Docs, MoMA's Doc Fortnight, Sarajevo, Sao Paulo,... She made one of the first short films using Deepface, in which a middle aged Swedish woman's search for love is complicated by the fact that she has the exact same face as Donald Trump. In 2022, Morgane's first feature film, EXCESS WILL SAVE US, premiered in Rotterdam where it won the Jury's Prize in the main competition.

Christos Massalas
Director, Greece

Born in Greece, 1986. Studied Filmmaking at the London Film School, LFS. His short films have received numerous prizes and have screened in over 200 international film festivals, including Cannes, New Directors/New Films, AFI, BFI and Sarajevo. In 2016, he was selected as one of 15 promising directors from around the world at the Locarno Film Festival. COPA-LOCA, his 2017 short, was nominated for the European Film Award and won the Greek Academy Award. BROADWAY, his debut feature film, supported by the Sundance Lab and L'Atelier Cannes, premiered at the International Film Festival Rotterdam in 2022 and is now traveling to screens around the world. He is currently developing LIBERTY!, his sophomore feature film.

Competition Programme – Short Film 2022.

Ten titles selected by Elma Tataragić will be screened in the Competition Programme – Short Film. The selection features four world, one international and five regional premieres.

WORLD PREMIERES

AFFRICATE
Hungary, 2022, 26 min.
Director: Anna Gyimesi
Cast: Adél Kováts, Kinga Csutak-Hoffmann, Lilla Kizlinger, Márk Nagy

A single mother's adventure by the seaside leads her to recognise her unnecessary martyrdom for her disabled teenage daughter.

IT IS QUIET HERE
Ukraine, 2022, 12 min.
Director: Novruz Hikmet, Olena Podolianko
Cast: Lyudmyla Chyrkova, Maksym Shlenchak

A young couple is torn from the world for one long night in a hotel room in a town near the border. Tonight, they have agreed not to talk about the war. Completely lost in their small world, they don't notice when morning comes and forces them back to reality.

MY NEIGHBOUR WOLF / BANIJA
Croatia, Serbia, 2022, 17 min.
Director: Nebojša Slijepčević
Cast: Nebojša Borojević, Igor Hamer, Mladen Ptičar

Villages near the Croatian border with Bosnia and Herzegovina are mostly deserted, abandoned by authorities, and forgotten by the world. The few remaining inhabitants live in extreme poverty and are left to fend for themselves against frequent attacks by wild beasts. This film is based on a real event.

TOGETHER, ALONE / BIRLIKTE, YALNIZ
Türkiye, France, 2022, Colour, 20 min, Turkish
Director: Kasım Ördek
Cast: Ecem Uzun, Mert Doğan, Haydar Köyel, Hacer Ördek

Sevgi and Doğan, a young couple, steal cars in the poorer districts of Istanbul and sell them to the junkyard to be pressed. One day, however, an unsettling event shakes them to the core, pushing them to face some truths about their relationship and the harsh realities of life.

INTERNATIONAL PREMIERES

ALBA VULVA
Hungary, 2022, 16 min.
Director: Dorka Vermes
Cast: Katalin Homonnai, Pompónia Pálya, Vera Sipos

Edina is a middle-aged intellectual whose long-lasting relationship with her long-term girlfriend recently ended but she has not yet been able process the break-up. She goes to a beauty salon for a full-on bikini wax. During the painful treatment she gets in touch with her repressed memories and with her inner sorrow. Based on a short story by Nancy Jo Cullen.

REGIONAL PREMIERES

5 PM SEASIDE
Greece, Austria, 2022, 26 min.
Director: Valentin Stejskal
Cast: Antonis Tsiotsiopoulos, Kimonas Kouris

Nikos sits and waits in his pick-up truck at the edge of a remote beach on his fortietth birthday. As she does every year, his mother calls and tells him about his birth. The weather is rough. In the distance, Nikos finally sees Christos, his old friend from his military days, approaching. This is the first time they will see each other after many years. Today, Christos will fulfill Nikos's dangerous wish.

AMOK
Hungary, Romania, 2022, 15 min.
Director: Balázs Turai

After a freak accident takes away his fiancée and his good looks, Clyde must confront his inner Gnome.

MONEY AND HAPPINESS
Serbia, Slovenia, Slovakia, 2022, 10 min.
Director: Ana Nedeljković, Nikola Majdak Jr.

The hamsters live and work in Hamsterland, a perfect state with a perfect economy. The GDP grows steadily, there is no unemployment, and 100 per cent of the population declare themselves to be happy. Of course, as with any attempt to arrange a perfect society by force, the world of the hamsters has its dark side.

ON XERXES' THRONE / STON THRONO TOU XERXI
Greece, 2022, 15 min.
Director: Evi Kalogiropoulou
Cast: Yorgos Mazonakis, Angela Brousko, Myrto Kontoni, Xenia Dania, Lorenzo Sarjan, Kevin Zans Ansong, Jordan Genidogan, Vassilis Koutsogiannis

At a dystopian workplace at the Perama shipyard, a ban on physical contact has turned human interaction into otherworldly simulations. The suppression of touch has alienated the workers' communication, transforming the boatyard into a charged landscape of alienation and repressed sensuality beyond stereotypical heteronormative desires.

THAT'S HOW THE SUMMER ENDED / TAKO SE JE KONČALO POLETJE
Slovenia, Hungary, Italy, 2022, 13 min.
Director: Matjaž Ivanišin
Cast: Aleš Jeseničnik, Kristina Olovec, Jernej Jerovšek

At the end of the summer, while preparations for an air show are taking place in the sky, a man and a woman go to the water. But the arrival of a legendary aerobatics pilot will not be the event of the day for them.



The 28th Sarajevo Film Festival will be held from the 12th to the 19th of August, 2022.