News
CineLink Industry Days announces selection for Work in Progress 2023
CineLink Work in Progress, a section of the Sarajevo Film Festival's co-production market, serves as a showcase of the most exciting new works originating from the dynamic regions of Southeast Europe and the MENA region.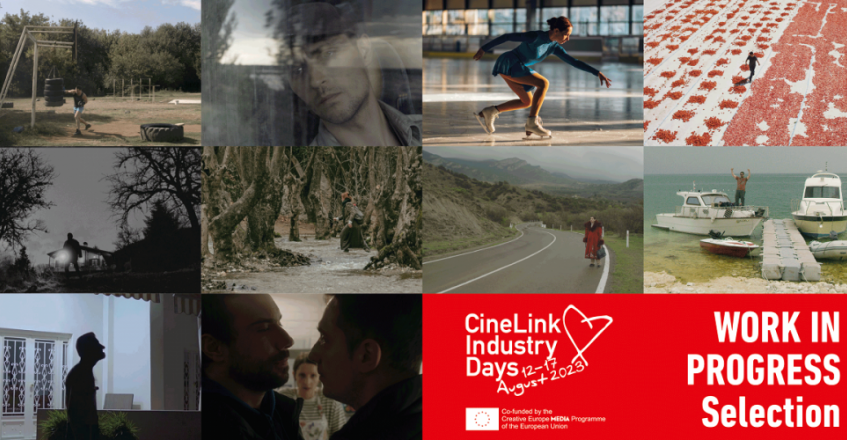 The selection includes 10 new feature-length films: 8 fiction and 2 documentary which will be presented to international high-profile industry professionals (funders, sales agents, distributors, broadcasters and festival programmers) with the aim of assisting their completion and enhancing their distribution possibilities.

The projects will compete for two awards: the Post Republic Award (30,000 EUR in kind), and the Turkish National Radio Television Award (25,000 EUR in cash). The jury deciding the awards: Sébastien Chesneau – Cercamon, Esra Demirkiran – TRT Sinema, Petra Gobel – The Post Republic, Jim Kolmar – South by Southwest Film Festival, Jean-Marc Zekri – Directors' Fortnight.

For the first time, CineLink Industry Days will feature an exciting new award, the CineLink Impact Award, presented by Think-Film Impact Production. This award is open to all projects in the post-production phase, participating in the CineLink Work-in-Progress or Docu Rough Cut Boutique. Its primary goal is to provide valuable support in developing a comprehensive impact campaign for the most promising project. The Award comprises of in-kind consultation services worth €20,000. The winner will be chosen by the CineLink Impact Jury: Amy Shepherd - Think-Film Impact Production, Rory Thost - Participant Media, and Faridah Gbadamosi - Tribeca Enterprise.

"In the ever-evolving landscape of cinema, resilience and diversity stand as pillars of strength, shaping a new and compelling selection of film projects in our Work in Progress Section. Each film is an amalgamation of unique narratives, visual languages and creative voices, that celebrate the richness of human experiences and power of the moving images and sounds." says Amra Bakšić Čamo, Head of CineLink.

The complete list of selected projects for Work in Progress can be found below.

AS IF YOU WERE NEVER HERE
(fiction)
Director: Eti Tsicko
Producers: Ayelet Kait, Amir Harel
Co-Producers: Vladimer Katcharava, Flavia Oertwig
Production Company: Lama Films
Co-Production Companies: 20 Steps, Intrigó Internacional
Israel, Georgia, Italy

BLINDSIGHT
(fiction)
Director: Adrian Sitaru
Producer: Anamaria Antoci
Co-Producers: Arda Çiltepe, Semih Gülen
Production Companies: Domestic Film, Tangaj Production
Co-Production Company: Vigo Film
Romania, Turkey

THE EDITORIAL OFFICE
(fiction)
Director: Roman Bondarchuk
Producers: Darya Bassel, Dar'ya Averchenko Production Companies: Moon Man, South Films
Ukraine, Germany, Czech Republic, Slovakia

GYM
(fiction)
Director: Srđan Vuletić
Producer: Ishak Jalimam
Co-Producers: Ankica Jurić-Tilić, Željko Šošić, Bojan Mastilović
Production Company: realstage
Co-Production Companies: Kinorama, Dogma Studio, Iridium Film
Bosnia and Herzegovina, Croatia, Montenegro, Slovenia

KANTO
(fiction)
Director: Ensar Altay
Producer: Suleyman Civliz
Co-Producer: Yelda Yanat Bağcı
Production Company: Fikirdöküm
Turkey
MALDIVES
(fiction)
Director: Daniel Bolda
Producers: Nicholas Alavanos, Daniel Bolda
Production Companies: Filmiki Sa, Edelweiss Film
Greece

ONE OF THOSE DAYS WHERE HEMME DIES
(fiction)
Director: Murat Fıratoğlu
Producer: Nefes Polat, Murat Fıratoğlu
Production Company: Nefes Films
Turkey
RIFT IN THE ICE
(fiction)
Director: Maja Miloš
Producer: Jelena Mitrović
Co-Producers: Ines Vasiljević, Jožko Rutar, Danijel Hočevar, Boris T. Matić, Lana Matić, Ivan Bakrač, Denis Vaslin
Production Company: Film House Baš Čelik
Co-Production Companies: Nightswim, Zavod Spok, Vertigo, Propeler Film, Quadrifolium Film, Volya Films
Serbia, Slovenia, Croatia, Montenegro, Italy, Netherlands
THE SINNER AND THE SAINT
(documentary)
Director: Boris Despodov
Producer: Boris Despodov
Production Company: Arthouse Blockbusters
Co-Producers: Nina Frese, Miloš Ljubomirović
Production Companies: Pandora Film, Servia Film
Bulgaria, Germany, Serbia
SUSPENDED – DIARIES FROM LEBANON
(documentary)
Director: Myriam El Hajj
Producers: Myriam Sassine, Carine Ruszinievski
Production Company: Abbout Productions
Co-Production Company: Gogogo Films
Lebanon, France