News
22nd Sarajevo Film Festival Final Report
The Sarajevo Film Festival is an international film festival with a special focus on the regions of South East Europe and Southern Caucasus.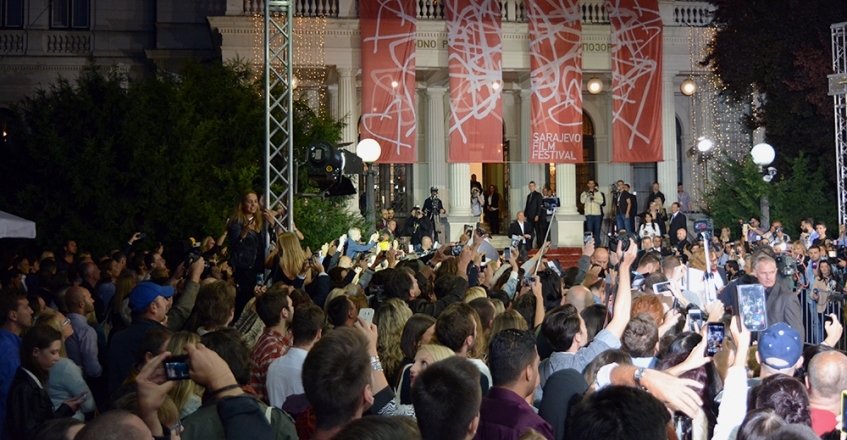 The focus on regional cinema through the Competition selections for feature, short and documentary film, as well as a focus on the film industry (CineLink), an educational platform for young filmmakers (Talents Sarajevo), and the presence of the international film industry, filmmakers and media representatives, together with over 100 000 visitors, confirms SFF's status as the leading film festival in the region, recognized by film professionals and the wider public alike.
During the nine days of the 22nd Sarajevo Film Festival, numerous eminent filmmakers presented their work to the audience.
22nd SARAJEVO FILM FESTIVAL IN NUMBERS
223 FILMS FROM 61 COUNTRIES
18 PROGRAMMES
673 EMPLOYEES
OVER 500 VOLUNTEERS
OVER 1.500 ACCREDITED GUESTS
OVER 700 ACCREDITED MEDIA REPRESENTATIVES FROM 28 COUNTRIES
OVER 100.000 VISITORS AT ALL THE PROGRAMMES

OFFICIAL AWARDS

COMPETITION PROGRAMME – FEATURE FILM

Jury:
Elia Suleiman, Director (President of the Jury, Palestine)
Members of the Jury:
Zeynep Atakan, Producer (Turkey)
Nikola Đuričko, Actor (Serbia)
Thomas Hailer, Curator of the Berlin International Film Festival (Germany)
Angeliki Papoulia, Actress (Greece)
HEART OF SARAJEVO FOR BEST FEATURE FILM
ALBUM / ALBÜM
Turkey, France, Romania
Director: Mehmet Can Mertoğlu
Producers: Yoel Meranda, Eytan İpeker
Financial Award, in the amount of 16.000 €
SPECIAL JURY PRIZE
GODLESS / BEZBOG
Bulgaria, France, Denmark
Director: Ralitza Petrova
Financial Award, in the amount of 10,000 €, is provided by Agnes B.
SPECIAL JURY MENTION
DOGS / CÂINI
Romania, France, Bulgaria, Qatar
Director: Bogdan Mirică
HEART OF SARAJEVO FOR BEST ACTRESS
Irena Ivanova, GODLESS / BEZBOG
Financial Award, in the amount of 2.500 €
HEART OF SARAJEVO FOR BEST ACTOR
Gheorghe Visu, DOGS / CÂINI
Financial Award, in the amount of 2.500 €

COMPETITION PROGRAMME – SHORT FILM

Jury:
Fatima Djoumer, International Relations & Events Of Europa Cinemas (France)
Dušan Kasalica, Director (Montenegro)
Jure Pavlović, Director (Croatia)
HEART OF SARAJEVO FOR BEST SHORT FILM
TRANSITION / TRANZICIJA
Serbia
Director: Milica Tomović
Financial Award, in the amount of 2.500 €
SPECIAL JURY MENTION
4:15 P.M. THE END OF THE WORLD / 4:15 P.M. SFÂRȘITUL LUMII
Romania
Director: Gabi Virginia Șarga, Cătălin Rotaru
SPECIAL JURY MENTION
THE BEAST / ZVIR
Croatia
Director: Miroslav Sikavica

COMPETITION PROGRAMME – DOCUMENTARY FILM

Jury:
Tine Ficher, Founder And Festival Director Of Cph:Dox (Denmark)
Fernand Melgar, Director And Producer (Switzerland)
Alexander Nanau, Producer, Director, Cinematographer (Germany, Romania)
HEART OF SARAJEVO FOR BEST DOCUMENTARY FILM
A MERE BREATH / DOAR O RASUFLARE
Romania
Director: Monica Lazurean - Gorgan
Financial award, in the amount of 3,000 €, is provided by The Swiss Federal Department of Foreign Affairs.
SPECIAL JURY PRIZE FOR COMPETITION PROGRAMME DOCUMENTARY FILM
SCREAM FOR ME SARAJEVO
Bosnia and Herzegovina
Director: Tarik Hodžić
Financial Award, in the amount of 2,500 €, is provided by Al Jazeera Balkans.
SPECIAL JURY MENTION
BAGLAR
Turkey
Director: Berke Bas, Melis Birder
HUMAN RIGHTS AWARD
SCREAM FOR ME SARAJEVO
Bosnia and Herzegovina
Director: Tarik Hodžić
Award for the best film of the Competition Programme - Documentary Film dealing with the subject of human rights. Award in the amount of 3,000 € is granted by The Swiss Federal Department of Foreign Affairs.
HUMAN RIGHTS SPECIAL MENTION
BORDERS
Slovenia
Director: Damjan Kozole

HONORARY HEART OF SARAJEVO

Robert De Niro, Actor, Director, Producer
Stephen Frears, Director
Wolfgang Amadeus Brülhart, Former Deputy Chief of Mission and Cultural Counselor at the Embassy of Switzerland in Bosnia and Herzegovina

CINELINK AWARDS

CINELINK CO-PRODUCTION MARKET AWARDS

CineLink Co-Production Market Jury:
Behrooz Hashemian, Silkroad Production
Čedomir Kolar, ASAP Films
Georges Goldenstern, Festival Cannes
Annamaria Lodato, ARTE France
Mimi Gjorgoska-Iliеvska, Macedonian Film Agency
Doina Bostan, CNC Romania
EURIMAGES COPRODUCTION DEVELOPMENT AWARD
GOD EXISTS, HER NAME IS PETRUNIJA
Director: Teona S Mitevska
Scriptwriters: Elma Tataragić, Teona S Mitevska
Producer: Labina Mitevska
Macedonia
- 20.000 €
ARTE INTERNATIONAL RELATIONS CINELINK AWARD
ELA AND HILMI
Director: Ziya Demirel
Producer: Anna Maria Aslanoglu
Turkey
- 6.000 €
MACEDONIAN FILM AGENCY CINELINK AWARD
OTTO THE BARBARIAN
Director: Ruxandra Maria Ghitescu
Producer: Iuliana Tarnovetchi
Romania
- 10.000 €
MDM EAVE SCHOLARSHIP
LOOKING FOR VENERA
Belina Jano

WORK IN PROGRESS AWARDS

Work In Progress Jury:
Jan Naszewski, New Europe Film Sales
Giona A. Nazzaro, Venice Critics' Week
Michael Reuter, The Post Republic
Serkan Yıldırım, TRT
TRT AWARD
HOSTAGES
Director: Rezo Gigineishili
Producer: Tamara Tatishvili
Georgia
- 30.000 €
POST REPUBLIC AWARD
TOUCH ME NOT
Director: Adina Pintilie
Producers: Monica Lăzurean-Gorgan, Adina Pintilie
Romania
- 25.000 € (in kind support)
ONE OF THESE DAYS
Director: Nadim Tabet
Producer: Georges Schoucair
Lebanon
- 25.000 € (in kind support)
RESTART AWARD
HOLY AIR
Director: Shady Srour
Producer: Ilan Moskovitch
Israel
- 20.000 € (in kind support)

DOCU ROUGH CUT BOUTIQUE AWARDS

IDFA AWARD
CITY OF THE SUN
Director: Rati Oneli
The recipient will visit IDFA where they will meet with film professionals to discuss the project that participated in Sarajevo.
CAT &DOCS AWARD
IN THE SHADOW OF WAR
Reyan Tuvi
- 2.000 €
HBO ADRIA AWARD
IN THE SHADOW OF WAR
ReyanTuvi
- 2.000 €
DOK PREVIEW AWARD
IN THE SHADOW OF WAR
Reyan Tuvi
The recipient will participate in the DOK Preview program, part of DOK Leipzig
WORK IN PROGRESS DIGITAL CUBE AWARD
ULTRA
Balazs Simonyi
- 20.000 € (postproduction services)

PARTNER'S AWARDS

AUDIENCE AWARD
/partner: Raiffeisen Bank/
Best Feature Film
FLORENCE FOSTER JENKINS
Director: Stephen Frears
Best Documentary Film
SCREAM FOR ME SARAJEVO
Director: Tarik Hodžić
Youth Audience Award
TRAIN DRIVER'S DIARY
Director: Miloš Radović
Cineuropa Award
ALBUM
Mehmet Can Mertoğlu
CICAE Award
ALBUM
Mehmet Can Mertoğlu
The European Documentary Network -Talent Grant
DOWN THERE
Đorđe Cenić, Hermann Peseckas
Sarajevo Short Film Nominee for European Film Awards 2016
LIMBO
Konstantina Kotzamani
Best Pack & Pitch Award (Talents Sarajevo Pack & Pitch)
The best pitch
Carla Fotea
The postproduction of sound services in the amount of 4.000,00 EUR provided by Studio Chelia Sarajevo
The best pitch
Silva Ćapin
An Invitation to CineLink's Co-production Market Sarajevo

AWARDS OF ASSOCIATION OF BOSNIAN FILMMAKERS

Ivica Matić Award for Life Achivement
Ademir Kenović
Director and producer
Ivica Matić Awardd
Erol Zubčević
Director of photography
Ivica Matić Award
Amra Bakšić Čamo
Producer

BH FILM STUDENT PROGRAMME AWARD

Best B&H Student Film Award
FRONTRIER, BLOODY FRONTRIER
Saša Karanović (Akademija umjetnosti Banja Luka)
Special Jury Mention
NIGHT
Pilar Palomero (film.factory)
Special Jury Award
REVENGE
Katarina Živanović (Fakultet dramskih i filmskih umjetnosti Bijeljina)


Dealing with the Past

DEALING WITH THE PAST sets out to do precisely what its name suggests. We consider that in order to deal with the many and unresolved issues that date back to the conflict in the former Yugoslavia – the impact of which is still widely felt today – a sincere, clear-eyed discussion around that painful past is of utmost importance. Numerous initiatives have been put into place in the region over the last twenty years, under the rubric of 'peacebuilding'. Slogans, however, do not heal the wounds inflicted on the psyches of individuals subjected to years of wartime suffering. By natural consequence, whole communities bear the lion's share of such pain, and are in desperate need of a comprehensive healing process. For us, the inevitable start to such a process is to confront all those who are involved and affected with sobering facts. Our unwavering belief in this approach, always keeping in mind the need to look at historical events from multiple perspectives, is the foundation block of the DEALING WITH THE PAST project.
In practical terms, we intend to start dialogue on the subject through curated screenings, as well as through the systematic collection of stories, documents and memories that will unveil many aspects of the past from different vantage points – whether imbued primarily with pain or riddled with nostalgia. It is from this open source that filmmakers and cinema experts will draw inspiration, and from which they will weave stories for larger audiences with all the urgency and power that cinema offers. With this in mind, we believe that Dealing with the Past can lead to cinema that achieves its ultimate, perhaps noblest aim – cinema that opens a door to genuine empathy, to peacebuilding in its truest sense.
We anticipate that by involving filmmakers and cinema experts we will encourage greater support for our greater ambition, which is to gain wider access to target audiences in the former Yugoslav countries. This outreach is enabled by co-operation with youth initiatives, local and regional non-governmental organisations, and media representatives.
Quite simply, we feel the need to provoke dialogue among all generations and all communities in the region, and to empower younger generations never to stop asking questions and looking for answers; the need to listen to and face personal accounts from all sides with open hearts and minds. Film is the ideal medium for this: it can travel far and widen and has the ability to stir up thoughts and inspire dialogue throughout the Balkans and beyond. And it is with cinema that we want to sow the seeds of a long-awaited healing process, a reconciliation that was never truly realised.
This is the first fact we dare to face: grieving – in all its necessary stages -– has never been fully allowed to fully take its natural course in the region. There are many reasons for this, and we cannot and do not pretend to offer a remedy for this failure. We can, however, declare our full and steadfast commitment to breaking the seal of silence that has veiled some of our most confused, yet most devastating experiences.
DEALING WITH THE PAST, a project of the Sarajevo Film Festival, is supported by the Robert Bosch Stiftung and presented in partnership with Al Jazeera Balkans. This year, the ongoing project intersects with The Competition Programme – Documentary Film and CineLink Industry Days – True Stories Market.
Human Rights Day 2016
In cooperation with the Embassy of Switzerland and the Swiss Federal Department of Foreign Affairs, Sarajevo Film Festival hosted the Human Rights Day for the eight year in a row.
Sarajevo Film Festival has organized a special programme, featuring a screening of the film AMONG THE BELIEVERS directed by Mohammed Ali Naqvi and Hemal Trivedi, as well as a panel at the Meeting Point Cinema. The topic of this year's Human Rights Panel was CAN WE FIGHT VIOLENT EXTREMISM WITH EDUCATION?
Long underfunded and entirely disintegrated, Pakistan's system of public education has been further devastated by militant violence in recent years. Although it has never been satisfactory, for the past decade the educational system in Pakistan has shown further decline with parallel educational systems (public, private and madrassas), a lack of access to quality education, inadequate government investment, corruption and a lack of institutional capacity. With 43% of illiteracy and 17.2% of the total population living below the poverty line, it remains clear that for many Pakistanis, an education is still considered a privilege, especially in the rural areas. According to the annual Pakistan Education Statistics report for 2014-2015, a staggering 24 million Pakistani children are out of school, laying bare the state of education in a country where around a quarter of the population is believed to be under 16. These are the children who became the most vulnerable targets of indoctrination, identity-construction, and value changes by various extremists groups.
AMONG THE BELIEVERS — the latest documentary by film-makers Hemal Trivedi and Mohammed Ali Naqvi is a painful reminder of the critical ideological battles that currently divide Pakistan. For members of a foreign audience, it is an insight into the plurality of a country that is too often and too conveniently buried under monolithic stereotypes of extremism, backwardness and violence. The film gives an insight into madrassas across Pakistan run by controversial cleric and leader of Lal Masjid mosque in Islamabad, Maulana Abdul Aziz, accused to have close ties with jihadi groups. Besides showing the threat of fundamentalist ideologies, the film addresses the failure of the State in providing basic necessities such as food, economic security and education to its population, creating a vacuum for people like Maulana Abdul Aziz to build their case on.
Keeping in mind that Pakistan has suffered the most attacks on educational institutions in recent decades, it is quite clear that secular education remains one of the biggest threats to thriving extremist propaganda. Education is a unique service – not only because it involves a country's most precious resource, its children – but also because, by increasing human capital, it strengthens the society not only in the present, but in the future. Therefore, the real battle against terrorism and extremism in all its form begins in our classrooms.
How can we combat violent extremism through education? Can new ideas defeat ideologies? How can educational curricula be updated to improve quality and remove divisive and discriminatory narratives, as well as include broader teaching on peace, pluralism and tolerance? What is the role of religious leaders in preventing radicalization and violent extremism? Should religion be taught in schools? – these are some of the questions that will be addressed at this year's panel debate organized within the Human Rights Day of the Sarajevo Film Festival.
CineLink Industry Days
Shaping the future of the film business in Southeast Europe
Over the 15 years since its launch, the Sarajevo Film Festival's industry section has become a major hub for Southeast European film professionals, and has played a crucial role in the expansion of cinematic co-production in the region. It has also become a key destination for professionals from across Europe who are in search of talent and co-production possibilities, or who simply wish to obtain in-depth knowledge about this dynamic region's business development.
The Festival's industry offering attracts almost 1,000 professionals to its annual event in late August and includes activities for people from all spheres of the business through its interlinked CineLink Industry Days sections:
CineLink Co-Production Market
CineLink Work-in-Progress
CineLink Drama
Docu Rough Cut Boutique
True Stories Market
Talents Sarajevo Pack&Pitch
Avant Premieres
Regional Forum
Our vision is to serve the current needs of the business, as well as to shape its future. We see more films than ever being made outside the existing value chain, as well as the former borders between cinema and TV blurred in terms of quality of content – and there are so many more screens on which all of this can be seen. Everything is converging, and we have designed this year's programme to reflect this.

In addition to our flagship selection of quality projects in development at the CineLink Co-production , screenings of fiction and documentary films in post at CineLink Work-in-Progress, and extracts from finished films going into distribution at Avant Premier Trailers, the new CineLink Drama section features new and exciting high-quality drama projects by established filmmakers from the region. At the same time, the True Stories Market presented film and TV professionals with cases from the archives of key organisations documenting the Yugoslav wars of the 90's, while young talents pitched their short film projects at Talents Sarajevo Pack&Pitch.

Talents Sarajevo

Seventy-one up-and-coming actors, directors, scriptwriters, producers, film critics and cinematographers from Southeast Europe and Southern Caucasus take part in Talents Sarajevo's 10th anniversary edition. Offerings included a rich SUMMIT programme of master classes, moderated talks and interactive panel discussions, complemented by the PACK&PITCH and SCRIPT STATION project labs, the ACTING STUDIO, CAMERA STUDIO and FILM STAGE STUDIO programmes, and TALENT PRESS, a workshop for film critics.Founded in collaboration with the Berlin International Film Festival and Berlinale Talents, over the past nine years Talents Sarajevo has become the Southeast European hub for aspiring film professionals to meet and develop their skills. In and Out of Light wass the underlying thematic focus for 2016. The 10th edition of Talents Sarajevo shed light on the interplay and tension between the seen and the unseen in cinema.

IN FOCUS
Seven regional films that achieved notable success at film festivals worldwide in the past year were shown as part of the In Focus programme.

TRIBUTE TO…
The Sarajevo Film Festival was pleased to present a retrospective of work by one of the most significant contemporary directors Amat Escalante as part of the Tribute to… programme.

KINOSCOPE
Kinoscope comprises feature and documentary films and the selection included 17 works from all over the world. The programme focuses on exceptional films that stand out because of their mise-en-scène and includes already established filmmakers as well as first and second time filmmakers.

OPEN AIR
This year, the Open Air cinema offered a first-class programme to the satisfaction of even the most demanding film fans. Each night, approximately 3000 viewers could enjoy the unforgettable experience of watching a film under the stars on one of the biggest screens in the region.

CHILDREN'S PROGRAMME
Fifteen feature and animated films were screened as part of the Sarajevo Film Festival's Children's Programme.

TEENARENA
Sarajevo Film Festival's TeenArena programme showcased films intended for teenagers. The audience had the opportunity to enjoy eleven films.

SFF PARTNER PRESENTS (DOHA FILM INSTITUTE)

Doha Film Institute (DFI) is an independent, not-for-profit cultural organisation established in 2010. It organically supports the growth of the local film community by enhancing industry knowledge, cultivating film appreciation and contributing to the development of sustainable creative industries in Qatar.

DFI's platforms include funding and production of local, regional and international films, educational programmes, film screenings, the Ajyal Film Festival for the Young and the Qumra Film Festival.

With culture, community, education and entertainment at its foundation, DFI serves as an all-encompassing film hub in Doha, as well as a resource for the region and the rest of the world.

DFI is committed to supporting Qatar's 2030 vision for the development of a knowledge-based economy.

SFF GUESTS PRESENTS
In the scope of this programme we presented 2 films.

SUMMER SCREEN
Nine films were screened in the Summer Screen programme.

AVANT PREMIERES
Avant Premieres presented four films.

SHORTS
In the scope of the Shorts programme we presented 22 films.

BH FILM
The BH Film Program is organized in cooperation with the Association of Filmmakers of Bosnia and Herzegovina. It presents Bosnian-Herzegovinian filmmakers and their films completed in the past twelve months.