News
CineLink Industry Days announces line-up for Work in Progress 2021
CineLink Work in Progress is a section of the Sarajevo Film Festival's CineLink Industry Days, which serves as a showcase of the most exciting new works from Southeast Europe and the MENA region.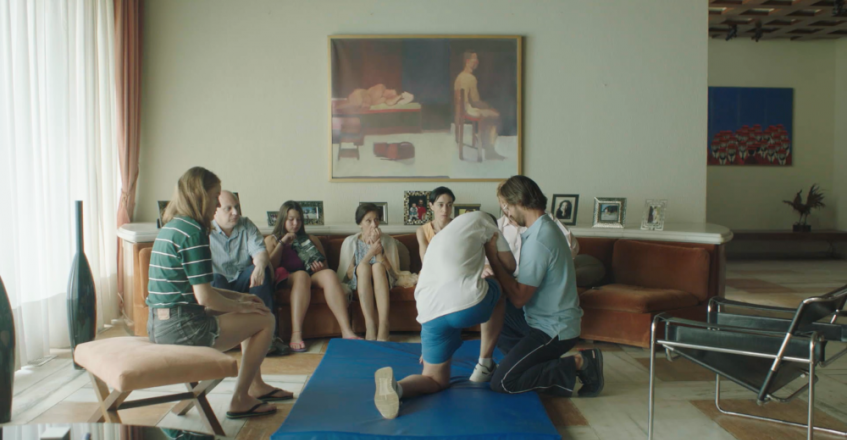 (*PHOTO: "MOON 66 QUESTIONS" presented at CineLink Work in Progress in 2020, that has premiered at Berlinale - Encounters 2021 and the film will be presented as part of this year's Sarajevo Film Festival's Competition Programme Feature Film.)
The selection includes 10 exciting new feature-length films: 7 fiction and 3 documentary, which will be presented to the high-profile industry professionals (funders, sales agents, distributors, broadcasters and festival programmers) with the aim of assisting their completion and enhancing their distribution possibilities.
"It was a pleasure to discover projects in this yer selection of WIP. There is a rich variety and diversity of films with subject and genres shifting from the tough social issues and poetic treatments of reality to meta cinema and authenticity of humor. Very strong and diverse projects in this selection can be seen through prism how the industry coped well in these challenging times," explains Amra Bakšić Čamo, Head of CineLink.
The projects will compete for three awards: the Post Republic Award (50,000 EUR in kind), the CineLink Iridium Award (20,000 EUR in kind) and the Turkish National Radio Television Award (25,000 EUR in cash). The jury deciding the awards: Ava Cahen – Artistic director, Semaine de la Critique Cannes, Esra Demirkiran - Festivals Coordinator, Turkish National Radio Television, Michael Stütz – Head of Panorama, Internationale Filmfestspiele Berlin, Petra Kader-Göbel – Senior Inhouse Producer, The Post Republic and Yohann Comte – Co-Founder, Charades.
A BALLAD
(fiction)
Director: Aida Begić
Producer: Adis Đapo
Co-producer: François D'Artemare
Production Company: Film House Sarajevo, Les Films de l'Après Midi
Bosnia and Herzegovina, France
A CUP OF COFFEE AND NEW SHOES ON
(fiction)
Director: Gentian Koçi
Producer: Gentian Koçi, Blerina Hankollari
Co-producer: Konstantina Stavrianou, Liridon Cahani
Production company: ARTALB FILM Productions, Graal Films, Added Value Films
Albania, Greece, Kosovo
CITIZEN SAINT
(fiction)
Director: Tinatin Kajrishvili
Producer: Lasha Khalvashi
Co-producer: Denis Vaslin, Borislav Chouchkov
Production company: Artizm
Georgia
THE DEVIL'S DRIVERS
(documentary)
Director: Daniel Carsenty and Mohammed Abugeth
Producer: Daniel Carsenty
Co-producer: Mohammed Abugeth, Nicklas Krüger
Production Company: mark it zero, CHUNK Filmproductions
Germany, France, Qatar, Lebanon
MEN OF DEEDS
(fiction)
Director: Paul Negoescu
Producer: Anamaria Antoci
Co-producer: Poli Angelova
Production company: Tangaj Production, Papillon Film, Screening Emotions
Romania, Bulgaria
PRISON BEAUTY CONTEST
(documentary)
Director: Srđan Šarenac
Producer: Srđan Šarenac
Production company: Udruženje Novi Film, Provid d.o.o.
Bosnia and Herzegovina, Croatia, Serbia
THE TASTE OF APPLES IS RED
(fiction)
Director: Ehab Tarabieh
Producer: Sol Goodman, Jonathan Doweck
Co-producer: Viola Fügen, Michael Weber
Production company: Anemos Productions
Israel, Germany
TO CARNATIONS A SONG
(fiction)
Director: Bekir Bülbül
Producer: Halil Kardaş
Co-producer: Bożena Bogdziewicz-Önkol
Production company: Filmcode Yapım Ltd. Şti., Bo Dream Productions
Turkey, Belgium
TOO CLOSE
(documentary)
Director: Botond Pusok
Producer: Irina Malcea
Production company: Luna Film
Romania
WAKE ME
(fiction)
Director: Marko Šantić
Producer: Danijel Hočevar, Zala Opara
Co-producer: Jure Bušić, Dimče Stojanovski, Sefan Orlandić
Production company: Vertigo, Jaka Produkcija, Living Pictures
Slovenia, Croatia, Serbia