News
Sarajevo Film Festival presents: Dealing with the Past Programme
From 24-30 April 2021 watch online for free at Ondemand.kinomeetingpoint.ba and at the Meeting Point cinema with free entry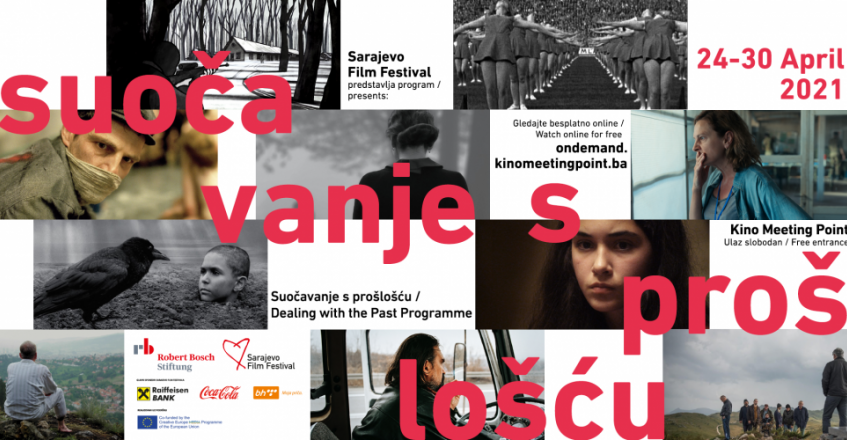 24-30 April 2021
Watch online for free at Ondemand.kinomeetingpoint.ba
Available: Bosnia and Herzegovina, Croatia, Montenegro, North Macedonia, Serbia, Slovenia
Meeting Point Cinema, Sarajevo
Free entrance

PROGRAMME:

Son of Saul / Saul Fia
Hungary, Colour, 2015, 107 min.
German, Hungarian, Polish, Russian, Yiddish
Director: László Nemes
Cast: Geza Röhrig, Levente Molnar, Urs Rechn, Christian Harting, Amitai Kedar
October 1944, Auschwitz-Birkenau. Saul Auslander is a Hungarian member of the Sonderkommando, the group of Jewish prisoners isolated from the camp and forced to assist the Nazis in the machinery of large-scale extermination. While working in one of the crematoriums, Saul discovers the corpse of a boy he takes for his son. As the Sonderkommando plans a rebellion, Saul decides to carry out an impossible task: save the child's body from the flames, find a rabbi to recite the mourner's Kaddish and offer the boy a proper burial.

The Diary of Diana B. / Dnevnik Diane Budisavljević.
Croatia, Slovenia, Serbia, 2019, Black and white, 88 min.
Croatian, German
Režija / Director: Dana Budisavljević
Uloge / Cast: Alma Prica, Živko Zelenbrz, Nada Vlaisavljević, Zorka Janjanin, Milorad Jandrić, Igor Samobor, Biserka Ipša, Mirjana Karanović, Krešimir Mikić, Ermin Bravo, Livio Badurina, Vilim Matula, Jerko Marčić
Austrian-born Diana Budisavljević and her doctor husband, her daughters and her new-born granddaughter lived comfortably as members of the Zagreb upper class when, in the fall of 1941, she learned that Jewish and Serb women and children were being taken to concentration camps and left there to die of hunger and sickness. The Jewish community was sending provisions to the Jewish prisoners, but nobody was helping the Serbs. After her pleas with the authorities, church officials and Red Cross representatives to save at least the children were ignored, Budisavljević and a few of her friends took matters into their own hands, organising a campaign that ultimately saved the lives of more than 10,000 children. Among those children were Zivko, Milorad, Zorka and Nada who, after nearly eighty years, returned to the camps where they were held as children and only then realised they owe their lives to a woman's unbreakable strength.

The Painted Bird / Nabarvené ptáce
Czech Republic, Slovakia, Ukraine, 2019, Black and white, 169 min.
Czech, German, Russian, Latin
Director: Václav Marhoul
Cast: Stellan Skarsgard, Barry Pepper, Harvey Keitel, Julian Sands, Udo Kier, Aleksey Kravchenko, Tim Kalkhof, Jitka Cvancarova, Pavel Krfz, Petr Vanek
Based on the acclaimed novel by Jerzy Kosinski, THE PAINTED BIRD is a meticulous 35mm black- and-white evocation of wild, primitive Eastern Europe at the bloody close of World War II. The film follows the journey of the Boy, who has been entrusted by his persecuted parents to an elderly foster mother. The old woman soon dies and the Boy is on his own, wandering through the countryside, from village to farmhouse. As he struggles to survive, the Boy suffers the extraordinary brutality meted out by the superstitious peasants and he witnesses the terrifying violence of efficient, ruthless soldiers, both Russian and German. When the war ends, the Boy has been changed forever.

The Load / Teret
Serbia, France, Croatia, Iran, Qatar, 2018, Colour, 98 min.
Serbian
Director: Ognjen Glavonić
Cast: Leon Lučev, Pavle Čemerikić, Tamara Krcunović, Ivan Lučev, Igor Benčina
Vlada works as a truck driver during the NATO bombing of Serbia in 1999. Tasked with transporting a mysterious load from Kosovo to Belgrade, he drives through unfamiliar territory, trying to make his way thorugh a country scarred by the war. He knows that once the job is over, he will need to return home and face the consequences of his actions.

Yugoslavia, How Ideology Moved Our Collective Body / Jugoslavija, kako je ideologija pokretala naše kolektivno telo
Serbia, France, Germany, 2013, Colour and B&W, 62 min.
Serbian, English
Director: Marta Popivoda
The film deals with the question of how ideology performs itself in public space through mass performances. The author collected and analysed film and video footage from the period of postwar Yugoslavia (1945-2000), focusing on mass state performances (youth work actions, May Day parades, celebrations of Youth Day, etc.) as well as public protests (1968, student and civic demonstrations in the 1990s, 5 October 2000 revolution, etc.). Going back through the images, the film traces how communist ideology was gradually exhausted through the changing relations between the people, ideology and the state. The film ends at the doors of contemporary democracy and neoliberal capitalism in Serbia, demanding that we reflect on why citizens abandoned so easily the ideas of collectivism, brotherhood and unity, workers rights and free education, replacing them first with nationalism and war and then with a promise of freedom and democracy which instead turned out to be individualism and "wild" capitalism.

Quo Vadis, Aida?
Bosnia and Herzegovina, Austria, Romania, Netherlands, Germany, Poland, France, Norway, Turkey, 2020, Colur, 104 min.
Bosnian, English, Dutch
Director: Jasmila Žbanić
Cast: Jasna Đuričić, Izudin Bajrović, Boris Ler, Dino Bajrović, Raymond Thiry, Johan Heldenbergh, Boris Isaković, Emir Hadžihafizbegović, Edita Malovčić
Bosnia, July 1995. Aida is a translator for the UN in the small town of Srebrenica. When the Serbian army takes over the town, her family is among the thousands of citizens looking for shelter in the UN camp. As an insider to the negotiations Aida has access to crucial information that she needs to interpret. What is at the horizon for her family and people – rescue or death? Which move should she take?

Srbenka
Croatia, 2018, Colour, 72 min.
Croatian
Director: Nebojša Slijepčević
Cast: Tatjana Dragičević, Nina Batinić, Lucia Filičić, Jana Mileusnić, Morana Mladić, Oliver Frljić, Marin Blažević, Jelen Lopatić, Ivana Roščić, Tanja Smoje, Nikola Nedić, Igor Kovač, Jurica Marčec, Ljerka Hribar, Sandra Dekanić, Denis Kirinčić, Renata Fugošić, Nenad Šegvić
In the winter of 1991, Aleksandra Zec, a young Serbian girl was executed in Zagreb. A quarter of a century later, theatre director Oliver Frljic is staging a play about the case in Rijeka. Rehearsals for the play turn into collective psychotherapy, and 12−year−old actor Nina feels as if the war has never ended.

Chris the Swiss
Switzerland, Croatia, Germany, Finland, 2018, Colour and b&w, 90 min.
English, German, Spanish, Swiss− German
Director: Anja Kofmel
Cast: Christian Chris Würtenberg, Anja Kofmel, Eduardo Rózsa Flores, Heidi Rinke, Julio César Alonso, The family in Switzerland, Alejandro Hernandez Mora, Ilich Ramírez Sánchez, Paul Jenks
Croatia, January 1992. In the midst of the Yugoslav Wars, Chris, a young Swiss journalist, is found dead in mysterious circumstances. He was wearing the uniform of an international mercenary group. Anja Kofmel was his cousin. As a little girl, she used to admire this handsome young man; now a grown woman, she decides to investigate his story, trying to understand what Chris's involvement in the conflict really was...

Men Don't Cry / Muškarci ne plaču
Bosnia and Herzegovina, Slovenia, Croatia, Germany, 2017, Colour, 100 min.
Bosnian
Director: Alen Drljević
Cast: Boris Isaković, Leon Lučev, Emir Hadžihafizbegović, Sebastian Cavazza, Ermin Bravo, Boris Ler, Ivo Gregurević, Primož Petkovšek, Jasna Ðuričić, Izudin Bajrović
Bosnia and Herzegovina, 15 years after the war. Ten men are the only guests at a remote mountain hotel. The group is made up of one trainer and the nine participants of a workshop whose objective is to come to terms with the past. The men are war veterans, former soldiers of several armies that fought against each other across the former Yugoslavia in the 1990s.

The / Pit Jama
Bosnia and Hercegovina, 2019, Colour, 11 min.
Director: Alban Ukaj
Cast: Dina Mušanović, Igor Skvarica, Zlatan Školjić, Izudin Bajrović
During a troublesome shooting of a short art film about a war crime at the location where it took place, three young independent filmmakers discover they are being watched by a stranger.