News
Honorary Heart of Sarajevo Award: Wim Wenders
At the National Theater Sarajevo, Wim Wenders, one of the world's most significant filmmakers, was presented with the Honorary Heart of Sarajevo for his exceptional contribution to the art of film.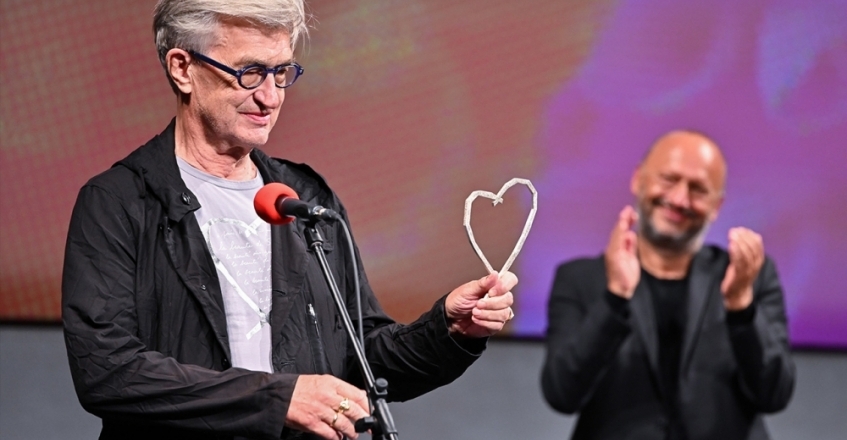 "We are delighted to honour one of the central figures of modern cinema. With his work in the field of visual arts as an exceptional filmmaker and photographer, Wim Wenders continues to give the audience unforgettable stories and emotions", said Festival Director Mirsad Purivatra.
Wim Wenders will hold a Masterclass at the Sarajevo National Theatre on the 16th of August, starting at 15:00h. The Masterclass is free but tickets must be booked in advance at the Main Box Office or via
boxoffice@sff.ba
. Masterclass tickets can be collected at the Main Box Office from the 14th of August.
The Tribute To programme will also start on the 14th of August and includes a retrospective of Wim Wenders' selected films. The programme will open with ALICE IN THE CITIES at 15:00h in the Meeting Point Cinema, after which there will be a Q&A with Wim Wenders, followed by a screening of BUENA VISTA SOCIAL CLUB at 21:00h on the Summer Screen.
The cult film PARIS, TEXAS will be shown at the Coca-Cola Summer Cinema on the 16th of August at 20:30h, with an introduction by Wim Wenders. The celebrated director will also introduce UNTIL THE END OF THE WORLD, which will be screened on the 17th of August in the Meeting Point Cinema. This is an event for true film lovers, considering that the film starts at 23:00 and goes on until 03:19.
Festival will also organize a special screening of the newly restored version of his film THE MILLION DOLLAR HOTEL, winner of the Silver Bear award at the Berlin Film Festival (2000). The famous thriller drama with Jeremy Davies, Milla Jovovich and Mel Gibson will be shown on August 15 at 3 pm at the National Theater in Sarajevo.
Wenders will be returning to Sarajevo Film Festival ten years after his first visit: in 2011 he presented a revolutionary 3D film achievement PINA, feature-length documentary homage to a legendary choreographer Pina Bausch (1940 – 2009), nominated for an Oscar. The same year, at the 17th edition of the Sarajevo Film Festival (2011) Wenders gave lectures to participants of Talents Sarajevo, education programme organised by Sarajevo Film Festival in cooperation with Berlinale Talents and International Film Festival in Berlin.
Wenders came to international prominence as one of the pioneers of the New German Cinema during the 1970's and is considered to be one of the most important figures in the history of film.
To enter all screenings of the 27th Sarajevo Film Festival, it is necessary to have Covid-secure accreditation. More information can be found at this
LINK
.
The 27th Sarajevo Film Festival is held from 13th to 20th August 2021.