News
CineLink and Docu Talents present 10 new documentary voices from Central and Eastern Europe
Sarajevo Film Festival's CineLink Industry Days has teamed up with Ji.hlava IDFF Docu Talents from the East to present new documentary projects from Central and Eastern Europe. Ten feature-length creative documentaries in various stages of production and post-production will be showcased in the upcoming, 14th edition of Docu Talents, aiming to enhance their sales and distribution possibilities.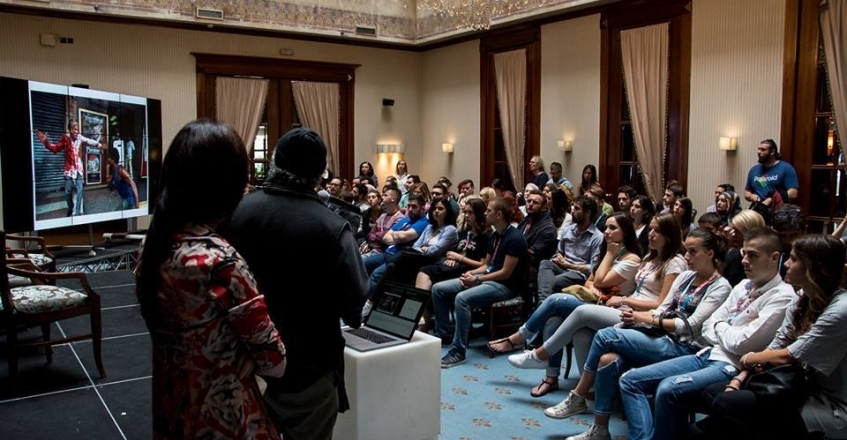 "CineLink Industry Days has identified a strong need of filmmakers in the region for further support to creative documentary industry in the Southeast Europe. After last year's successful remodeling of the CineLink Industry Days' pivotal documentary programme, Docu Rough Cut Boutique, we are proud to include Docu Talents from the East among our partners. The aim is to strengthen the documentary focus of CineLink and to help strategic placement possibilities for documentary film professionals in the region," says Maša Marković, CineLink Coordinator.
On August 15, participating directors and producers will introduce their projects during eight-minute presentations, accompanied by three-minute trailers. The presentations will be followed by one-on-one meetings with sales agents and festival representatives. The most promising project will receive the Docu Talent Award in the amount of $5,000, sponsored by Current Time TV.
Projects were selected by representatives of the Ji.hlava IDFF. Complete list can be found below.
Since 2005, Docu Talents has been a launch pad for a number of documentaries by both renowned and emerging directors such as Laila Pakalniņa, Vladimir Mansky, Bartek Konopka, Piotr Stasik, Peter Kerekes, Dmitrii Kalashnikov and Helena Třeštíková. Films presented at Docu Talents in the past had world and international premieres at major film festivals including in Cannes, Berlin, Locarno and Rotterdam.
BABUSHKA. LOST IN TRANSITION
Belarus, Ukraine | 71'
Director: Aleksandr Mihalkovich
Producer: Volia Chajkouskaya, Igor Savychenko
Production Company: Volia Films (BY)
Co-production Company: Directory Films (UA)
15 years ago, 80-year-old Zina has moved to the city of Evpatoria in Crimea to live out her last days. But after the annexation of the peninsula by Russia, her paradise turned into despair. The war between politicians and states has shifted into disagreements between once close people and friends. Zina will have to decide whether to stay in the Crimea or leave.
BIRTHDAY
Azerbaijan | 63'
Director: Hilal Baydarov
Producer: Hilal Baydarov
Production Company: Ucqar Film
Today is a lonely woman's birthday. Her husband died years ago, and her sons have left her alone. She expects nothing more than a simple telephone call, but nobody calls.
BOY OF WAR
Germany, Czech Republic | 80'
Director: Cyprien Clément-Delmas, Igor Kosenko
Producer: Fabian Driehorst, Veronika Kührová
Production Company: Fabian&Fred (DE), Analog Vision (CZ)
"Why are you here? Are you mentally sick? Do you want to kill people?" the Ukrainian military commander asks 18-year-old recruit Artiom.
THE BLACK WEDDING
Serbia | 80'/52'
Director: Dragan Nikolić
Producer: Jovana Nikolić
Production Company: Prababa Production
A film about facing loss, based on the story of three generations of women who were involved in the same black wedding, a ritual of secret marriage between the dead and the living.
DANCE WITH ME, DAD
Poland | 60'
Director: Malgorzata Gozdzik
Producer: Magdalena Puzmujzniak, Joanna Zielinska
Production Company: Big Wave Films, Munk Studio
An woman returns to her family home as an adult, after years of artistic studies. She wants to reconnect with her grumpy, pessimistic father.
HONEYLAND
Macedonia | 87'
Director: Ljubomir Stefanov, Tamara Kotevska
Producer: Atanas Georgiev, Ljubomir Stefanov
Production Company: Trice Films, Apollo
The last female beehunter in Europe must save the bees and return the natural balance in Honeyland, when a family of nomadic apiarists invades her land and threatens her livelihood.
JAN JEDLIČKA: COLOURFUL TRACES OF A LANDSCAPE
Czech Republic | 75'
Director: Petr Zaruba
Producer: Alice Tabery
Production Company: Cinepoint
Against a background of the personal and artistic story of the Czech painter Jan Jedlička, this film offers a meditation about our perception of landscape and its influence on people, and about the inner landscape we carry inside ourselves.
MAIA – PORTRAIT WITH HANDS 1999-1905
Romania | 80'
Director: Alexandra Gulea
Producer: Ana Maria Pirvan
Production Company: Anchor Films
An attempt to understand grand history through personal history and, at the same time, to share with the public an intimate relation with "the hands that raised us". A tribute to those anonymous people who through our love become heroes.
THE RED SHEEP
Italy, Romania | 90'
Director: Sara Tirelli
Producer: Ioana Țurcan
Production Company: Studioset (RO)
A look at the life and work of the famous Italian fashion photographer and granddaughter of Benito Mussolini, Maria Vittoria Backhaus.
VIVA VIDEO, VIDEO VIVA
Czech Republic | 90'
Director: Adela Komrzy
Producer: Vit Komrzy
Production Company: Universal Production Partners
A documentary exploration and reconstruction of Czech video art against the background of communist totalitarianism.