News
Shooting has begun in Sarajevo of short films backed by the SEE Factory project
Shooting of five short films that will open the 2019 Directors' Fortnight (Quinzaine des réalisateurs) at Cannes has begun in Sarajevo.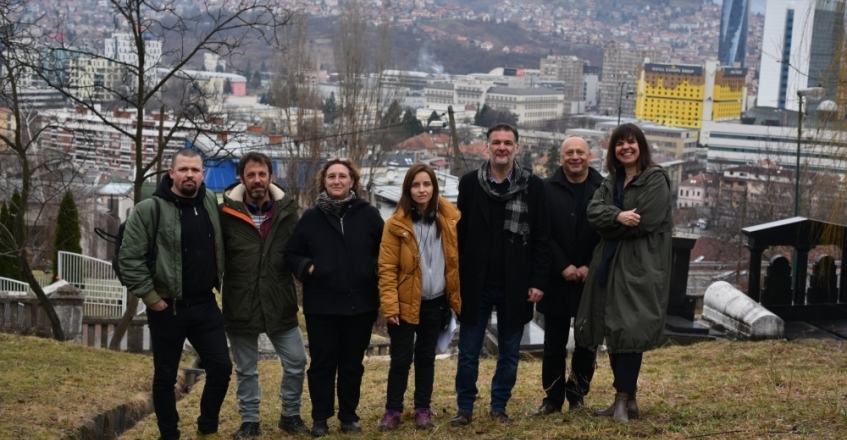 The five films are being produced within the Southeast European Factory (SEE Factory) project, based on Dominique Welinski's and Directors' Fortnight's La Factory initiative. The project paired five filmmakers from the SEE region with five international directors.

The films are being produced by the Sarajevo Film Festival (Obala Art Center), with support of regional film centers, specifically Serbian Film Center, Macedonian Film Agency, Film Center Slovenia, Film Center Montenegro, as well as the Ministry of Culture and Sport of the Sarajevo Canton, and in cooperation with the Sarajevo Academy of Performing Arts.

Minister of Culture and Sports of the Sarajevo Canton, Mirvad Kuric, and an executive director of the Cannes Directors' Fortnight, Cristophe Leparc, visited, in the company of the Sarajevo Film Festival and Obala Art Center director Mirsad Purivatra, the set of one of the films that are currently being filmed in Sarajevo.

"For over 50 years, Quinzaine des réalisateurs section has been discovering new talents, protecting the freedom of filmmakers' creative expression and new forms of film language. The project we are implementing with the Paris-based production house DW and the Cannes Directors' Fortnight focuses on young filmmakers and encourages their cooperation in a specific part of the World. We are happy and honored that Sarajevo was selected as the location where films will be shot this year and because we brought together on this project regional and international auteurs and national film centers from our region. In this way, the Sarajevo Film Festival confirms its status as the center of regional cinematography and a place where young talents are discovered, supported and promoted," Purivatra said.


"I am glad that the implementation of the project, which we begun discussing in May last year, had now kicked off thanks to the project organizers, the Sarajevo Film Festival, and the trust of the Cannes Directors' Fortnight. Ministry of Culture and Sports of the Sarajevo Canton was happy to join the project. The fact that Sarajevo was provided with an opportunity to gather regional and international filmmakers and regional film centers sends an important message. This is the right path for development of Bosnia-Herzegovina's cinema," said minister Kuric.

Cristophe Leparc, an executive director of the Cannes Directors' Fortnight, described the significance of the project as immense. "This is a wonderful project, it enables directors to work together, as well as to present the feature projects which they are developing and the short films that they are now filming in Sarajevo at the Cannes. We are primarily focusing on new talents. This region is rich in young filmmakers and we believed it was important to provide them with an opportunity to join forces and work together," said Leparc.

So far, as part of the SEE Factory project, filming was completed of Love Supreme by Dusan Kasalica (Montenegro) and Teodora Ana Miai (Romania/Belgium); the filming is ongoing of Eleonore Veninova's (Macedonia) and Yone Rezenkiera's (Israel/Switzerland) The Sign and is to be followed by filming of Urska Djukic's (Slovenia) and Gabriel Tzafka's (Greece/Denmark) Red Stain, Masa Sarovic's (Serbia) and Sharon Angelhart's (Israel) Mommy and Spit by Neven Samardzic (Bosnia-Herzegovina) and Carolina Markowitz (Brazil).

The principal photography of the five films that are bringing together a diverse group of international acting talents will continue in Sarajevo until mid-March. Staring in the films are Jelisaveta Seka Sablic, Mirjana Karanovic, Mediha Musliovic, Doroteja Nadrah, Marija Pikic, Andrea Akovic, Lidija Kordic, Muhamed Hadzovic, Boris Ler, Mladen Nelevic and others.


The 10 directors who are taking part in the project will also get a chance to pitch their debut feature projects during the 2019 Cannes Film Festival and Market.



LIST OF FILMS:


"LOVE SUPREME": Dusan Kasalica (Montenegro), Teodora Ana Mihai (Romania/Belgium);
"RED STAIN": Urska Dukes (Slovenia), Gabriel Tzafka (Greece/ Denmark);
"THE SIGN": Eleonora Veninova (Macedonia), Yona Rozenkier (Israel / Switzerland); "MOMMY": Masa Sarovic (Serbia), Sharon Angelhart (Israel);
"SPIT": Neven Samardzic (Bosnia-Herzegovina), Carolina Markowitz (Brasil).



With the support of:


Serbian Film Center
Macedonian Film Agency
Slovenian Film Center
Film Center of Montenegro
Ministry of Culture and Sports of the Sarajevo Canton

The shooting of short films has been backed by Atlantic Group, Coca-Cola, Podravka and Mlinar.