News
Docu activities at CineLink Industry Days on the 29th edition of the Sarajevo Film Festival
CineLink Industry has steadily evolved over the years into a home and thriving hub for documentary professionals.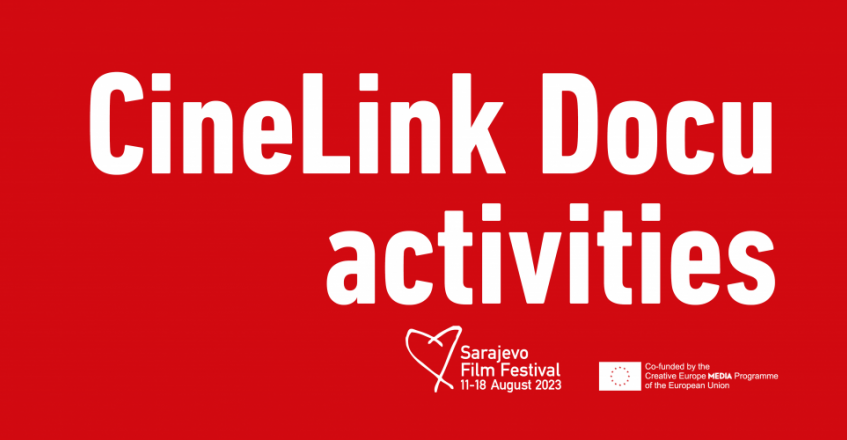 This year's 29th Sarajevo Film Festival will feature an extensive lineup of documentary-focused activities with a focus on captivating storytelling. From deeply personal stories to global issues that demand attention, the selected films are a testament to the power of visual storytelling. The diverse range of documentaries explores various themes, shedding light on the human experience and the world we inhabit.
CineLink's journey in supporting filmmakers began 21 years ago, primarily focused on providing assistance to fictional films. However, over time, our path has evolved and expanded. Central to this change are our strategic partnerships with Balkan Documentary Center, Ji.hlava International Documentary Film Festival, and Documentary Campus which provide fresh vigor and the potential to promote documentary filmmakers. Given Sarajevo's reputation for curated projects and the caliber of guests we attract, CineLink's documentary activities create a space to be recognised. Here, those with a distinct outlook – who may not tread the conventional market path, like a HONEYLAND (two times Ocars nominated film in 2019) – find their voices amplified, which is why CineLink Industry Days diverge from the contours of the ordinary documentary market. Through three sections, CineLink Work in Progress, Docu Rough Cut Boutique, and Docu Talents from the East, Cinelink Industry Days present 15 projects in production or post-production stages.
Participants are offered chances to secure coveted prizes, promising networking, collaboration, and valuable takeaways. Docu Rough Cut Boutique projects vie for awards, including the Avanpost Award (€20,000 post-production services), CAT&Docs Award (€2,000), HBO Max Award (€2,000), DOK Leipzig Preview Award (invitation to present at DOK Leipzig 2023), AJB DOC Award (€2,000), and East Silver Caravan Award (€3,500 distribution service). The CineLink Work in Progress program offers opportunities for two esteemed awards: the Post Republic Award (€30,000 in-kind support) and the Turkish National Radio Television Award (€25,000 cash prize). In 2023 CineLink Industry Days introduced the inaugural CineLink Impact Award by Think-Film Impact Production. This award is open to post-production phase projects actively participating in CineLink Work-in-Progress or Docu Rough Cut Boutique. Its aim is comprehensive impact campaign support for the most promising project, offering €20,000 in-kind consultation services. In the Docu Talents from the East program, promising projects compete for the Current Time TV Docu Talent Award ($5,000) and Doc Alliance Distribution Award (€3,000 in-kind support).

An overview of documentary projects presented at CineLink Industry Days:
CineLink Work in Progress:
SUSPENDED: DIARIES FROM LEBANON / LB, FR
Director: Myriam El Hajj
Production companies: Abbout Productions, Gogogo Films
Using weapons, voting booths, or revolting in the streets of Beirut. These are the choices of GEORGES, JOUMANA, and PERLA: three intersecting destinies, three generations, and the same desire to change a sick country, Lebanon. As various crises unfold, they face a dilemma: Save the world or save themselves?
THE SINNER AND THE SAINT / BG
Director: Boris Despodov
Production company: Arthouse Blockbusters
While searching for the Light, he was drawn into the Darkness.

Docu Rough Cut Boutique:
ADELINA: SYMPHONY OF LONGING AND ESTRANGEMENT / GE
Director: Rati Tsiteladze
Production company: ArtWay Film
It is an intimate journey into the world and minds of two lost souls, mother and daughter, who have become outcasts, one in the centre of Europe and the other in a tiny village in Georgia.
ALICE ON&OFF / RO
Director: Isabela von Tent
Production company: Luna Film
How to teach someone to love if no one has taught you?
DAD´S LULLABY / UA, RO
Director: Lesia Diak
Production company: FilmWays, DramaFree
Co-production company: FilmWays, DramaFree, Delirium Films
SERHIY fought for his country in the Russian-Ukrainian war, but now he needs to fight his family. A film about the aftermath of war.
PAVILLON 6 / HR
Director: Goran Dević
Production company: 15th Art Productions Intimate conversations in the vaccination line.

YOUR LIFE WITHOUT ME / HU, SE
Director: Anna Rubi
Production company: Somnus Film
Co-production company: Cinenic Film
For their children to survive, a group of elderly mothers must fight the state.

Docu Talents from the East program
AN ALMOST PERFECT FAMILY / RO
Director: Tudor Platon
Production company: microFILM
After 30 years of marriage, my parents told me they were separating. I fell in love and started my own family during this painful process. The film explores the different shapes that love can take between parents and children and children who become parents.
80 ANGRY JOURNALISTS / HU, DE
Directors: András Földes, Anna Kiss
Production company: Filmdough
Viktor Orbán's government seizes Hungary's top independent media outlet, Index.hu. Journalists fight back by re-signing and forming a new entity but face familiar toxicity. Can healthy communities survive in a corrupt system? Possible answers are revealed through the lives of three ex-Index.hu employees as they navigate challenges.
CHRONICLE / SK, CZ
Director: Martin Kollar
Production company: Punkchart films
Co-production company: Somatic Films
A documentary observation essay creates a portrayal of ir- retrievably disappearing realities.
DREAMING OF EL DORADO / HR
Director: Alan Stanković
Production company: Studio devet d.o.o.
Co-production company: Event Film Ltd
A film about a young girl FATIMA ZAHRO from Senegal, who took her destiny into her own hands and decided to move to Croatia.
HAVEL SPEAKING, CAN YOU HEAR ME? / CZ
Director: Petr Jančárek
Production company: Endorfilm
Leaving and the ever-necessary presence of the playwright, prisoner of conscience, citizen, statesman and shy director of his own life.
A PICTURE TO REMEMBER / UA, FR, DE
Director: Olga Chernykh
Co-production companies: Reinvent Studios, Promenades Films
Thrown into the void of an unknown future, the director and film narrator dives into a kaleidoscope of memories and chronicles her personal and collective familial search for something to hold on to amid turbulent times.
RUNA / PL
Director: Agnieszka Zwiefka
Production company: Chilli Productions
Co-production company: Real Lava
After her mom's tragic death on the Polish-Belarussian border, a 16-year-old Kurdish girl, RUNA, has to become a mother to her four younger brothers as the family deals with trauma and tries to establish a new life in Europe.
ROOT / BA, TR
Director and producer: Deniz Čelebić Co-producer: Yeliz Čelebić
Production company: Kapiya Production
As the diary of a woman who carries ancestral memory of displacement from home because of the war, the documentary ROOT shows her journey of becoming rooted through the garden she cultivated on the land of the Other.