News
26th Sarajevo Film Festival Partners' Awards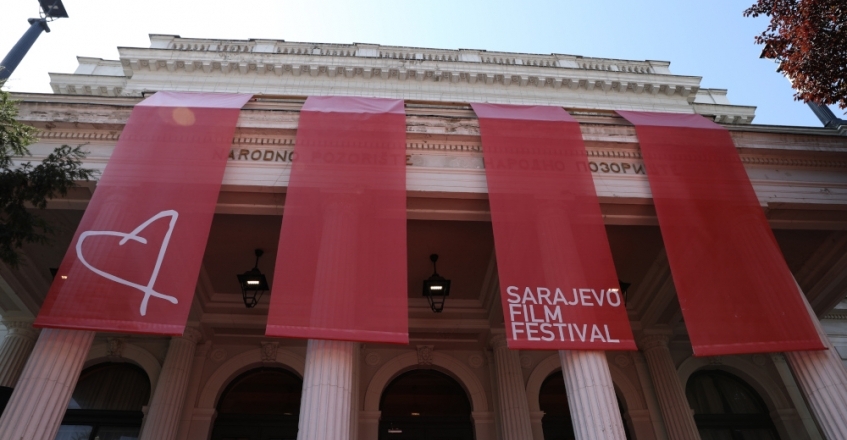 CINEUROPA AWARD
Jury:
Marta Bałaga, film critic, Poland/Finland
Boban Jevtić, creative director, Firefly, Serbia
Director: Visar Morina
Awarded by the Cineuropa portal, the site dedicated to European cinema and film professionals, the Cineuropa Prize is awarded to a film that, besides having indisputable artistic qualities, promotes the idea of European dialogue and integration. The value of this award is €5,000.
CICAE AWARD
Jury:
Éva Demeter, International relations coordinator at TISZApART, Mozi, Hungary
Piotr Szczyszyk, programmer and film education specialist of the PAŁACOWE CINEMA in ZAMEK CULTURE CENTRE, Poland
Anika Danielle Wagner, programmer and creative head of Traumstern Kino, Germany
Director: Andrea Štaka
The International Confederation of Art Cinemas (CICAE) awards a film from the Competition Programme – Feature Film. The winning film receives CICAE support in terms of distribution, exhibition, and audience outreach, throughout a network of 3,000 cinemas.
SARAJEVO SHORT FILM CANDIDATE FOR THE EUROPEAN FILM AWARDS
Jury:
Aleta Rajič, animator, BiH
Amila Ramović, curator, BiH
Andrei Tănăsescu, programmer, Romania
Director: Lasse Linder
Films in the European Shorts section compete alongside the regional Competition Shorts for an EFA Short Film Candidacy at the European Film Awards and to qualify for an Academy Award (Oscar®) nomination.
BH FILM STUDENT PROGRAMME AWARDS
Jury:
Sabrina Begović Ćorić, director BiH
Strajo Krsmanović, film theoretician, BiH
Mirza Skenderagić, screenwriter and film critic, BiH
BEST BH STUDENT FILM
Director: Alen Šimić
SPECIAL JURY AWARD
Director: Stefan Tomić
SPECIAL JURY MENTION
Director: Igor Đurić
TALENTS SARAJEVO PACK & PITCH 2020
Jury:
Kathi Bildhauer, coordinator, Berlinale Talents, Project Market
Asja Krsmanović, Sarajevo Film Festival programmer
Yoel Meranda, producer, Kamara
Ivana Pekušić, producer, Studio Chelia
CINELINK AWARD
ANNA GYIMESI
AFFRICATA
STUDIO CHELIA AWARD
CLARA KLEININGER
NO ELEPHANT IN THE ROOM
DOCU TALENTS FROM THE EAST PRESENTED BY JI.HLAVA INTERNATIONAL DOCUMENTARY FILM FESTIVAL
Jury:
Natalia Arshavskaya, acquisitions, Current Time TV
Martichka Bozhilova, producer, Agitprop
Wood Lin, Program Director, TAIWAN International Documentary Festival
Jarmila Outratová, head of industry, Ji.hlava IDFF
Tiffany Pritchard, journalist, Filmmaker Magazine
DOCU TALENTS AWARD
ELEVATION
Director: Max Rudenko
Award in the amount of 5000 USD sponsored by Current TV
DOCU ROUGH CUT BOUTIQUE AWARDS
Jury:
Laurien Ten Houten, IDFA Industry & Docs for Sale manager
Hanka Kastelicová, VP of Documentaries HBO Europe
Catherine Le Clef, president and founder of CAT&Docs
Cristian Nicolescu, co-founder of Digital Cube
Brigid O'Shea, head of Dok Leipzig Industry
AVANPOST MEDIA AWARD
MUSEUM OF REVOLUTION
Director: Srđan Keča
In kind post-production services worth 20 000 €
CAT&DOCS AWARD
COLORS OF TOBI
Director: Alexa Bakony
Award in amount of 2000 €
HBO EUROPE AWARD
COLORS OF TOBI
Director: Alexa Bakony
Award in amount of 2000 €
IDFA PROJECT AWARD & DOK PREVIEW AWARD
CHAMPIONS
Director: Ketevani Kapanadze
The winner will be fully invited to present a project at IDFA 2020 and DOK Leipzig 2020