Objave
Competition Programme – Student Film Jury and selection of the 28th Sarajevo Film Festival
Producer Ludmila Cvikova, director Maya Dreifuss Head of the MFA program at the Netherlands Film Academy in Amsterdam Nduka Mntambo are members of the Jury of the Competition Programme - Student Film of the 28th Sarajevo Film Festival.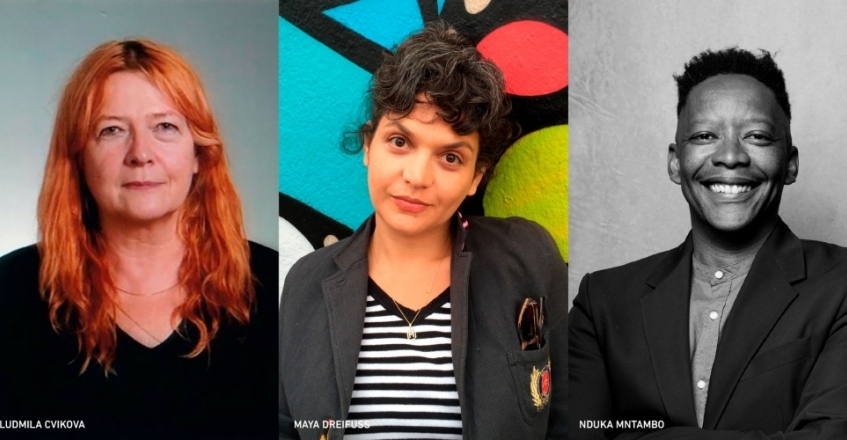 Ludmila Cvikova
Creative consultant, curator and advisor, Slovakia/Netherlands

Film programmer and curator at IFF Rotterdam (1997-2011), the head of the film department at the Doha Film Institute (2011-2014), and former collaborator for festivals, a.o.Yerevan GAIFF, Anonimul in Romania and Busan IFF, Karlovy Vary, Locarno. For EYE Film Institute Amsterdam, Ludmila had curated three specials: Arab Women Behind the Camera, and film programs around Bela Tarr's and Jan Svankmajer's exhibitions. As associate producer, she worked with the Kazakh director Emir Baigazin: THE RIVEr (Best film at Venice Horizons 2018) and Romanian film MIKADO by Emanuel Parvu (San Sebastian 2021). Currently she's been working independently as a creative consultant, festival advisor, curator and reader for film funds. A board member of the Czech Film Fund since April 2021.

Maya Dreifuss
Director, Israel

Following the success of her two short films - WAX HURTS (2001) and VISITING HOURS (2005) - in Cannes, Dreifuss had completed her debut feature SHE IS COMING HOME (2013). The film won 3 prizes at JFF festival. The script for her next film, HIGHWAY 65, won the 2017 Jerusalem International Film Lab and was selected for Cannes 2018's l'Atelier. The film is an Israeli French co-production, and is now in post production. Maya Dreifuss is a senior professor and head of production department in the Steve Tish Film & Television School, Tel Aviv University.

Nduka Mntambo
Head MA of Film programme at the Netherlands Film Academy, Netherlands

Nduka Mntambo holds a PhD in Film, and he is currently the Head of Master of Film Program at the Netherlands Film Academy, Amsterdam University of the Arts. He is the former head of the Film and Television Program at the Wits School of Arts (WSOA). In May 2018, he presented a large-scale exhibition titled Asymmetries at The Point of Order Project Space in Johannesburg and at Michaelis Galleries in Cape Town. The Asymmetries installation was awarded the Humanities and Social Sciences (HSS) Awards for Best Visual Arts Work 2020. His experimental video work "IF THIS BE A CITY" was selected to be part of the experimental Johannesburg Pavilion at the Venice Biennale 2015. He has worked extensively as a theatre and film production designer including productions such as I MIKE WHAT I LIKE (2004) directed by Kgafela oa Magogodi which was later adapted to the eponymous feature film directed by Jyoti Mistry. He collaborated with filmmaker Jyoti Mistry on a video installation titled "Store in a Cool Dry Place" which explores the ritual of coffin production in three African cities: Accra, Addis Ababa and Johannesburg. He was a jury member for the Ammodo Tiger Shorts Competition at the 51st International Film Festival Rotterdam (IFFR)

Competition Programme – Student Film 2022.

Asja Krsmanović, selector of the Competition Programme – Student Film picked 11 titles. The selection features five world premieres, three international and three regional premieres.

WORLD PREMIERES

IT'S NOT COLD FOR MOSQUITOES / NIJE ZIMA ZA KOMARCE
Croatia, 2022, 29 min.
Director: Josip Lukić, Klara Šovagović
Cast: Josip Lukić, Paško Vukasović, Sunčica Ana Veldić, Yuliya Molina, Mia Petričević, Karlo Vorih

The end of the year 2021 is approaching in the Croatian capital. KARLO (33) lives in his mother's apartment in the center, works remote and occasionally hangs out with his friends.

MY NIKOLA / MOJ NIKOLA
Croatia, 2022, 22 min.
Director: Martina Marasović
Cast: Karla Brbić, Roko Sikavica, Aneta Grabovac, Paško Vukasović, Senka Bulić, Živko Anočić

Karla, a pious young woman, is marrying Nikola, the love of her life. The two of them have an agreement to abstain from sex before marriage, but as their wedding celebration is nearing its end and night approaches, Karla is growing increasingly anxious. Therefore, she comes up with a highly unusual idea.

RAINBOY / KIŠNI DJEČAK
Bosnia and Herzegovina, 2022, 4 min.
Director: Sandra Marić

Rainboy and his raining cloud annoy passersby from the very beginning of this story – nobody wants to be wet. He starts a journey and finds his purpose – he and his cloud will travel and do good. But selflessly helping others has its price – Rainboy's cloud dries out.

THE OTHER END OF THE STREET / AZ UTCA MÁSIK VÉGE/ DAS ANDERE ENDE DER STRAßE
Austria, Hungary, 2022, 22 min.
Director: Kálmán Nagy
Cast: Zsolt Nagy, Ágoston Sáfrány, Gáspár Téri, Milán Zikkert, Jeanne Katalin Lipták

When ten-year-old Ábel is attacked by his classmate Bence at school, his father decides to visit Bence's parents to put an end to the harassment. However, the conversation does not go as hoped.

WATER BALLOONS / ČEKAJ ME OVDE
Serbia, 2022, 13 min.
Director: Aleksa Borković
Cast: Aleksa Gulan, Miloš Koprivica, Miljana Kravić

A ten-year-old boy is spending the summer days in his hometown. Having no real friends, he is constantly exposed to violence and teasing from other boys. His younger brother is the only person who really cares about him, but that's not enough. Given the task to keep an eye on his younger brother, the boy struggles to find a place for himself.

INTERNATIONAL PREMIERES

HOLLYWOOD
Austria, 2022, 29 min.
Director: Leni Gruber, Alex Reinberg
Cast: Marlene Hauser, Günther Lainer, Franz Solar, Michaela Schausberger, Ingrid Schiller

For would-be actor Anna, success is a long time coming. When she's cast as a victim in training exercises for the local fire department, Anna screams for her life and her career, while her dad dismisses his daughter's lofty aspirations as futile.

MON AMI
Romania, 2022, 30 min.
Director: Carina Dasoveanu
Cast: Marius Manole, Gabor Bondi

Marius is a successful film director who is in the process of casting for his new project. Although it looks as though he has it all, Marius comes to realise that he feels increasingly miserable. He feels lost until he meets Stelian, a fourteen-year-old Roma boy, who makes Marius rediscover himself.

MY SISTER AND I / EU ȘI SORA MEA
Romania, 2022, 17 min.
Director: Theodor Ioniță
Cast: Ela Ionescu, Cosmina Stratan, Bogdan Farcaș

After putting her children to bed, Luana gets a call from her sister Ana, who asks for bandages. Luana hurries to her sister's house, where she finds Ana alongside her injured husband, Dan. Luana begins to suspect what has happened and insists on calling for an ambulance– but Dan gets angrier and angrier until things get out of hand.

REGIONAL PREMIERES

CRAZE / HAJSZÁLREPEDÉS
Hungary, 2021, 22 min.
Director: Bianka Szelestey
Cast: Niké Kurta, Gergely Váradi, Anna Kubik, József Incze

Lenke must face the fact that she has to stop clinging to her dying relationship when, just before a family dinner, her partner of eight years blurts out that he's breaking up with her. During the dinner, Lenke goes through the stages of letting go but takes one last, desperate act to avoid it.

RESTING FOG / NYUGVÓ KÖD
Hungary, 2022, 5 min.
Director: Nikolett Fábián

The experimental animated film RESTING FOG depicts the process of reliving a memory – and the disintegration that follows – through a series of associative images. The film takes place in a fictional, dreamlike sanatorium surrounded by the sea and the setting sun. Faceless shadows wander between the walls of a secluded, forgotten place, waiting to dissolve into their surroundings as darkness sets in, thus becoming permanently lost in a haze of oblivion.

THE ANALOGY OF SPACE / ANALOHIYA PROSTORU
Ukraine, 2022, 12 min.
Director: Oleksandr Hoisan

Due to long-term observation of the NPCs (Non-Playable Characters) the player witnesses certai n documentary events that take place i n different parts of the in-game world. However, these events are permeated by common cross-cutti ng themes: excessi ve cruelty and human i ndifference. To some extent the constant movement (which also accompanies the player-observer throughout the in-game space) is the only salvation from arbitrariness on the streets but not always.
The 28th Sarajevo Film Festival will be held from the 12th to the 19th of August, 2022.