Objave
Honorary Heart of Sarajevo Award to Mark Cousins
In recognition of his outstanding contribution to the art of film, director and writer Mark Cousins will receive the Honorary Heart of Sarajevo Award at the 29th Sarajevo Film Festival.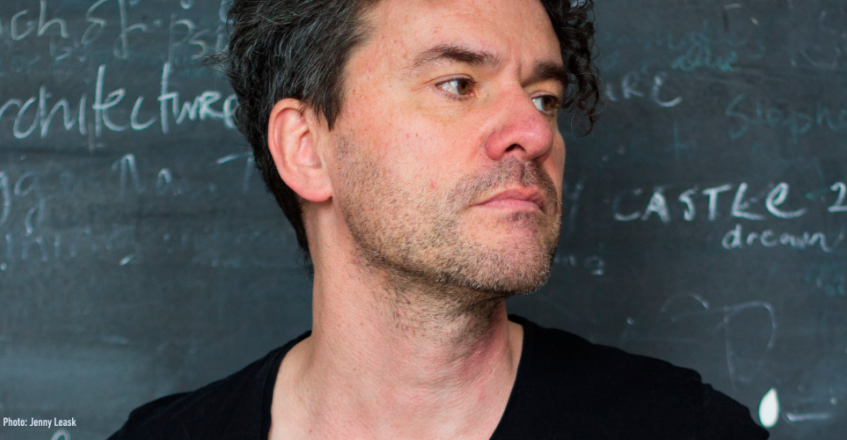 This will not be his first encounter with the city - his first visit to Sarajevo was during the Siege, in the mid 90s. He and the Edinburgh International Film Festival had visited the Obala Art Centar cinema, where they showed films in support of Sarajevo's besieged citizens. That cinema will come to be the birthplace of the Sarajevo Film Festival.

"Taking films from the Edinburgh International Film Festival to Sarajevo during its siege showed me why movies matter. Most things I've done since have been influenced by those scary, inspiring weeks in 1994. Going back to Sarajevo for the first time, after 29 years, will open a dam of emotions for me. The Honorary Heart of Sarajevo will take pride of place in my home and remind me of the need to take risks, to act in solidarity. I can still learn from the young man I was and, far more so, from the pioneering people in Sarajevo who understood that movies aren't just a pastime. They are a crucial part of our lives. I'm so grateful", said Mark Cousins.

Mark Cousins is a Scottish-Irish filmmaker. His themes are the inspiring power of cinema, cities, walking, childhood, archives and recovery. At the start of his career he made TV documentaries on childhood, neo-Nazism and Mikhael Gorbachev. The first book he penned was Imagining Reality: The Faber Book of Documentary (which the Times Literary Supplement dubbed "indispensable"). Cousins' first feature documentary, THE FIRST MOVIE (2009), about kids in Iraqi Kurdistan, won the Prix Italia. It was inspired by growing up during the Troubles in Northern Ireland, and his passionate interest in the role cinema can play in children's lives.

The London Times called his subsequent book, The Story of Film, "by some distance the best book we have read on cinema." His 930 minute film, THE STORY OF FILM: AN ODYSSEY (2011), was screened at some of the most prominent international film festivals, and in cinemas worldwide. In addition to Michael Moore giving it the Stanley Kubrick Award, it was BAFTA Scotland nominated, and won the Peabody Award among many other prizes. A decade later he would come to direct its sequel, THE STORY OF FILM: A NEW GENERATION (2021).

WHAT IS THIS FILM CALLED LOVE? (2012) was released in 20 countries, presented at the ICA in London, and nominated for Best Director by BAFTA Scotland. PJ Harvey called it "revelatory and inspiring". The rock band Maximo Park wrote a song inspired by it.

In 2013 he completed HERE BE DRAGONS, a film about the vital role of film archives, especially in Albania. It won the Grand Prix at the Romania Film Festival. In the same year he made A STORY OF CHILDREN AND FILM, which was in the Official Selection of the Cannes Film Festival.

His next film, LIFE MAY BE, co-directed with Iranian filmmaker Mania Akbari, was lauded for its feminist and innovative approach, and called "transcendent and extraordinarily delicate". It won the Don Quixote prize. 6 DESIRES: DH LAWRENCE AND SARDINIA, an adaptation of DH Lawrence's book Sea and Sardinia, premiered at the London Film Festival and Sundance.

Cousins' THE OAR AND THE WINNOWING FAN was a takeover of the DazedDigital website, whilst I AM BELFAST was his first full feature about Northern Ireland. His BBC/BFI film ATOMIC, a collaboration with the band Mogwai, screened in both Hiroshima and the Chernobyl perimeter, as well as at the Coventry Cathedral and the Edinburgh International Festival.

In 2016, he made the feature film STOCKHOLM MY LOVE. In 2017, he completed BIGGER THAN THE SHINING, a secret project, which he chose to only present in underground circumstances. That same year, Mark Cousin's The Story of Looking was published. It was nominated for the Saltire Award for best non-fiction book.

Cousins' THE EYES OF ORSON WELLES had its World Premiere in Cannes in 2018. 2018 also saw him complete the 2-hour, four-screen STORM IN MY HEART, which was commissioned by the Rotterdam Film Festival. The installation addressed sexism and racism in Hollywood. His 2018, 14-hour film WOMEN MAKE FILM is narrated by Jane Fonda, Sharmila Tagore, Debra Winger, Adjoa Andoh, Kerry Fox and Tilda Swinton, and has gained vast exposure and recognition across the screens all over the world. It won the European Film Academy's inaugural Innovative Storytelling award, and has led to the restoration of a series of films directed by women.

Two more recent films are THE STORMS OF JEREMY THOMAS, about the legendary film producer – which premiered in Cannes 2021 and won the best documentary in Spain's Dias De Cine - and THE STORY OF LOOKING, in which he filters the history of looking through his own eye surgery. It won the Best Non-Fiction Film award at the Seville Film Festival. Cousins recently completed MY NAME IS ALFRED HITCHCOCK and THE MARCH ON ROME (both 2022). The latter premiered at the Venice film festival, won the audience award for Best International Documentary in Brazil, and was nominated for a European Film Academy Award.

In 2022, his films were the subject of a multi-screen film installation, PASSÉ PRÉSENT FUTUR, at the huge Plaza cinema in Geneva, and had a retrospective at the Biograf film festival in Bologna. He premiered his first art installation, LIKE A HUGE SCOTLAND, at the Fruitmarket gallery, Edinburgh.

Alongside his prolific career as an author and filmmaker, Mark Cousins has gained honorary doctorates from the Universities of Edinburgh and Stirling, is an Honorary Professor of Film at Queen's University Belfast, and has notable achievements in film programming and curating. He was Chair of the Belfast Film Festival and Docs Ireland. He curated CINEMA OF CHILDHOOD, a series of 17 films which toured the UK and Ireland for a year. He was co-artistic director of Cinema China. Together with Tilda Swinton, he also created cinema events such as The Ballerina Ballroom Cinema of Dreams and A Pilgrimage. He and Swinton additionally ran The 8 ½ Foundation: a two-year event which created movie birthdays for children. It was nominated for the Human Rights Award.

He was recently given Portugal's Aurelio de Paz dos Reis international award for Outstanding Contribution to Cinema, and the British Association of Film, Television and Screen Studies Outstanding Achievement Award for his work in screen education (2020). In 2023 he received the Persistence of Vision Award from the San Francisco Film Festival, the annual Maverick award at the Dublin International Film Festival and the Outstanding Contribution to Film and Culture Award from the Ismailia Film Festival in Egypt.

The 29th Sarajevo Film Festival will take place from the 11th to the 18th of August, 2023.

In the context of Mark Cousins' Honorary Heart of Sarajevo Award, the festival will also hold a special screening of MARCH ON ROME as part of its Dealing with the Past section.

Previous Recipients of the Honorary Heart of Sarajevo Award include:
Jesse Eisenberg (2022), Ruben Östlund (2022), Sergei Loznitsa (2022), Paul Joseph Schrader (2022), Wim Wenders (2021), Michel Franco (2020), Mads Mikkelsen (2020), Tim Roth (2019), Isabelle Huppert (2019), Alejandro González Iñárritu (2019), Paweł Pawlikowski (2019), Nijaz Hastor (2018), Nuri Bilge Ceylan (2018), Oliver Stone (2017), John Cleese (2017), Wolfgang Amadeus Brülhart (2016), Stephen Frears (2016), Robert De Niro (Lifetime Achievement Award, 2016), Benicio Del Toro (2015), Atom Egoyan (2015), Agnès B. (2015), Danis Tanović (2014), Gael García Bernal (2014), Béla Tarr (2013), Roberto Olla (2013), Branko Lustig (2012), Emil Tedeschi (2011), Jafar Panahi (2011), Angelina Jolie (2011), Dieter Kosslick (2010), Manfred Schmidt (2009), Cat Villiers (2008), Steve Buscemi (2007), Mike Leigh (2006), Gavrilo Grahovac (2006), Marco Müller (2005).