Objave
61 Participants Selected for Talents Sarajevo 2023
Talents Sarajevo, a prestigious program that is both a part of the CineLink Industry Days' year-round training and skills development activities and an extension of the renowned Berlinale Talents program, is pleased to announce the selection of promising directors, producers, screenwriters, actors, cinematographers, editors, and film critics from countries in Southeast Europe and the South Caucasus.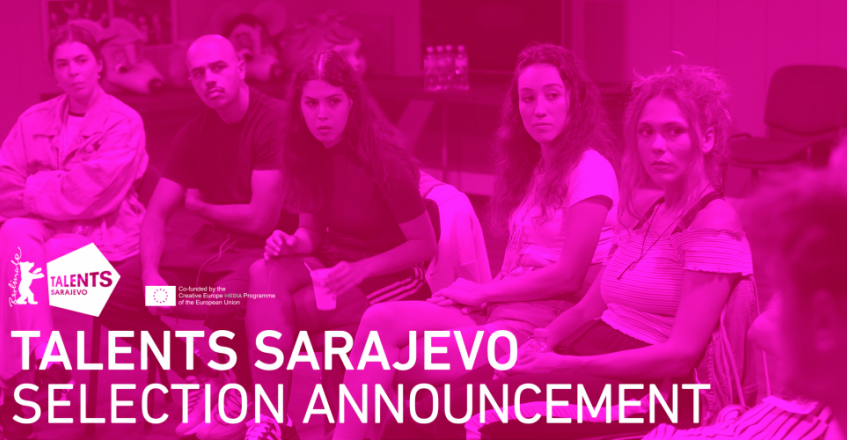 The CineLink Industry Days, which include Talents Sarajevo, Ponta Lopud, and CineLink Producers' Lab, are dedicated to providing emerging film professionals in the region with valuable skills, knowledge, and networking opportunities.

After the selection process, we are thrilled to announce that this year's participants of Talents Sarajevo have been chosen from 17 of the 20 eligible territories. We extend our warmest congratulations to the talented individuals from Albania, Armenia, Azerbaijan, Bosnia and Herzegovina, Bulgaria, Croatia, Georgia, Greece, Hungary, Moldova, Montenegro, North Macedonia, Romania, Serbia, Slovenia, Turkey and Ukraine. We received a remarkable 500 applications, with the largest number of submissions coming from Greece, Romania and Turkey.

The 17th edition of Talents Sarajevo, titled "Stuck in the Middle: FilmEzgi Sözmen (TURKEY) making between NO and YES," will continue to provide selected participants with access to a comprehensive range of master classes, lectures, seminars, discussions, hands-on workshops and film screenings throughout the Sarajevo Film Festival. The program is divided into eight modules, each mentored by renowned international industry experts: Directors Summit, Producers Summit, Acting Studio, Camera Studio, Editing Studio, Pack&Pitch, Script Station and Talent Press. Alongside the training sessions and networking opportunities, the platform serves to introduce participants to the work of established film professionals, highlight current trends and issues in the industry and facilitate connections within the international filmmaking community.

Talents Sarajevo, initially launched in 2006 in collaboration with the Berlin International Film Festival and Berlinale Talents initiative, has since grown to become the primary regional hub for aspiring film professionals. It is an integral member of the Talents International network, which features similar initiatives in Tokyo, Beirut, Guadalajara, Durban, Buenos Aires and Rio de Janeiro.

Talents Sarajevo 2023 selection:

DIRECTORS SUMMIT
Alma Buhagiar (ROMANIA)
Ekrem Ayhan Cakay (TURKEY)
Marcell Farkas (HUNGARY)
Renis Hyka (ALBANIA)
Viktor Ivanov (BULGARIA)
Filip Jembrih (SLOVENIA)
Matija Jovanović (MONTENEGRO)
Stavros Markoulakis (GREECE)
Nina Ognjanović (SERBIA)
Novruz Pashayev (AZERBAIJAN)
Olena Podolianko (UKRAINE)
Valeria Sochyvets (UKRAINE)
Tamara Tasić (SERBIA)

ACTING STUDIO
Ioana Teodora Bugarin (ROMANIA)
Rea Bušić (CROATIA)
Amar Čustović (BOSNIA AND HERZGOVINA)
Orkhan Iskandarli (AZERBAIJAN)
Ulvi Kahyaoglu (TURKEY)
Dimitraki Kapourani (GREECE)
Klara Kuk (SLOVENIA)
Flomaria Papadaki (GREECE)
Nikola Pavlović (SERBIA)
Bianca Radoslav (ROMANIA)
Ezgi Sözmen (TURKEY)
Jona Zupković (CROATIA)

PRODUCERS SUMMIT
Ioana Bogdana (ROMANIA)
Emir Melek (TURKEY)
Lucija Perić (CROATIA)
Kristina Samsarova (BULGARIA)
Savina Smederevac (SERBIA)
Manos Tzivakis (GREECE)

SCRIPT STATION
Anastasia Babenko (UKRAINE)
Zsigmond Kungl (HUNGARY)
Anita Morina (CROATIA)
Zsófi Paczolay (HUNGARY)
Hana Piščević (SERBIA)
Isidoros Rostadakis (GREECE)
Ivana Vuković (CROATIA)

CAMERA STUDIO
Faris Avdić (BOSNIA AND HERZEGOVINA)
Eva Basta (CROATIA)
Iman Imanov (AZERBAIJAN)
Andranik Sahakyn (ARMENIA)
Volodymyr Usyk (UKRAINE)

EDITING STUDIO
Mirzali Alizada (AZERBAIJAN)
Marta Broz (CROATIA)
Petre-Cristian Georgescu (ROMANIA)

PACK&PITCH
Márton Berecz (HUNGARY)
Gana Čomagić (MONTENEGRO)
Yuriy Dvizhon (UKRAINE)
Yannis Karpouzis (GREECE)
Hasan Ali Kılıçgün (TURKEY)
Jákob Ladányi Jancsó (HUNGARY)
Sava Reljin (SERBIA)
Ivan Stepanović (SERBIA)
Hanna Szentpeteri (SLOVENIA)

TALENT PRESS
Danilo Brakočević (SERBIA)
Pelin Çılgın (TURKEY)
Alen Golež (SLOVENIA)
Oleksandra Kalinichenko (UKRAINE)
Erika Roša (CROATIA)
Levani Tskhovrebadze (GEORGIA)

The 29th Sarajevo Film Festival will take place from 11th to 18th of August 2023.