Objave
CineLink Industry Days Reveals Projects Selected for the Co-Production Market
With one call for projects in 2023 CineLink Industry Days selected eleven most promising feature films from Southeast Europe.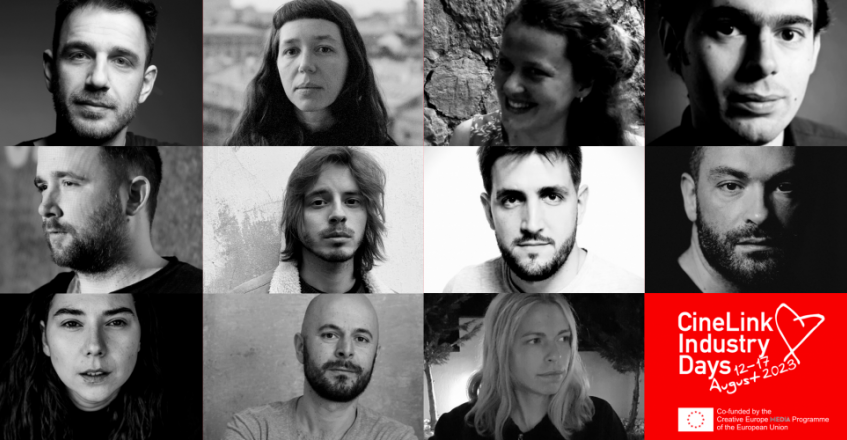 In order to cater the specific needs of each project and to prepare them for the market exposure, CineLink Industry Days has developed a range of activities from June until the end of September. In June, projects will attend the CineLink Workshop, in August the official CineLink Co-Production Market will take place (14.8. – 18.8.) and follow up online meetings will occur in September. CineLink Team strives to improve the production value by matchmaking the projects with various decision makers in the fileds of production, financing, distribution and sales, as well as offers to aid in script development through extensive sessions.

This year's selection features many recognizable names but also debut feature film authors. CineLink is welcoming Sarajevo Film Festivals' awarded alumni such as Zeynep Dilan Süren, Dušan Kasalica and Gabriel Tzafkas. A significant number of authors have had their previous films premiere at renome film festivals such as Erenik Beqiri with "The Van" being nominated on Cannes Film Festival for Best short film, also winning Best short film Prize on Les Arcs European Film Festival; Olivér Rudolf with "Fonica M-120" being nominated with the Cinefondation Award on Cannes Film Festival in 2021; Marius Olteanu with his feature "Monstri" premiering on Berlinale in 2019; Kateryna Gornostai with "Stop-Zemlia" having a premiere on Berlinale in 2021. CineLink is also very excited to welcome new and most promising authors from the region with Josip Lukić, Đorđe Vojvodić, Ana Kitanova and Brigitta Kanyaro.

The CineLink Co-Production Market proudly presents a total of €56,000 in cash awards, including the Eurimages Co-Production Development Award (€20,000). In collaboration with film centers in the region, CineLink also offers the Film Center Montenegro CineLink Award (€10,000) and the Film Center Serbia CineLink Award (€10,000). Partnering with ARTE, CineLink presents the ARTEKino International Prize (€6,000). Additionally, the Female Voices CineLink Award (€10,000) promotes and supports female voices in the Southeast European film industry, showcasing new perspectives on the past and present. Film Center Slovenia generously contributes to this award.


AFTER DARK
Director: Erenik Beqiri
Writers: Erenik Beqiri, Marija Apcevska
Producers: Olivier Berlemont, Dritan Huqi, Alessandro Amato, Luigi Chimienti
Production Companies: Origine films, On film Production
Co-production company: dispàrte
Countries: France, Albania, Italy

Tom and Anna want to make their relationship official to Tom's father. The only thing is: Anna is a vampire. Tirana is in chaos, their relationship takes a new spin.


ANTONIVKA
Director/Writer: Kateryna Gornostai
Producer: Vika Khomenko
Production Company: Moon Man LLC
Country: Ukraine

Aurora and Darko are young and in love. They survived the war and are starting their life together. Yet, they don't have enough money for their own place so, they move into a room at the house of Aurora's grandfather. Grandpa Anton is blind and needs care. It's easy to look after him - he eats twice a day and mostly bread. Still, Aurora is afraid that he is going to pass away soon. Gradually, death becomes the central theme of their lives and sets the record straight.


COLD
Director: Ana Kitanova
Writer: Iliana Kitanova
Producer: Stefan Kitanov
Production Company: RFF International
Country: Bulgaria

Three winter stories, united by the specific colour of a small and remote mountain village. The lives of its inhabitants are full of joy, sadness and peculiar kindness.


IT WILL HURT A BIT
Director: Zeynep Dilan Süren
Writers: Zeynep Dilan Süren, Elif Danyal
Producers: Kübra Balcan, Rana Ekin
Production Company: Pembe Film
Country: Turkey

Two women, similar but at the same time different. Their encounter is only possible on their seats of exchange of a service. A tragedy that does not belong to either one of them draws them together.


A LONG EMBRACE
Director/Writer: Gabriel Tzafka
Producer: Maria Kontogianni
Production Company: Wild At Heart
Co-production Companies: Reinvent Studios, Promenades Films
Countries: Greece, Denmark, France

Summer, Christmas, Easter and summer again. Alexandros, a Greek expat, meets his mother, and separates from with periodic accuracy. But time and ultimately life itself deny this perpetual recurrence.


MOM'S ALIVE TODAY
Director/Writer: Josip Lukić
Producer: Tena Gojić
Production Company: Dinaridi Film
Co-production company: Non-Aligned Films
Country: Croatia, Serbia

Jakov is prepared to do anything to save his mother from being committed to a psychiatric hospital. The biggest obstacle in carrying out this plan is the people who should offer him support - his immediate family.


MY MOTHER, THE MONSTER
Director: Olivér Rudolf
Writers: Zsigmond Kungl, Olivér Rudolf
Producers: Genovéva Petrovits, Barnabás Tóth-Just, Florent Coulon
Production Company: KINO ALFA Kft.
Co-production company: Vrai Vrai Films
Country: Hungary

Éva is a mother in her forties, who is disappointed with her life, and who gets tired of feeling insignificant. She finds a new identity behind a scary monster mask which liberates her.


NOTHING WILL BE NAMED AFTER ME
Director: Đorđe Vojvodić
Writers: Maja Todorović, Nikola Ljuca, Đorđe Vojvodić
Producer: Miljan Vučelić
Production Company: Bitter Frames Production
Co-production companies: Biberche, PERFO
Countries: Montenegro, Serbia

Maxim, once the most powerful man in country, now recovers from the stroke and tries to return the power.


PRIMAVERA
Director/Writer: Dušan Kasalica
Producer: Jelena Angelovski
Production Company: Meander Film
Country: Montenegro

A young married woman finds herself pregnant and soon comes under pressure from her inlaws not to give birth to a daughter. Years later, she and her husband raise a son, and a strange and unimaginable opportunity for healing presents itself.


VAGABONDESS (working title)
Director: Brigitta Kanyaro
Writers: Brigitta Kanyaro, Eugen Klim
Producer: Lena Weiss, Eugen Klim
Production Company: Glitter and Doom GmbH & CoKG
Country: Austria

CAMELIA #millennialmom, a Romanian living in Vienna, must prevent her daughter from meeting her dad. A colorful road movie about motherhood and diaspora in the age of fourth wave feminism and TikTok.


WE WON'T GET OLD TOGETHER
Director/Writers: Marius Olteanu
Producer: Oana Giurgiu
Production Company: Libra Film
Country: Romania

Caught in between two relationships and suspect of a terminal condition, an architect is forced to arrange the burial of a young man he has never met, only to understand that his own life needs to be rebuilt from ground up.