Objave
Talents Sarajevo Call for Entries 2020
New call for entries for aspiring film professionals from Southeast Europe and Southern Caucasus to participate in Talents Sarajevo, held within the framework of the 26th Sarajevo Film Festival, is now open.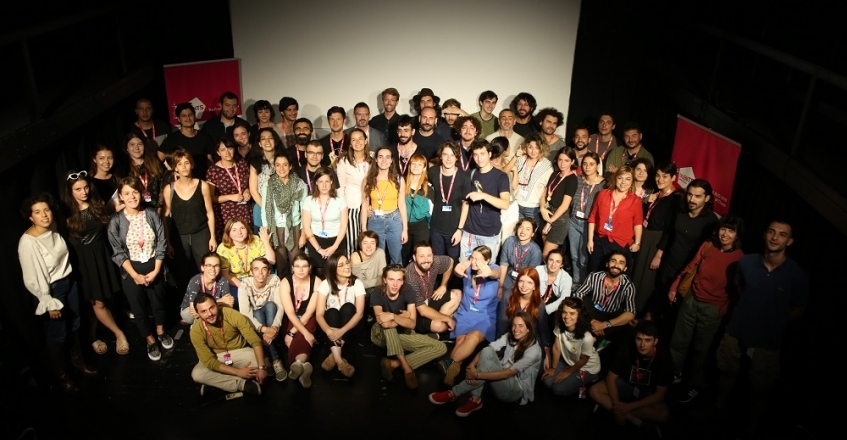 The Sarajevo Film Festival is calling on aspiring filmmakers and film critics from Southeast Europe and Southern Caucasus to submit entries for the 2020 Talents Sarajevo for a chance to forge contacts with their peers from across the region and exchange experiences with some of the greatest living industry professionals and experts.
The theme of the 2020 Talents Sarajevo, scheduled to take place from August 15-20, is New Beginnings. The program will welcome up-and-coming directors, producers, actors, scriptwriters, cinematographers, editors and film critics from Southeast Europe and Southern Caucasus, namely from: Albania, Armenia, Azerbaijan, Bosnia-Herzegovina, Bulgaria, Croatia, Cyprus, Greece, Georgia, Hungary, Kosovo*, Malta, Moldova, Montenegro, Northern Macedonia, Romania, Serbia, Slovenia and Turkey.
The ongoing global COVID-19 pandemic adds gravitas to Talents Sarajevo's core mission. While the global viral outbreak impacts the film industry in unprecedented ways, filmmakers must not be deprived of regional networking and cooperation platforms. This is of special importance for the emergent generation of filmmakers who will have a crucial role in the post-pandemic revival of regional cinema. Therefore, the effects of the crisis on the film industry will be in the focus of this year's Talents Sarajevo, to be held under the title "New Beginnings".
Film festivals are major hubs for interaction, networking and cooperation between film professionals and we hold out hope that the 2020 Talents Sarajevo participants will get a chance to gather in Sarajevo. However, the team of the 2020 Sarajevo Film Festival, including Talents Sarajevo, will continue to monitor the evolving coronavirus situation and will communicate its related decisions in the coming period.
Founded in collaboration with Berlin International Film Festival and Berlinale Talents, over the past years, Talents Sarajevo has become the foremost regional hub for meeting and training of aspiring film professionals. In times of crisis, Talents Sarajevo will continue to provide unconditional support to aspiring film professionals from our region by supporting their creative and professional advancement and success through a programme of master classes, project labs, lectures, discussions and screenings.
The closing date for applications is 24 May 2020.
Talents Sarajevo 2020: NEW BEGINNINGS
The COVID-19 pandemic has been acknowledged as the turning point in recent global history. According to broad consensus, nothing will ever be quite the same after it; some go so far as to argue that the proverbial "return to normal" is impossible. The coronavirus crisis has shown us that some of the very foundations of what was considered normal were in fact dubious and problematic – to return to them uncritically would amount to repeating past mistakes.
However, to say that change is imminent does not mean we actually know more about future structures or scenarios. Which areas of human life will change for the better, and which for the worse? Which individuals and groups will profit from the changes? Who will be left behind? Who will pay the biggest price? Which values, ideals and norms will remain in place, and which will be swept away? What will be modified and what will appear as genuinely new?
Impossible though it may be to answer to these questions yet, the tectonic impact of the crisis obliges us to start asking them now, in relation to practically all domains of human existence and action. Cinema must not remain in the wings during this process. How will the pandemic affect up-and-coming filmmakers – from the production context in which they operate, to the stories they would like to tell and the themes they seek to explore? Which consequences of the crisis are the most pressing, and which are the most dangerous in the long run? Furthermore, has the coronavirus ordeal brought about any positive consequences? Does it help us see cinema in a significant new light? Last but not least, does cinema have agency in a time of crisis? Can it contribute to the process of social reintegration and healing? And can it help us recognise and prevent similar crises in the future?
This year Talents Sarajevo, as an integral part of the 26th Sarajevo Film Festival, offers an opportunity to regional up-and-coming filmmakers to explore these and other queries in – we hope – a post-pandemic ambience of recovery and (re-)assessment. Our ongoing plans for Talents Sarajevo 2020 originate not only from unrepentant optimism, but also from the need to pose these burning questions as soon as possible and in a cogent manner. We hope they, and the answers that will follow them, will confirm at least one fact that will not be shattered by any crisis: Cinema is always on the side of life.
For more information and application form please click here.
CONTACT
Talents Administration,
talents_sarajevo@sff.ba
* This label does not prejudge the status of Kosovo and is in accordance with Resolution 1244 and the opinion of the ICJ on Kosovo's declaration of independence