Objave
Most Anticipated Regional Drama Series to be Presented in Avant Premiere Gala
In the Avant Premiere Gala programme of the 25th Sarajevo Film Festival, the festivalgoers will get a sneak preview of the five most anticipated regional drama series which are scheduled to air this fall. Each of the five high-end productions to be presented in the programme is characterised by interesting plotline and excellent cast.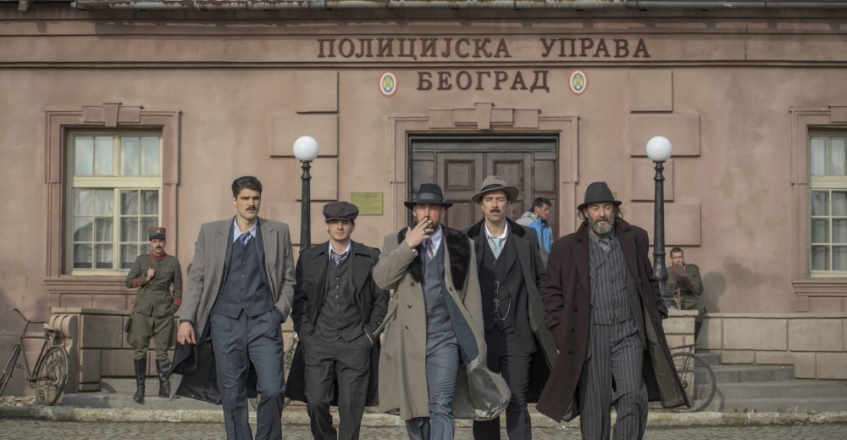 Included in the line-up are drama series BESA, BLACK SUN - 2nd season, THE FAMILY MARKOVSKI, THE GROUP and THE LAKE. In addition to getting a unique preview of the above series, the audience in Sarajevo will also have a chance to meet with their makers and cast members.
The Avant Premiere Gala programme will screen the UK-Serbia coproduction, BESA, written by one of the best British screenwriters, Tony Jordan, as well as the second season of Dragan Bjelogrlic's BLACK SUN - one of the best Serbian drama series that is highly popular across former Yugoslavia. The first season of BLACK SUN premiered in the Avant Premiere Gala programme of the 2017 Sarajevo Film Festival. Also included in our 2019 line-up are the second season of THE FAMILY MARKOVSKI a highly popular drama series in North Macedonia, Serbia's THE GROUP about dramatic lives of teenagers, and the suspenseful Slovenian crime TV show THE LAKE.
This year, the Avant Premiere Gala programme is exclusively focused on drama series. This is due to the program's growth and development through its cooperation with the Festival's platform for development of high-quality drama series, CineLink Drama, and the Avant Premiere programme of the Sarajevo Film Festival that screens recently completed regional productions. The Sarajevo Film Festival will continue to develop this segment of its program to keep up with the growing trend of regional production and popularity of "our local" drama series.
The drama series included in the 2019 edition of Avant Premieres Gala program of the Sarajevo Film Festival will compete for the Audience Award which is sponsored by BH Telecom.
Besa S1E1-2
Serbia, United Kingdom, 2018, Colour, 90 min.
Director: Dušan Lazarević
Created by: Tony Jordan
Production: Adrenalin
Cast: Radivoje Bukvić, Arben Bajraktaraj, Miloš Timotijević, Lana Barić, Gresa Pallaska, Hana Selimović, Radoslav Milenković, Mensur Safqiu, Milan Marić
While Uroš Perić is driving on a business trip to Montenegro, he is caught up in a traffic accident, which results in the tragic death of Besiana, a young girl. When Uroš wakes up in the hospital, he finds out that Besiana was the daughter of the Balkan region's biggest narcobos, Dardan Berisha. In order to escape the vendetta against his family, Uroš is forced to become a killer for Dardan. Dardan swears a besa – a solemn and sacred oath – that after Uroš has committed five murders (the number of members of Uroš's family, himself included) he will be free again.
Black Sun 2 S2E1-2 / Senke nad Balkanom 2 S2E1-2
Serbia, 2019, Colour and B&W, 90 min.
Director: Dragan Bjelogrlić
Production: Cobra Film, United Media
Cast: Dragan Bjelogrlić, Andrija Kuzmanović, Marija Bergam, Nenad Jezdić, Goran Bogdan, Jovana Stojiljković, Miloš Samolov, Srđan Žika Todorović…
Belgrade, 31 December 1933. A brutal murder triggers a series of thrilling and mysterious events that will provoke a confrontation between local strongmen, members of high society, secret associations, and foreign intelligence agents. From the muddy streets of the Jatagan neighbourhood to the luxurious White Palace, a conspiracy is being hatched that will call into question the future of the entire country and its ruler. The time has come to launch an investigation.
The Family Markovski S2E1-2 / Familijata Markovski S2E1-2
North Macedonia, 2019, Colour, 78 min.
Director: Darijan Pejovski
Created by: Emilija Chochkova
Production: Art Proekt Lab Skopje
Cast: Aleksandar Mikić, Silvija Stojanovska, Tamara Ristoska, Vladimir Petrović, Petar Petkovski
THE FAMILY MARKOVSKI is the emotional story of the struggle to keep a family together amid the many challenges of everyday life in a dysfunctional society plagued by corruption and the lack of the rule of law.
The Group S1E1-2 / Grupa S1E1-2
Serbia, 2019, Colour, 131 min, Serbian
Director: Uroš Tomić, Jelena Gavrilović, Ivan Stefanović, Nemanja Ćeranić, Slobodanka Radun, Miloš Radunović, Gvozden Đurić
Created by: Dragan Djurković, Uroš Tomić
Production: Vision Team
Cast: Igor Benčina, Filip Đurić, Denis Murić, Ivana Zečević, Marko Milivojev-Mili, Milica Trifunović, Tijana Marković, Pavle Mensur, Jasna Đuričić, Nela Mihajlović, Vojin Ćetković, Branka Katić
Belgrade police inspector Dragan Gaga Miletić becomes obsessed with uncovering a link between a group of teenagers from the neighbourhood of Dorcol and the murder of a well-known local criminal. As we follow his attempts to shine some light on the murder, we learn about the life of Dragan's fellow police officers, businessmen suspected of shady deals, and underage small-time drug dealers who have been drawn into a much more dangerous game. Apparently unrelated groups of people are fragments of an exciting portrait of the modern society.
The Lake S1E1-2 / Jezero S1E1-2
Slovenia, 2019, Colour, 98 min.
Director: Klemen Dvornik, Matevž Luzar
Production: RTV Slovenija
Cast: Sebastian Cavazza, Nika Rozman, Gregor Čušin, Matej Puc, Vlado Novak, Jana Zupančič, Nataša Barbara Gračner
Driving home from a New Year's Eve party, Chief Inspector Taras Birsa inadvertently gets involved in a murder investigation. Ordered by their superiors to take on a new co-worker, Taras and his seasoned team start investigating a difficult case: an extraordinarily brutal murder of a young woman. Besides the public pressure, Taras also has personal problems to deal with: after his daughter leaves to study abroad, the resulting void in his family life reveals cracks in his marriage. Will the new case also open a new chapter in Taras's personal life?