Objave
The 9th Docu Rough Cut Boutique announces selected projects for 2019
For the first time Docu Rough Cut Boutique will be organized into three modules and we are proud to announce a project selection for this edition.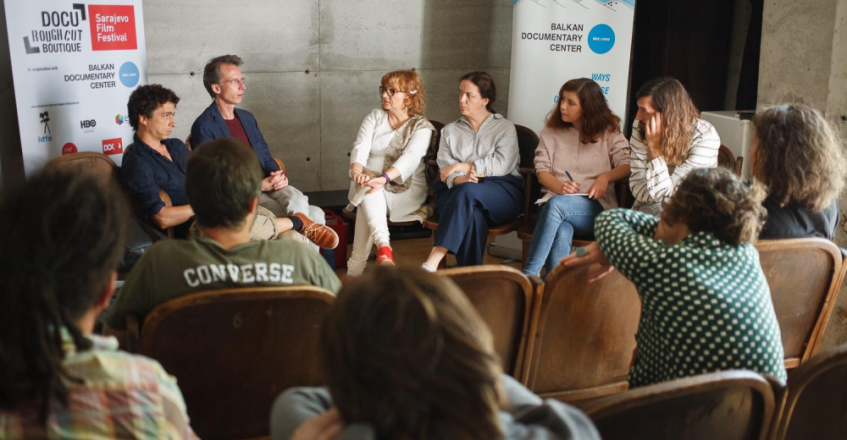 The new structure of the workshop raised lots of interest and we have received numerous applications from all around region.
This year we are inviting extremely diverse projects – from experienced filmmakers to new, upcoming talent. We will be working with award-winning editing mentors, sound designers, directors who will help our participants complete their films in the best possible way!

The first workshop will start on the 29th of March in Budapest and is organized in collaboration with Duna Dok and HBO Europe. The 2nd session will be held by the end of June and the 3rd session during Sarajevo Film Festival in August where the projects will be presented to the handpicked group of decision makers during CineLink Industry Days.

Statement from directors of Docu RCB – Rada Sesic and Martichka Bozhilova:
This year's submission showed us that there is new talent emerging at our regional documentary scene. Interestingly, many applications arrived from Hungary, submitted by rather young, committed filmmakers who sharply observe the reality around them. Lots of applications received were from female directors and producers and we are delighted that gender equality is scoring better every year.
It was wonderful to observe in most applications the maturity and thoughtfulness of the projects, as well as the expressed curiosity and eagerness of the makers towards sharing their creative views with others. We thank them all for considering Docu RCB as the place they want to be. But like last year, we only have five openings. And deciding which five of these strong and engaging projects we will take on a creative journey, we want to salute the upcoming talents with their debut projects as well as the experienced makers who dare to challenge new, out of the box, cinematic thinking while dealing with topics that matter to all of us.
During our 3 sessions (Budapest, Sofia, and Sarajevo) we try to offer a hands-on tailor-made mentoring process and carefully prepared presentation during the CineLink Industry Days at the Sarajevo Film Festival.
We wish you all an exciting journey in our cinema boutique and looking very much forward to fruitful discussions, meetings, presentations in Budapest, Sofia and Sarajevo.

Selected projects:

DIVAS
Director: Máté Kőrösi
Producer: Borbála Csukás
Editor: Alexandra Láng
Production Company: ELF Pictures
Country: Hungary

HOLY FATHER
Director: Andrei Dascalescu
Producer: Anda Ionescu
Editor: Andrei Dascalescu
Production Company: FilmLab
Country: Romania

IN PRAISE OF LOVE
Director: Tamara Drakulić
Producer: Jelena Angelovski
Editor: Jelena Maksimović
Production Company: Monkey Production
Country: Serbia

LEGACY
Director: Petya Nackova
Producer: Katya Trichkova
Editor: Svetla Petrova
Production Company: Contrast Films
Country: Bulgaria

MELISSA'S STORY
Director: Asia Dér, Sára Haragonics
Producer: Sára László, Marcell Gerő, Noémi Veronika Szakonyi
Editor: Flóra Erdélyi
Production Company: Campfilm
Country: Hungary