Objave
Docu Rough Cut Boutique - Starting 2021 Full Of Hope And A New Project Selection
We are proud to announce our 2021 selection of projects and warmly congratulate all selected teams!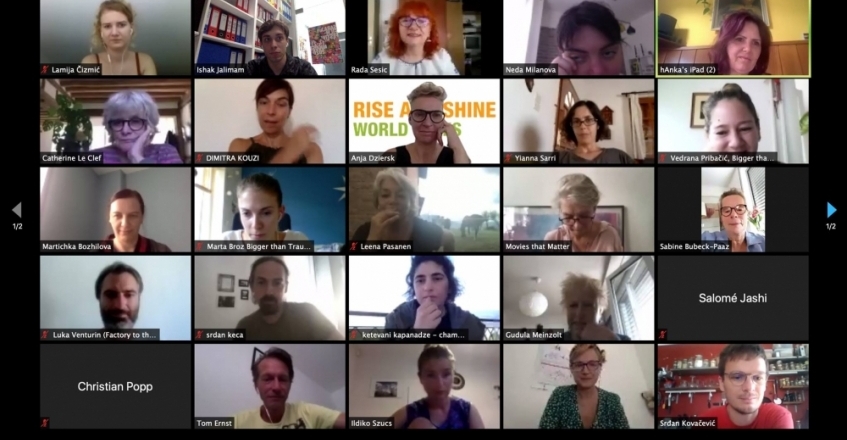 Last year was full of unexpected moments and difficulties for all of us. The start of 2021 went hand in hand with the anticipation that at some point this year we will see the end of the Covid-19 crisis. Many filmmakers took last year's "slowing down" as an opportunity to work on the cuts of their projects and send them to us to complete them within this year. As a result, Docu Rough Cut Boutique received numerous applications from all over the region.
After a full decade of scouting, supporting, and promoting great and often young talents from our region, a big leap in the production both in quantity and quality have been noticed. The number of projects soliciting for selection is rising, as well as the number of debutants, who often bring fresh, original and crisp views on the world.
Building on and polishing the practice from last year, Docu Rough Cut will continue with three working-module formula that consists of intensive group and individual meetings as well as a structured and broader exposure to the market and industry.
The selected projects explore a wide variety of topics – from personal stories to pressing political issues. We will welcome experienced directors, as well as young, first-time filmmakers.
The first module will be conducted online and will start on 22nd of March, 2021.


Statement from Rada Sesic and Martichka Bozhilova, directors of Docu RCB:
This year's selection was one of the most difficult ones. The submitted rough cuts were all of a very high quality, so we had to take into consideration every aspect. We made a shortlist and, for the first time, organized in-depth interviews with the contenders. This helped us better understand the director's aim and the motivation of the whole team to be part of our programme. Nevertheless, it did not make our choice easier!
The small number of productions we take require us to make tough decisions. In the end, we are very proud with the selected five. The passion and dedication of the chosen filmmakers to their projects is overwhelmingly apparent and invigorating. Their stories are not only meaningful and highly compelling, but their approach is fresh and original; they are looking into aspects of life from less explored angles.
During our intense hands-on editing sessions and quite elaborate and long analyses, we want to explore how these films will affect audiences at large and find their adequate place on the international documentary scene.
Several final participants are about to realise their feature-length debuts. All five directors are trying hard to find their own cinematic signature. We believe that these remarkable, out-of-the-box upcoming films will shed a bright light on important narratives from our region, stories that must be shared with the rest of the world. We remain faithful to our primary conviction in helping to produce ambitious and creative author-driven documentaries from the region and to support these fantastic endeavours.
We are proud to announce our 2021 selection of projects and warmly congratulate all selected teams!

Selected projects:

ATONAL GLOW
Director: Alexandre Koridze
Producer: Alexandre Koridze
Editor: Alexandre Koridze
Company: Spark
Country: Georgia

BOTTLEMEN
Director: Nemanja Vojinović
Producer: Marija Stojnić, Nemanja Vojinović
Editor: Dragan von Petrovic
Production Company: Rt dobre Nade
Co-producer: Viva Videnović (Urgh!, Slovenia), Set Sail Films (Serbia)
Country: Serbia, Slovenia

CENT'ANNI
Director: Maja Prelog
Producer: Rok Biček
Editor: Olga Michalik
Production Company: Cvinger Film
Co-producer: Agresywna Banda (Poland), Zena Films (Italy)
Country: Slovenia, Poland, Italy

MY DAD'S LESSONS
Director: Dalija Dozet
Producer: Dana Budisavljević
Editor: Sara Gregorić
Production Company: Hulahop
Co-producer: December
Country: Croatia, Slovenia

NO PLACE FOR YOU IN OUR TOWN
Director: Nikolay Stefanov
Producer: Ralitsa Golemanova
Editor: Stoyan Velinov
Production Company: Smarty Pants Shooter
Country: Bulgaria


Docu Rough Cut Boutique is co-funded by Creative Europe MEDIA program of the EU.