News
Laško Summer Nights 2015
Laško Sumer Nights Programme of the 21st Sarajevo Film Festival will present some of the most buzzed-about films of the year that have already captured the attention of film and music lovers, but also the recent titles that treat some of the most important contemporary political and social issues. Screenings will take place in the unique Open Air Cinema Vatrogasac where visitors can enjoy the films in comfortable recliner chairs and picnic-like atmosphere.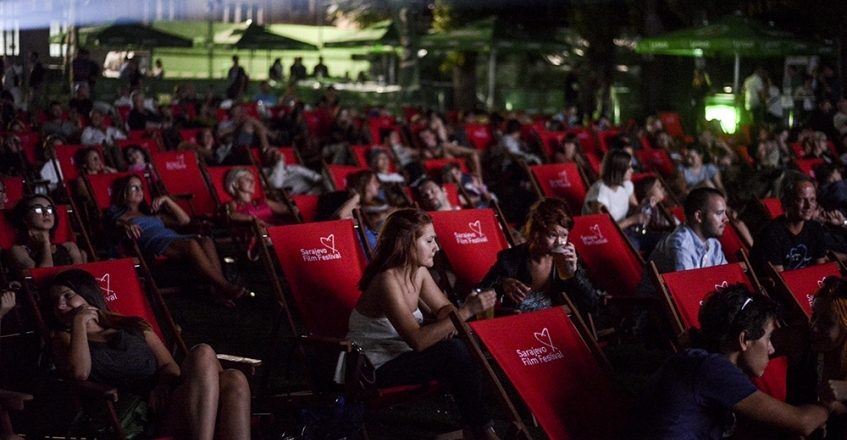 AMY
USA, United Kingdom, 2015, 128 min.
Director: Asif Kapadia

A once-in-a-generation talent, Amy Winehouse instantly captured the world's attention. A pure jazz artist in the most authentic sense - she wrote and sung from the heart using her musical gifts to analyse her own problems. The combination of her raw honesty and supreme talent resulted in some of the most unique and adored songs of modern era. Tragically, relentless media attention coupled with Amy's troubled relationships, her global success and precarious lifestyle saw her life fall apart. As a society, we celebrated her huge successes but were quick to judge her failings when it suited us. The talent that was initially her salvation eventually became the trigger for her disintegration.


B-MOVIE: LUST & SOUND IN WEST-BERLIN 1979-1989
Germany, 2015, 92 min.
Director: Jörg A. Hoppe, Klaus Maeck, Heiko Lange
Cast: Blixa Bargeld, Gudrun Gut, Annette Humpe, Mark Reeder

B-MOVIE is a documentary about music, art and chaos in the West-Berlin of the 1980s: the walled-in city which became the creative melting pot for the sub and pop culture. Artists, communards and hedonists enjoyed Berlin's unconventional lifestyle. Mark Reeder, a musician from Manchester, fascinated by German electronic music, leaves Joy Division's legendary music scene to come to West Berlin...


CITIZENFOUR
USA, Germany, United Kingdom, 2014, 114 min.
Director: Laura Poitras
Cast: Edward Snowden, Glen Greenwald, Julian Assange, Laura Poitras, Barack Obama, Jeremy Scahill

CITIZENFOUR gives audiences access to filmmaker Laura Poitras and journalist Glenn Greenwald's encounters with Edward Snowden in Hong Kong, as he hands over classified documents providing evidence of mass illegal invasions of privacy by the National Security Agency (NSA). Poitras had already been working on a film about surveillance for two years when Snowden contacted her, using the name "CITIZENFOUR," in January 2013. He reached out to her because he knew she had long been a target of government surveillance and had refused to be intimidated. When Snowden revealed he was a high-level analyst driven to expose the massive surveillance of Americans by the NSA, Poitras persuaded him to let her film. CITIZENFOUR places you in the room with Poitras, Greenwald, and Snowden as they attempt to manage the media storm raging outside, forced to make quick decisions that will impact their lives and all of those around them. CITIZENFOUR not only shows you the dangers of governmental surveillance—it makes you feel them. After seeing the film, you will never think the same way about your phone, email, credit card, web browser, or profile, ever again.


COBAIN: MONTAGE OF HECK
USA, 2015, 132 min.
Director: Brett Morgen
Cast: Kurt Cobain, Wendy O'Connor, Don Cobain, Jenny Cobain, Kimberly Cobain, Tracy Marander, Krist Novoselic, Courtney Love

Young Kurt grew up in Aberdeen, Washington. A happy, winning child, his astonishing creative potential is evident from an early age: he paints, makes music, and writes. This documentary, the first to be authorised by his family, tells his story – from his beginnings to his unbelievable success as Nirvana's lead singer. The film also describes his fall, his insecurities, the drugs, his depression and his untimely end. Making use of photographs from his childhood that were made available for the first time for this film, as well as previously unknown archive footage, interviews with his parents, relatives and friends, those who later became his musical contemporaries, and his widow Courtney Love, Brett Morgen composes an intense, intimate portrait of the life and art of this legendary singer who rarely opened up to the media.


A GERMAN YOUTH / UNE JEUNESSE ALLEMANDE
France, Switzerland, Germany, 2015, 93 min.
Director: Jean-Gabriel Périot

In the 1960s, the young democracy of West Germany was embarrassed by its Nazi past, and ingrown in its role as imperialist and capitalist outpost faced by its communist double. The postwar generation, in direct conflict with their fathers, was trying to find its place. The student movement exploded in 1966. The pas de deux between students and the government deteriorated, and radicalized those involved in a gradual escalation of violence and reprisals. From this seething youth emerged the journalist Ulrike Meinhof, filmmaker Holger Meins, students Andreas Baader and Gudrun Ensslin, as well as the lawyer Horst Mahler. When the student movement collapsed at the end of '68, they remained isolated in their radicalism, and desperately sought ways to continue the revolutionary struggle...


ONE DAY IN SARAJEVO/ JEDAN DAN U SARAJEVU
Bosnia and Herzegovina, Austria, 2015, 60 min.
Director: Jasmila Žbanić

Causes and consequences of the assassination that happened in Sarajevo a hundred years ago still continue to reverberate in Europe. On June 28, 1914 Gavrilo Princip assassinated the heir to the throne of the Austro-Hungarian Empire Franz Ferdinand sparking World War I that marked the start of the 20th century. As Sarajevo commemorated the centennial of the assassination, different people had different interpretations of what happened in the city a century ago and different emotions about it. ONE DAY IN SARAJEVO tells about various perspectives of the anniversary in Sarajevo combining and contrasting footage filmed by citizens of Sarajevo (with small cameras and mobile phones) with scenes from feature films about the assassination by directors from Austria, Bosnia-Herzegovina and the United Kingdom.


PACO DE LUCÍA: A JOURNEY / PACO DE LUCÍA: LA BÚSQUEDA
Spain, 2014, 92 min.
Director: Curro Sánchez
Cast: Paco de Lucia, Pepe de Lucia, Alberto Gavira, Ricardo Modrego, Alejandro Sanz, Carlos Santana

In june 2012, guitar player Paco de Lucía embarks on an 11-day-tour throughout Europe. What begins as a part of his ''artistic routine'', will become a journey into his past, his memory and the key elements that have led him to revolutionize Flamenco. The highs and lows during one symbolic day of the tour, from the dawn until the moment when Paco and his musicians play the closing theme of the concert, function as a framework of the story of one of the most important musicians of the twentieth century. It is not just a physical accompaniment, it is a voyage deep into Paco's soul: his memories, things that bother and upset him, things that interest him or the ones that make him laugh his heart out. Through flashbacks and with Paco as a sole narrator, we follow him chronologically from his childhood until his final days in Mallorca, where he made final adjustments for his posthumous album.

THE WOLFPACK
USA, 2015, 84 min.
Director: Crystal Moselle
Cast: Bhagavan Angulo, Govinda Angulo, Jagadisa Angulo, Krsna Angulo, Mukunda Angulo, Narayana Angulo

The six Angulo brothers have spent their entire lives locked away from society in an apartment on the Lower East Side of Manhattan. Nicknamed THE WOLFPACK they're all exceedingly bright, are home schooled, have no acquaintances outside their family and have practically never left their home. All they know of the outside world is gleaned from the films they watch obsessively and recreate meticulously, using elaborate homemade props and costumes. For years this has served as a productive creative outlet and a way to stave off loneliness - but after one of the brothers escapes the apartment (wearing a Michael Meyers mask for protection), the power dynamics in the house are transformed, and all the boys begin to dream of venturing out. THE WOLFPACK is a true example of the power of movies to transform and save lives.