News
Abdel Salam Shehadeh and Ashraf Mashharawi Recipients of Katrin Cartlidge Foundation Award 2014
This year's Award was presented on August 21st at KSC Skenderija Gala Event.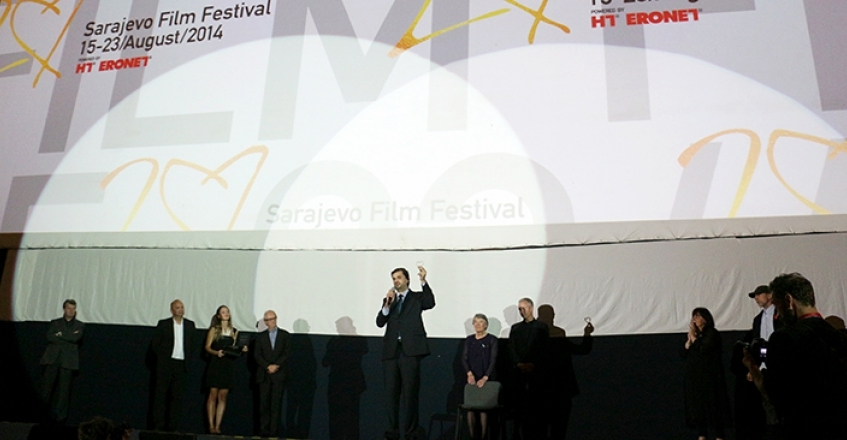 KATRIN CARTLIDGE FOUNDATION 2014

Motivated by Katrin's inspiring presence, the Foundation's mission is to give new voices, new perspectives and visions a chance to be seen and heard. For the last ten years the Foundation has appointed a curator, selected from Katrin's eclectic and extensive friends and colleagues, who in turn chooses a recipient for the annual bursary. The recipient is a new cinematic voice whose work, in some way, embodies Katrin's integrity of spirit and commitment to independent film.

We are grateful for the generosity and vision of our curators to date; The actors Charlotte Rampling, Emily Watson, Jeremy Irons, Stellan Skarsgard and Danny Glover, directors Mike Leigh, Simon McBurney and Danis Tanovic, as well as John Lyons, Annie Nocenti and photographer Juergen Teller.
This year's Award was presented on August 21st at KSC Skenderija Gala Event after the screening of the film THE RAILWAY MAN.
KEN LOACH - CURATOR OF KATRIN CARTLIDGE FOUNDATION 2014
Ken Loach, one of the most prominent fimmakers of today, is curating the Katrin Cartlidge Foundation Award for 2014 and will join us in Sarajevo to make the presentation.

Ken Loach's distinguished career as a director of politically hard-hitting and emotionally engaging films for television and cinema, spans CATHY COME HOME and KES in the sixties to LAND AND FREEDOM, SWEET SIXTEEN and THE WIND THAT SHAKES THE BARLEY in recent years.

AWARD RECIPIENTS 2014: ABDEL SALAM SHEHADEH AND ASHRAF MASHHARAWI AND MEDIA TOWN PRO
Abdel Salam Shehadeh lives in Rafah in Gaza, Palestine. His family comes from the village of Barbara, which was occupied in 1948 forcing all the villagers to become refugees, never able to return. He has worked in television production and media and as a camera and sound technician. Abdel Salam Shedaheh has directed more than 15 documentaries such as The Cane, Debris, Rainbow and The Shadow, well received at international film festivals.
"My name is Abdel Salam. I was born in Rafah Camp. I will not tell you when but it was 13 years after the Hejra (Diaspora). All the time my family was telling me stories, all of which have settled inside me, on how they were evacuated in 1948, all became memories and pictures. But now I also became a story myself"

Ashraf Mashharawi is a Palestinian filmmaker living as a refugee in Gaza, whose films have been acclaimed and received several international awards. He has also been awarded for his strong coverage of the Israeli attack against Gaza in 2008-2009. His films mainly focus on people and stories from Gaza and Palestine, but he has also made films focusing on subjects from outside Palestine, for example: "Slavery in Yemen", and "The Road to Tawerghaa" (Libya), which won the First Prize in One World Festival for Human Rights in Brussels.

Ashraf works with Media Town Pro, a fully independent film production company, focusing on Palestine and the Middle East region. The main goal of the company is to produce high quality films with a humane message to help people understand and connect with what is happening on the ground. Media Town crews are mainly young people who are well trained, but face the challenge of filming under very harsh conditions in Gaza. Directly and indirectly, they have produced more than 40 films, most of them about Palestine. Media Town and its crews have been awarded many prizes for their work.

PREVIOUS WINNERS AND CURATORS
Dyana Gaye (2013 - Danny Glover)
Diana El Jeiroudi and Orwa Nyrabia (2012 – Jeremy Irons)
Hala Lotfy (2011 – Charlotte Rampling)
CINÉ INSTITUTE HAITI (2010 – Annie Nocenti)
Juanita Wilson (2009 – Stellan Skarsgard)
Faruk Šabanović (2008 – Danis Tanović)
Cary Fukunaga (2007 – John Lyons)
Eyas Salman (2006 – Simon McBurney and Juergen Teller)
Amy Neil (2005 – Emily Watson)
Greg Hall (2004 – Mike Leigh)
TRUSTEES
Peter Gevisser, Mike Leigh, Simon McBurney, Chris Simon, Cat Villiers.
PATRONS
Allison Anders, Rowan Atkinson, Jean Marc Barr, Lilo Baur, John Berger, Lex Braes, David Byrne, Ewen Bremner, Barbara Cartlidge, Michelle Cartlidge, Carolyn Choa, Theo Cook, Clint Dyer, David Gothard, Kate Hardie, Lodge Kerrigan, Beeban Kidron, Michael Lazo, Roland Legiarda-Laura, Alan Linn, John Lyons, Annie Nocenti, Andy Paterson, Simon Perry, Charlotte Rampling, Bingham Ray, Saskia Reeves, Ian Rickson, Harriet Robinson, Stellan Skarsgĺrd, Jim Stark, Becky Swift, Danis Tanovic, Juergen Teller, David Thewlis, Paul Trijbits, Lars Von Trier, Emily Watson, David Yates.