News
Jury for the Selection of the Sarajevo Short Film Nominee for the European Film Awards 2014
Jury members for the Selection of the Sarajevo Short Film Nominee for the European Film Awards 2014 are:
Alessandro Marcionni
Locarno Film Festival, Head of the Pardi di Domani section (Switzerland)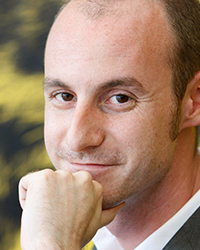 Alessandro Marcionni was born in Lugano, Switzerland, in 1979. After his Law studies, he decided to change direction radically and proceeded to study cinema, ending up with a diploma as film director. Meanwhile, he began his cooperation with the Locarno Film Festival. After several years as coordinator, since 2009 he has been the Head of the Pardi di Domani section that Locarno dedicates to short and medium-length films. In addition to the Festival, he works as editor for various broadcasting companies (the three Swiss public television channels, Italian RAI, Euronews…). In 2004, together with other Swiss filmmakers, he founded the Swiss Italian cell of Kino, a movement born in Canada in 1999, that has produced more than 400 short films on a low-budget basis.
Urszula Śniegowska
Artistic director of the American Film Festival in Wroclaw (Poland)
Artistic director of the American Film Festival in Wroclaw, Poland, organized by the New Horizons Association (the 5th edition runs 21-26 October 2014).
Formerly, worked at the Centre for Contemporary Art Ujazdowski Castle in Warsaw as film and video curator, organizing year-round film programme (KINO.LAB) and a number of gallery and film retrospective shows including presentations of Jonas Mekas, Jan Lenica, Ulrike Ottinger and Walerian Borowczyk.
For a number of years Ula has served as board member of the International Association of Art-House Cinemas CICAE (2007-10 and 2012-current); and sat at CICAE and Europa Cinemas juries at Venice, Berlinale and Cannes Film Festivals (2005-2013).
Collaborates with WATCH DOCS. Human Rights in Film International Film Festival in Warsaw.
Writes on film and film culture (for Obieg, KINO, Filmweb).
Zora Stančič
Visual artist (Slovenia)
Zora Stančič is a visual artist working in the fields of contemporary art, architecture and film. She graduated from the Academy of Fine Arts in Sarajevo and completed her postgraduate studies at the Academy of Fine Arts in Ljub-ljana. Her works can be found in world famous collections at museums and galleries, and she has received numerous awards. She has worked as set designer and costume designer on several Slovenian films. She lives and works in Ljubljana.