News
Benicio Del Toro arrives in Sarajevo
Academy Award®-winning actor Benicio Del Toro has arrived today in Sarajevo. He will receive the Honorary Heart of Sarajevo Award for his extraordinary contribution to the art of film at the 21st edition of Sarajevo Film Festival on tonight at 20:30, as part of Open Air Programme. Audience will get the chance to see Benicio Del Toro on the Red Carpet at 19:30.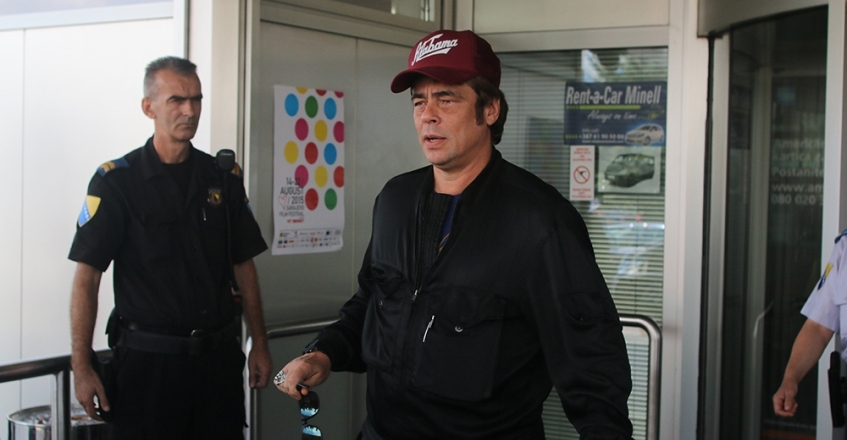 Del Toro will present Fernando León de Aranoa's drama A PERFECT DAY, in which he has a starring role, and which recently premiered in Directors' Fortnight at the 68th Cannes Film Festival.
The acclaimed actor will also hold a master class for the participants of Talents Sarajevo, a networking and training platform for emerging film professionals from Southeast Europe and Southern Caucasus. Since it was founded in 2007, Talents Sarajevo has become the regional hub for meeting and training of aspiring film professionals.
Throughout his career, Del Toro has earned critical accolades including winning an Academy Award® for Best Supporting Actor for his role in Steven Soderbergh's "Traffic" and an Oscar® nomination for his work in Alejandro Gonzales Inarritu's "21 Grams." Re-teaming with Soderbergh to star in "Che", the biography of Che Guevera, Del Toro's performance won him the Best Actor award at Cannes in 2008 and again the following year at the Goya Awards in Madrid, Spain.
Del Toro made his motion picture debut in John Glen's "License to Kill" opposite Timothy Dalton's James Bond and has earned critical acclaim for his performances ever since. In addition to winning a Best Supporting Oscar® for "Traffic," he has also garnered a Golden Globe, a Screen Actors Guild Award, BAFTA Awards, Berlin International Film Festival's Silver Bear Award as well as recognition from the New York Film Critics Circle, the National Society of Film Critics, and the Chicago Film Critics Association.
Loved by audiences and critics alike, Del Toro has worked with such directors as Paul Thomas Anderson, Oliver Stone, Robert Rodriquez, Peter Weir, George Huang, Abel Ferrara, Guy Ritchie, Sean Penn, Susanne Bier, Terry Gilliam.
Del Toro can next be seen starring in Denis Villeneuve's "Sicario" opposite Emily Blunt and Josh Brolin, which is scheduled for a September 18th, 2015 release by Lionsgate in the U.S.