CineLink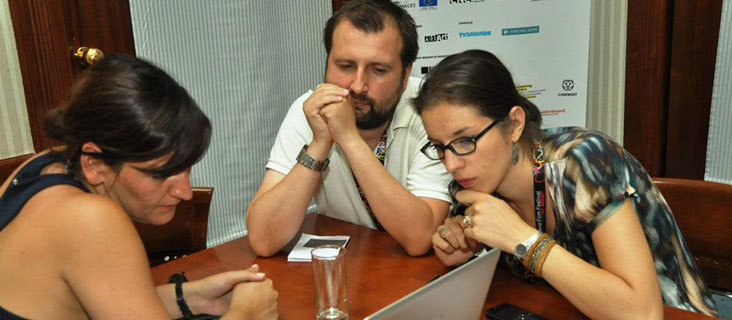 The business of film is the focus of the second half of the festival. From the 15th of August the international film industry hits the town for four days of meetings and extensive networking. 


The CineLink Co-Production Market presents the most promising regional feature projects in a development and financing stage. The selection has traditionally been focused on Southeast Europe but is since a few years also open for projects from the Caucasus region. In addition, three projects will be presented in partnership with the Doha Film Institute, IMCINE and The Arab Fund for Arts & Culture. 


CineLink Work in Progress continuously showcases future success stories on the festival circuit. We have seven new exciting titles in post production that will be shown to specially invited international decision-makers. This section is also open to projects from the North African and Middle Eastern countries bordering the Mediterranean Sea.
CineLink offers awards funds totalling more than 160.000 Euros in cash and services and boosts a impressive track record with previous projects going on to major international recognition - IF I WANT TO WHISTLE I WHISTLE by Florin Serban (Jury Grand Prix Silver Bear and Alfred Bauer Prize, Berlinale 2010), HARMONY LESSONS by Emir Baigazin (Silver Bear, Berlinale 2013), Mold by Ali Aydın (Lion of the Future, Venice 2012), WHITE SHADOW by Noaz Deshe (Lion of the Future, Venice 2013), THE LAMB by Kutluğ Ataman (CICAE Art Cinema Award, Berlin Panorama 2014), A Blast by Syllas Tzoumerkas, CURE by Andrea Štaka (both competing at Locarno 2014) and SON OF SAUL by Laszlo Nemes (Grand Prix at Cannes 2016 and Oscar for Best Foreign Film) just to name a few.
CONTACT
Armin Hadžić
Sarajevo Film Festival
Zelenih beretki 12
71 000 Sarajevo
Bosnia and Herzegovina
industry@sff.ba